Conservator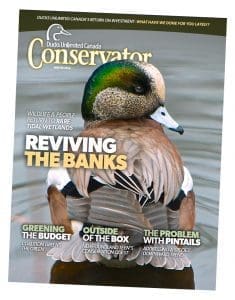 Connecting Canadians with wetland conservation efforts in Canada for over 25 years, Ducks Unlimited Canada's (DUC) award-winning Conservator magazine is informative, educational and entertaining. Perfect for outdoor enthusiasts, waterfowlers and conservationists, the national, quarterly publication includes stunning photography, inspiring editorial and premium design.
Conservator is available in two formats:
One annual deluxe print issue:
Available exclusively to our supporters, the deluxe print issue of Conservator is delivered to mailboxes every fall. Jam-packed with engaging features and images, you will enjoy reading this special collectible issue over and over again.
Join now to enjoy this deluxe issue as well as other members-only benefits
Quarterly online issues:
Available online for everyone to enjoy, these highly informative and current issues are published online throughout the year
Enjoy the convenience of reading the latest Conservator issue on your computer, tablet or smart phone. Plus, you can easily share the magazine with family and friends.
Sign up to receive email alerts and be among the first to know when online issues of Conservator are available!
Online issues now available: