Whether intended to bring some home-grown good looks to a new world, or accidently introduced into Canada's waterways, invasive species are now wreaking havoc on our wetlands and other natural areas. They're choking out native plants and wildlife, and changing the land and water we cherish. But fear not! Ducks Unlimited Canada (DUC), its volunteers and partners are finding innovative and effective ways to combat these disarmingly beautiful—but destructive—invasive species across the country.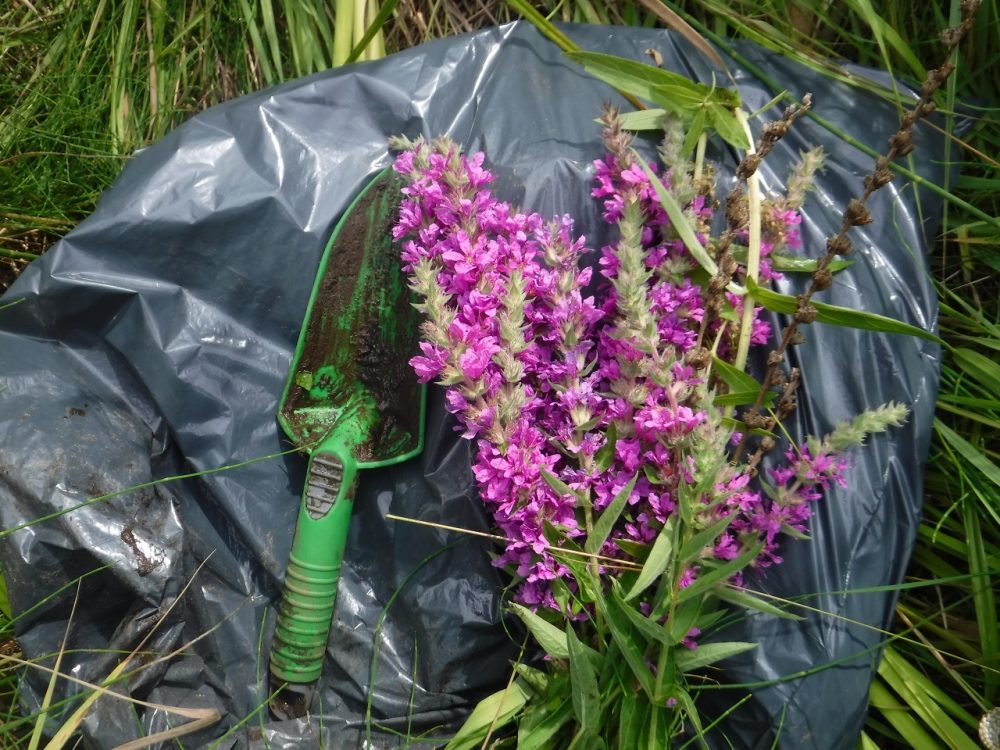 Invader: Purple loosestrife (Lythrum salicaria)
Location: Across Canada
Removal methods: Hand pulling, beetles
In the early 1800s, North American settlers brought purple loosestrife plants for their gardens. Seeds were also present in soil used to provide weight for stability on European ships. It's now found across much of Canada and the United States.
Reclaiming wetlands from purple loosestrife
When DUC conservation specialist Emma Bocking learned of purple loosestrife growing in Newfoundland's Corner Brook Marsh, she knew there was no time to lose.
"Once an invasive species like purple loosestrife gets established in an ecosystem, it's very difficult to remove," says Bocking.
DUC staff and volunteers canoed between islands in the marsh, pulling up plants as they went. They used trowels to make sure they removed all the roots. Since completing the dig, they've monitored the area for any sign of its return. So far, it appears their work has been a success.
Calling in bugs for backup
Starting in 2015, beetles were put to the test in Manitoba, to tackle a wide-spread purple loosestrife problem. In partnership with the Centre of Indigenous Environmental Resources (CIER), DUC's Native Plant Solutions (NPS) and members of the Brokenhead Ojibway Nation released approximately 450 purple loosestrife beetles around the Brokenhead Wetland Ecological Reserve.
"Researchers determined that it was safe to introduce the beetles to Canada as a biological control. This species of beetle from Europe only eats the purple loosestrife plant—it doesn't have any other host—so it doesn't affect native species," says Jade Raizenne, NPS conservation and program specialist.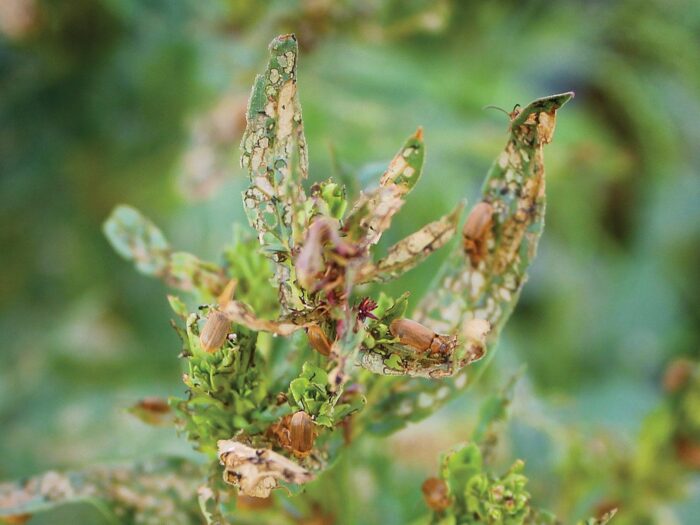 "Ultimately what we wanted to do was leave the community with the capacity to take this on in future years," says Jessie DeGrave, CIER project manager/research associate and project manager for the Brokenhead project.
In the year following the release, beetle presence and their damage to the plants was evident.
Similar tactics have been used elsewhere in Canada with success. A release at wetlands in Ontario in the 1990s has shown purple loosestrife reductions as high as 90 per cent. Native marsh vegetation has re-established in its place.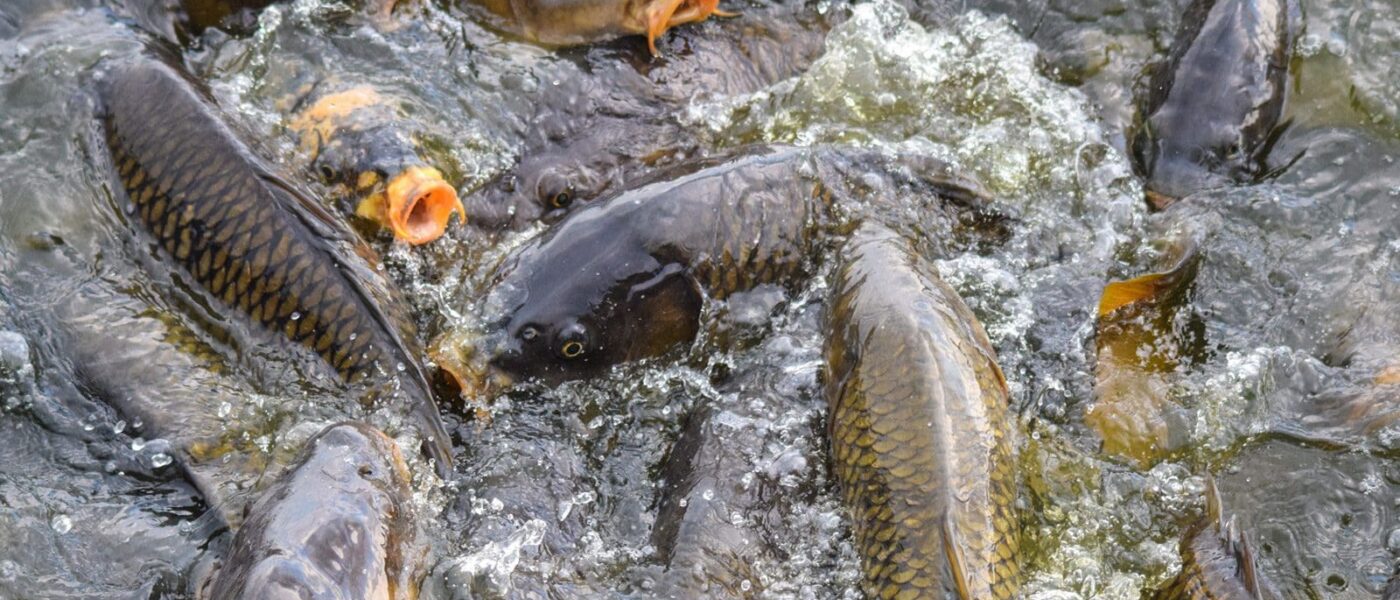 Invader: Common carp (Cyprinus carpio)
Location: Delta Marsh, Manitoba
Removal methods: Exclusion screens
With a face only a mother could love, we admit this invasive species isn't going to win any beauty pageants. Common carp is an invasive fish species that first appeared at Delta Marsh in the 1950s. Historically, the habitat drew staging birds by the thousands, and outdoorspeople right with them. But since the neighbourhood went to carp, ducks and other wildlife started going elsewhere.
Cleaning up after common carp
Every spring, common carp migrate in to Delta Marsh from Lake Manitoba. They are drawn to spawn in the warm, shallow water of the marsh.
The carp also feed in the marsh. They rake the wetland floor and stir up sediment. This restricts sunlight, stunting the growth of aquatic plants that support invertebrates and waterfowl.
The only way to return the natural clarity to the marsh was to shut out the carp.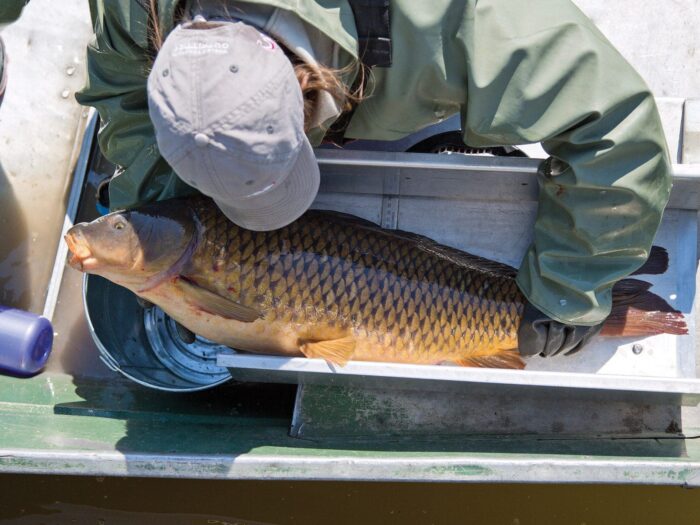 "It's the big carp that really tear up the marsh," says research scientist Dale Wrubleski, who heads DUC's research and monitoring work at Delta Marsh. "We drop the screens before those carp show up."
DUC, in partnership with the Province of Manitoba, created a project called Restoring the Tradition to help the ailing wetland. The project included construction of dikes and carp exclusion screens in three areas at Delta Marsh, where channels connect the wetland to Lake Manitoba.
Now in its sixth year, the project is nearing the end of its first phase. The reduction in carp has improved the water clarity, which has produced significant improvements in the amount of submerged plants and invertebrates. And that's enticed other species to return.
"We're seeing the highest waterfowl numbers on the marsh in 30 or 40 years," says Wrubleski.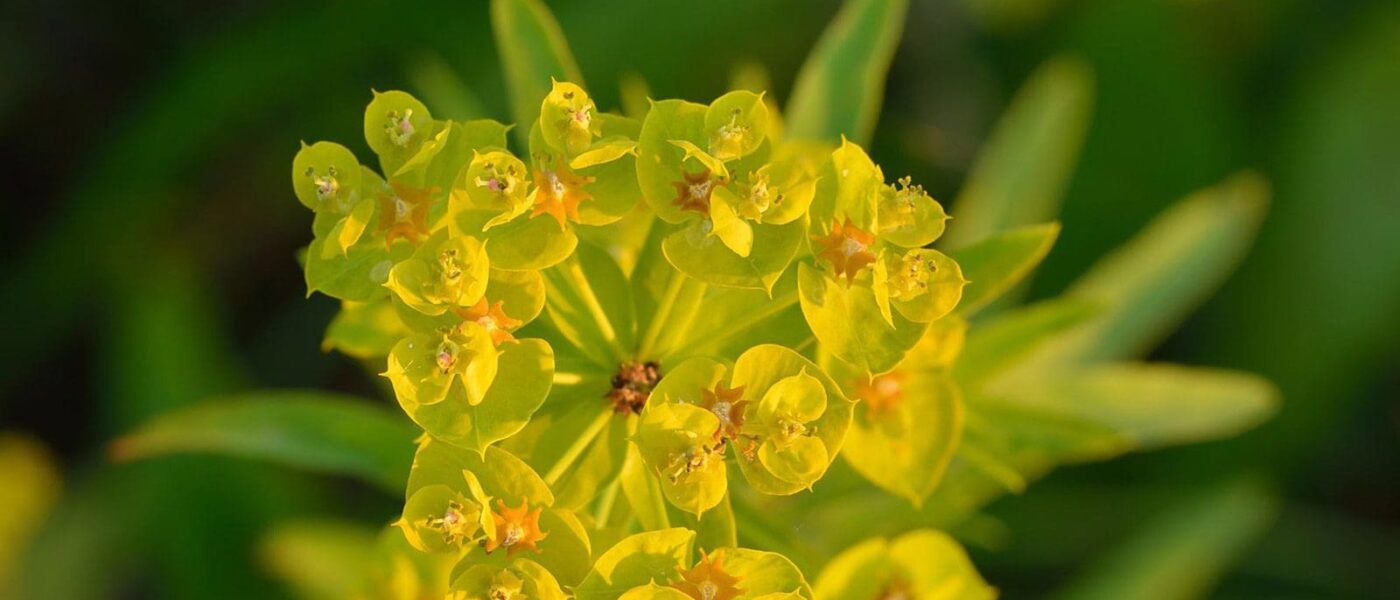 Invader: Weedy invasives
Location: Parts of the Prairies
Removal methods: Goats and cows
Undesirable weeds like tansy, common burdock, absinthe and leafy spurge threaten the health and productivity of agricultural landscapes.
Leafy spurge is another invasive weed species that was likely introduced to Canada in a bag of contaminated seed. It releases toxins into the soil where it grows. This prevents other native plants from taking root. It also impacts the land's capacity to hold water.
In the Prairies, conservation specialists have an unexpected tool in their invasive species management kit: grazing.
Touchwood Hills Conservation Ranch
Each spring, cattle are pastured at DUC's Touchwood Hills Conservation Ranch, near Yorkton, Sask. The heifers and cow-calf pairs eat, trample, and expose invasive plants.
"In cases where [they] won't eat the problematic plant, what they do is eat the grass around it, which makes it easier for us to spot," says DUC conservation specialist Jodie Horvath.
By doing what they naturally do, cattle are helping manage tansy, common burdock and absinthe.
"Grazing cattle are key to maintaining the production and longevity of grasslands. This productive nesting habitat has a better chance at competing with the undesirable weed species," says Horvath.
"
I think there's a real push to find natural solutions to managing invasive species. And what's more natural than a goat grazing?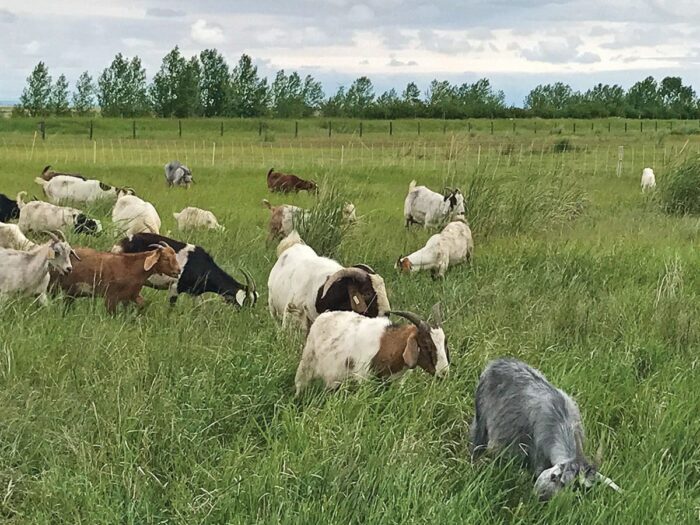 Frank Lake
In Alberta, goats are diving headfirst into leafy spurge at DUC's Frank Lake project, 50 kilometres southeast of Calgary.
"They eat it like it's candy," says Ashley Rawluk, DUC conservation specialist. This year, Rawluk says she plans to have goats released onto grasslands at Frank Lake on three separate occasions. "It will take several years before we see the full benefits of their grazing," she says.
Both Rawluk and Horvath celebrate the fact that domestic animals who rely on this prairie landscape can be part of the solution. "I think there's a real push to find natural solutions to managing invasive species," says Rawluk. "And what's more natural than a goat grazing?" she asks.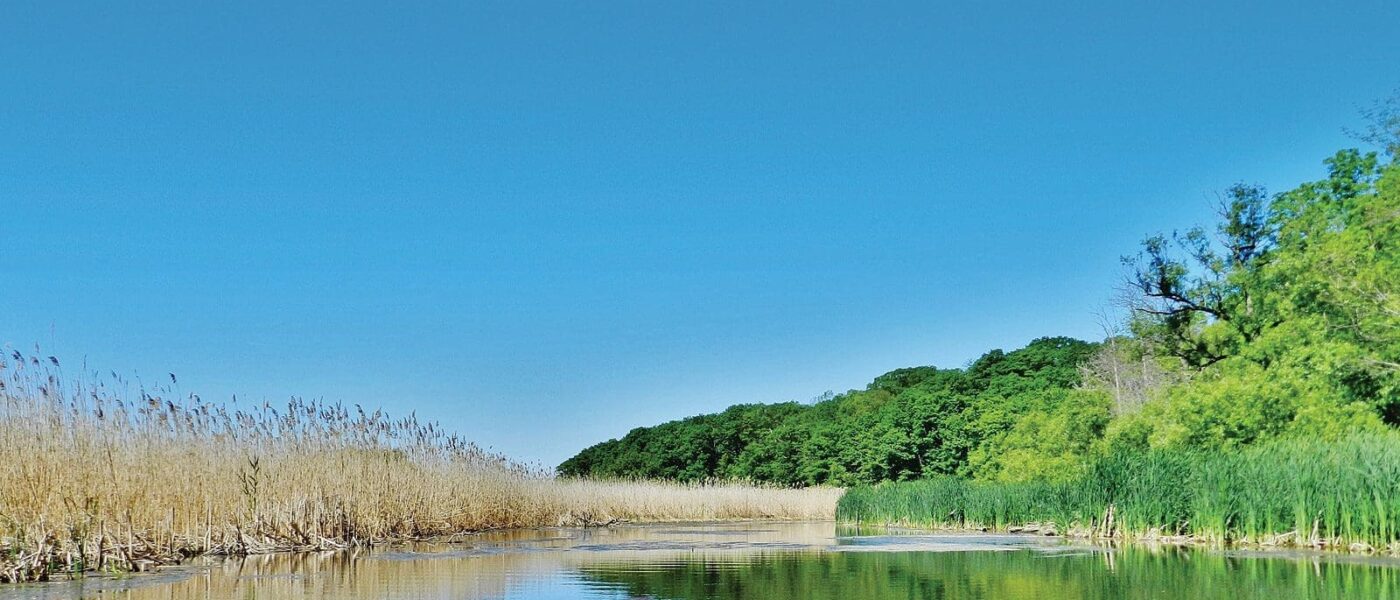 Invader: Invasive Phragmites (Phragmites australis)
Location: Ontario, Quebec and parts of the Prairies
Removal methods: Spraying (pilot project)
In 2005, Agriculture and Agri-Food Canada recognized invasive Phragmites as the country's worst invasive plant. Well established in southwestern Ontario and eastern Ontario near the Quebec border, it is also spreading into northern Ontario's boreal region and parts of the Prairies. Under the right conditions, it can spread up to 30 per cent per year.
Fighting back against invasive Phragmites
Eric Giles works from the crow's nest of his Marsh Master wetland buggy at heights of up to 20 feet off the ground. He needs the elevation to reach the top of invasive Phragmites plants. His driver below can't see a thing.
"We have to wear headsets to communicate, so I can tell him where to drive," says Giles.
Giles is spraying herbicide as part of a pilot program to control invasive Phragmites in southern Ontario. His machine, sporting a "Phrag'n Slayer" logo, is one of the few things that can get through the thick mass of plants—which he's seen grow up to 22 feet tall.
"A 7,000-pound machine has a hard time getting through this stuff. Now think of yourself as a Blanding's turtle," says Giles. "Phrag is so destructive, and we could lose those wild things."
"
A 7,000-pound machine has a hard time getting through this stuff. Now think of yourself as a Blanding's turtle.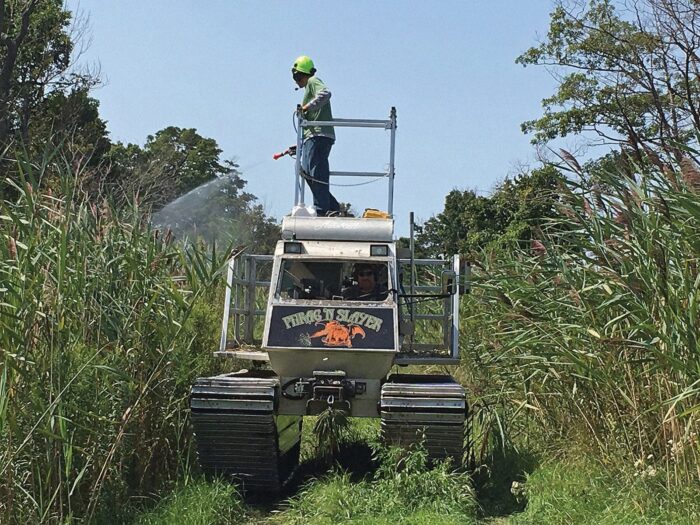 Invasive Phragmites reduce biodiversity and the amount of open water. "It also negatively impacts wetland species, including approximately 20 per cent of Ontario's species at risk," says Erling Armson, DUC's head of invasive species programs in Ontario.
There's no easy solution for invasive Phragmites. But thanks to extensive research and partnership efforts, a multi-faceted strategy is gaining ground.
At Long Point and Rondeau Provincial Park, DUC mapped the plant and teamed up with the Ministry of Natural Resources and Forestry, Nature Conservancy of Canada and special interest groups. Together they created the herbicide pilot program and obtained an Emergency Use Registration permit to fight back large stands of Phragmites. They also roll, cut and burn some areas during the winter, to allow native wetland plants to regenerate more easily.
"An intensive monitoring and evaluation component led by the University of Waterloo clearly shows that the herbicide has been effective at killing Phragmites without any significant impacts on water quality or other wildlife," says Armson.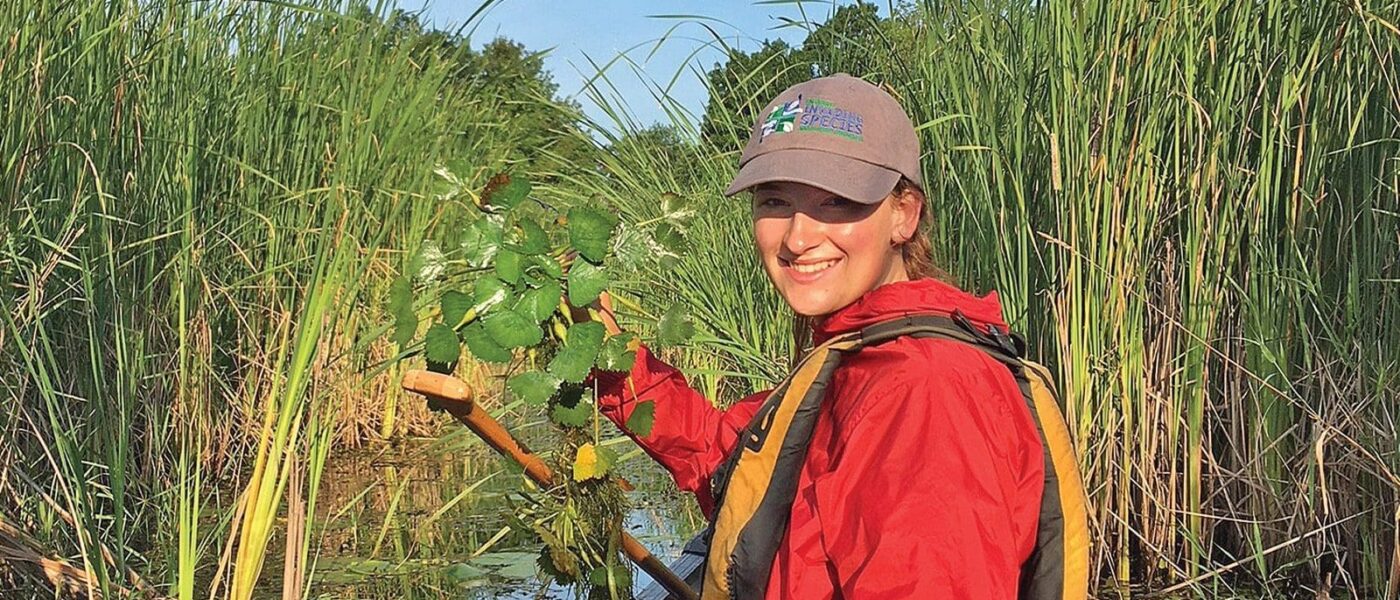 Invader: European water chestnut (Trapa natans)
Location: Lake Ontario shorelines
Removal methods: Hand-pulling
European water chestnut forms impenetrable floating mats that clog shorelines and waterways. It blocks light from penetrating the water's surface, reducing natural underwater plant growth and leading to fish kills. The plant's woody, barbed seeds can even cause injury if stepped on.
Hit Squad makes its mark near Wolfe Island
Lilly Auty spent most of last summer leaning over the edge of a canoe on the hunt for this invasive plant threatening the shores of Wolfe Island near Kingston.
"When we found a patch, we'd use a GPS tracker to pinpoint the location—almost down to the individual plant. Then we would pull the plants by hand and haul them into the boat for disposal," says Auty.
The good news is European water chestnut is an annual species. "If we are able to remove the entire plant before it goes to seed, we can reduce the seed bank and keep ahead of the problem," says Kyle Borrowman, who co-ordinates the European water chestnut program for DUC in Ontario.
A member of the Ontario Federation of Anglers and Hunters' (OFAH) Invading Species Hit Squad, Auty works alongside DUC conservation specialists to deliver the European Water Chestnut Eradication Program. Now entering its fifth field season, the program has resulted in an 81.7 per cent reduction in water chestnut compared to 2014 at Wolfe Island's Bayfield and Button Bays.
Through funding support and partnership with the Ministry of Natural Resources and Forestry, the Invasive Species Centre, Ontario Wildlife Foundation, private landowners and hunt clubs as well as OFAH's Hit Squad, DUC is combatting threats posed by this destructive wetland invader.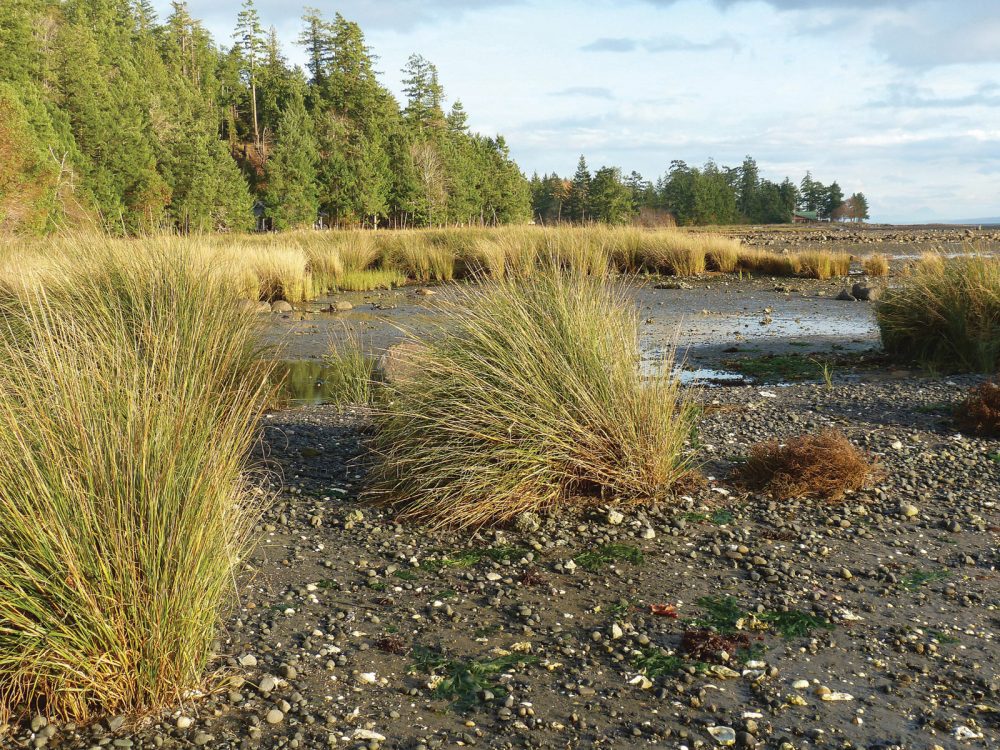 Other battles are being waged in these invasive species hot spots:
Uncommon students combat common buckthorn
Common buckthorn (also known as European buckthorn) is a small glossy shrub or tree native to Eurasia. Introduced to North America in the 1880s, it was planted for fencerows and windbreaks in agricultural fields. Since then it has spread aggressively throughout southern Ontario and in other provinces. Students from the DUC Wetland Centre of Excellence at West Carleton Secondary School in Ottawa spend their time pulling invasive buckthorn shrubs and saplings from the forest and wetlands at nearby Bill Mason Centre.
A smartphone solution for spartina
First discovered in B.C. 15 years ago, Spartina is an invasive cordgrass. Last May, DUC's geographic information specialists launched a new smartphone application. Made with software from ESRI Canada, this app allows conservation staff to document and report the size and location of Spartina plants in real time, to help removal efforts and reduce its impact on B.C.'s habitat and wildlife.