Wednesday, July 29th, 2015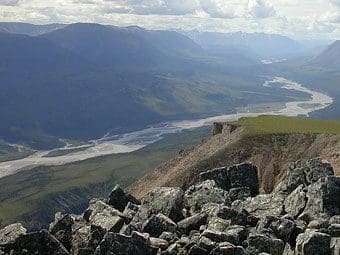 Monday, August 19th, 2013
Territories
Territories: Yukon, Northwest Territories, Nunavut
Conservation efforts North of 60
Wetlands in the North are large and uniquely diverse. These natural areas are key to sustaining continental waterfowl populations, particularly scaup and scoter whose numbers are in decline. As one of Ducks Unlimited Canada's (DUC) top priorities, we direct considerable effort and resources to conservation in northern communities.
Waterfowl rely on a variety of different habitats for nesting, moulting and migration. Together, we all must work together to ensure there are sufficient areas to support our wildlife.
Successful conservation in the north hinges on our strong relationships with government, First Nations and Inuvialuit, communities and industry to ensure waterfowl and wetlands are considered in planning and land-use decisions.
We encourage and support all levels of governments to make wetland conservation a priority and fund effective conservation programs.
We share waterfowl data and our wetland mapping inventories to assist in land-use decisions.
We evaluate the North's role in supporting bird populations.
We use science to understand how landscape changes are affecting waterfowl so we can minimize potential impacts.
We assist our industry partners in implementing practices that protect wetlands.
Yukon
As part of our approach to wetland conservation in the Yukon, we work with communities relying on regional planning processes that are an integral part of Yukon First Nation land claims.
Our work supports the North Yukon Land-use Plan:
Conduct waterfowl surveys
Sit on the technical working groups, which develop recommendations for final land agreements
Lead wetland traditional knowledge workshops
With most of the Yukon still untouched by development, we have an opportunity to be proactive and ensure a framework is in place that will conserve our wetland areas.
Check out current habitat conditions in the Yukon (Western Boreal Forest)
Contact:
Yukon Territory Office
PO Box 31775, 2B 508 Hanson Street.
Whitehorse, YT Y1A 6L3
Tel: 867-668-3824
Northwest Territories
NWT Protected Areas Strategy
In the Northwest Territories, we work closely with community representatives to move candidate protected areas through the Protected Areas Strategy (PAS). The PAS is formal process engaging communities, government, and other concerned groups to balance needs for conservation, economic development and land management, while respecting aboriginal rights and other interests. our involvement in the PAS is critical for the success of wetland conservation in the northern boreal.
Check out current habitat conditions in the Northwest Territories (Western Boreal Forest)
Contact:
Northwest Territories Office
PO Box 1438, Suite 4A, 4921 49 St.
Yellowknife, NT X1A 2P1
Tel: 867-873-6744
Our Northern wetland
We assist efforts to protect several large and productive wetlands in the north. Learn more about these unique ecosystems:
Yukon: Old Crow Flats
Northwest Territories: Ramparts Program
Your support helps ensure protection of wetland gems continues to be a reality! With your help – we can make a difference.