How our work impacts conservation across Canada.
Where we're working on the ground from coast to coast.
We need your help to protect our water, wildlife, and wetlands. Here's how you can make an impact.
Ducks Unlimited Canada Credit Cards from MBNA Canada
Help DUC conserve what matters to Canadians: our water, wildlife and quality of living.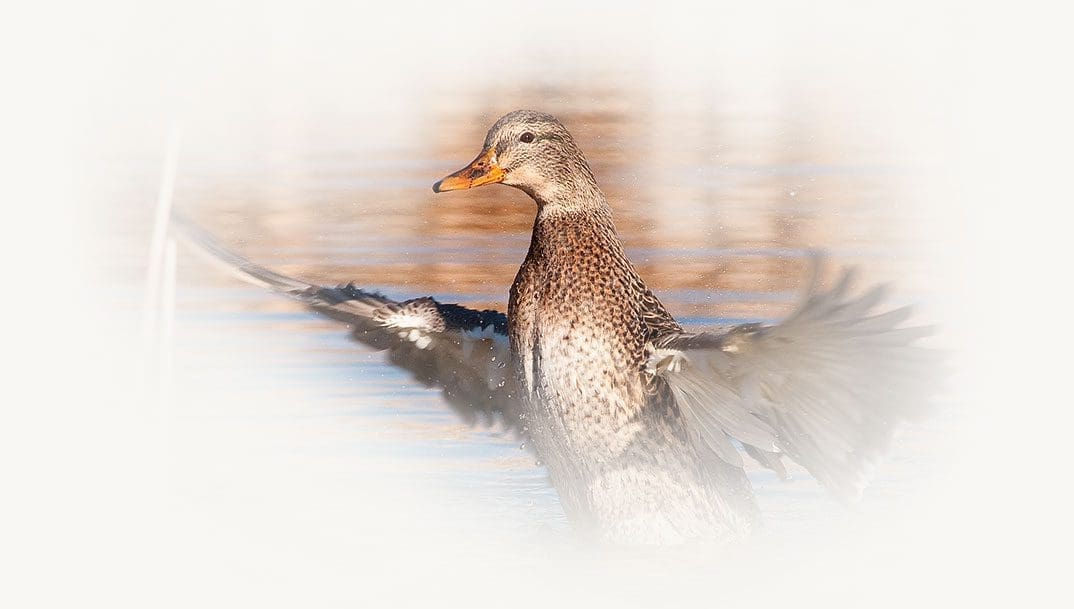 Become a DUC MasterCard® credit card holder today to get the credit card that contributes to conservation while offering you valuable benefits. It's easier than ever to help conserve essential habitat by simply making everyday eligible purchases. Together, DUC MasterCard® cardholders have contributed more than 4 million dollars toward DUC's conservation mission.
Why sign up for a DUC MasterCard® credit card?
✓ Give to conservation with every eligible purchase.
With the DUC MasterCard® credit card, you could make an impact with every eligible purchase‡. These purchases may include:
flights and accommodations for vacations and trips
travel tickets or car rentals
cellphone bills or school tuition
online retail purchases
appliances or electronics
back to school or holiday shopping
✓ A DUC MasterCard® gives back to you.
Choose which benefits are important to you from two premium DUC MasterCard® credit cards. Save money or earn points toward cash back, travel and products. As a dedicated conservationist, you may also choose to redeem MBNA Rewards points for cash and donate this cash back to DUC.
✓ Already a DUC supporter? Take your support to the next level.
Enhance your generous gifts to our conservation mission by using your DUC MasterCard® whenever you:
make a donation to DUC;
bid on DUC online auction or sealed bid auction items;
purchase merchandise from our online store;
or buy DUC fundraising event tickets online.
DUC MasterCard® credit card products
Choose the DUC Mastercard® credit card that fits your lifestyle: save money with a low promotional rate† on balance transfers✪, or earn points‡ toward cash back, travel and brand-name products.
Ducks Unlimited Canada MBNA Rewards MasterCard® credit card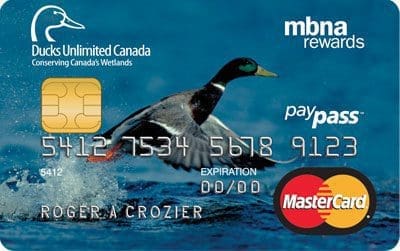 Earn 1 MBNA Rewards point‡ for every $1 you spend on eligible purchases
1.99% promotional annual interest rate† (AIR) on balance transfers✪ for the first 10 full months
1,000 bonus points†† after your first eligible purchase
Redeem points‡ for cash back, travel, brand-name merchandise, or gift cards from participating retailers
No annual fee
‡ These are highlights of the credit card rewards program (the "Program") associated with this credit card account. Points will be awarded on eligible transactions charged to your account as set out in the Program terms and conditions. Complete terms and conditions describing Program eligibility, accrual and redemption of points, and other important conditions, limitations and restrictions will be sent after your account is opened. Please read the terms and conditions carefully upon receipt.
† Promotional AIR offers remain subject to: (i) your MBNA credit card account being in good standing during the promotional period, and (ii) your financial status not having changed since the date we initially determined that your account was eligible for a promotional AIR. The promotional AIR will increase at the end of the promotional AIR period or if you are late making any minimum payment, and any remaining balances will become subject to the applicable standard AIR.
✪ Balance transfers and access cheques must be repaid and otherwise dealt with according to the terms of your Account Agreement and are subject to credit availability. Balance transfers and access cheques cannot be used for repayment of any account established or maintained by MBNA or its affiliates. A transaction fee may apply. See your Account Agreement for full details. The Transaction Fee for balance transfers subject to this offer is 1% of amount advanced, minimum fee of $7.50.
†† To qualify for this offer, an applicant must be approved for the specific credit card account described in the offer. Please allow 8 -10 weeks from the account approval date for bonus points to be posted to your points account. Limit one-time bonus point offer (no cash value) per new account. This promotion is offered by MBNA and may be amended or cancelled at any time without notice.
The Toronto-Dominion Bank is the issuer of this credit card. MBNA is a division of The Toronto-Dominion Bank. All trade-marks are the property of their respective owners.
® MBNA and other trade-marks are the property of The Toronto-Dominion Bank.
Ready to become a DUC MasterCard® holder?
It's easy, fast, and free.