How our work impacts conservation across Canada.
Where we're working on the ground from coast to coast.
We need your help to protect our water, wildlife, and wetlands. Here's how you can make an impact.
DUC and Johnson Insurance: Helping you weather life's storms
Floods. Fires. Drought. These weather-related events are becoming more frequent and more intense.
DUC and Johnson Insurance see the changes happening around us and we're thinking about the future. Your future. Fostering resilient people and communities is our shared goal.
That's why DUC and Johnson Insurance have joined forces. We're working to help Canadians get in shape to weather the storm of climate change and protect the things we all care about: our homes, our families, our communities, even the natural spaces and wildlife we love. Johnson Insurance supports DUC's ongoing mission to protect wetlands; our natural insurance against effects of climate change like flooding.
Receive a free gift with your quote
Helping you is in our nature. Call Johnson Insurance at 1-833-405-4721 for a quote on home or car insurance and mention code "1N" to receive this retro, haversack-inspired DU shoulder bag†!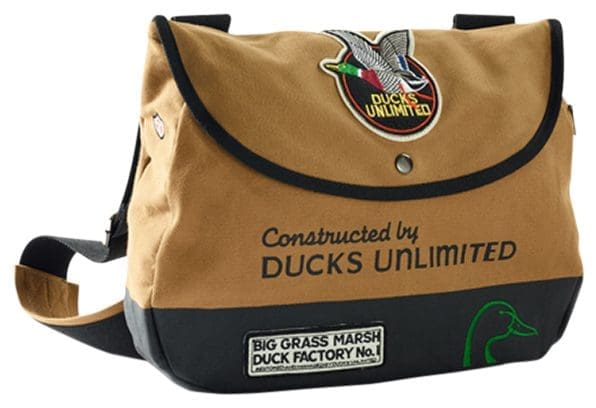 It's only natural that we want to protect what's precious to us.  Purchasing home and car insurance through Johnson Insurance will give you peace of mind when the unforeseen happens.
About Johnson Insurance
* Johnson Insurance is a tradename of Johnson Inc., a licensed insurance intermediary, and operates as Johnson Insurance Services in BC and Johnson Inc. in MB. Home and auto policies underwritten, and claims handled, by Royal & Sun Alliance Insurance Company of Canada ("RSA") in Quebec and primarily underwritten, and claims handled, by Unifund Assurance Company ("Unifund") in the rest of Canada. Described coverage and benefits applicable only to policies underwritten by Unifund or RSA. Auto insurance not available in BC, SK or MB. Home and auto insurance not available in NU. Johnson, RSA and Unifund share common ownership. Eligibility requirements, limitations, exclusions or additional costs may apply, and/or may vary by province or territory.
† No purchase necessary. Offer available May 1/19 to July 31/19 ("Promotion Period"). Open to persons who: (i) are legal residents of Canada (excluding Nunavut and Quebec) and have reached the age of majority in their province of residence; (ii) are DUC members during the Promotion Period; and (iii) call Johnson during the Promotion Period, mention Group Code "1N", and either request a home or car insurance quote or provide a valid expiry date for their current home or car insurance policy and request to be contacted by Johnson for a quote at a later date. limit of one (1) gift per Eligible Person. Gift is a shoulder bag ($20 CAD value). Allow 10 weeks for delivery. Johnson reserves the right to discontinue this promotion prior to the end of the Promotion Period. Johnson may share your entry and contact details with Ducks Unlimited for the purpose of confirming eligibility and gift delivery.