How our work impacts conservation across Canada.
Where we're working on the ground from coast to coast.
We need your help to protect our water, wildlife, and wetlands. Here's how you can make an impact.
Sébastien Rioux appointed to Director of Regional Operations – Eastern Region and British Columbia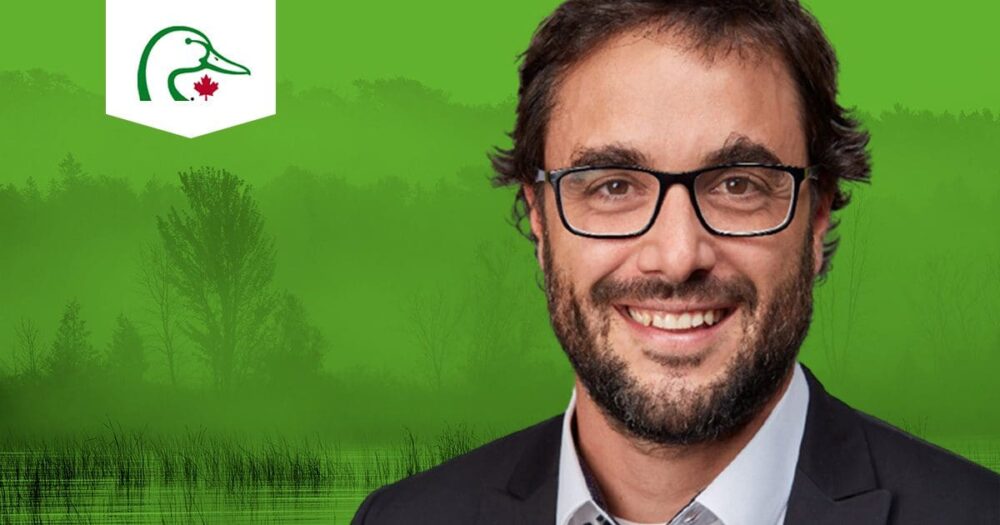 Appointment Notice
We are pleased to announce the appointment of Sébastien Rioux to the position of Director of Regional Operations (DRO) – Eastern Region and British Columbia.
After more than 10 years with the Fondation de la faune du Québec, Sébastien joined the Ducks Unlimited Canada (DUC) team in June 2021 as Manager of Provincial Operations for Quebec.
A highly committed and dynamic biologist, Sébastien quickly made his mark thanks to his ability to garner interest, funding and broad support for wetland conservation projects throughout the province. His knowledge, tact and candor have also enabled him to develop strategic partnerships and improve DUC's relationships with stakeholders in Quebec's wildlife and agricultural sectors.
"Sébastien is a passionate conservationist and a highly skilled leader. As someone who understands how the stewardship of our environment helps drive economic and social prosperity, he has made a tremendous impact during his short time with DUC," says Pat Kehoe, Chief Conservation Officer for DUC. "We look forward to the many ways Sébastien will continue to advance wetland conservation across the country through his new role, which includes overseeing operations in British Columbia, Ontario, Quebec and the Atlantic provinces."
Now celebrating its 85th anniversary, DUC is focused growing its conservation impact by delivering more important research and on-the-ground projects alongside its many partners. In 2023, DUC is striving to conserve, restore and influence more than 4.2 million acres across the country. To do so, DUC is counting on strong, visionary leadership.  That's why Mr. Brian Hepworth, DUC's Manager of Provincial Operations in Saskatchewan, will also be promoted to the position of DRO for the Prairies and Boreal Forest Region.
A successor for Sébastien Rioux in Quebec
The announcement of Sébastien Rioux's appointment creates a new opening on DUC's Quebec team to fill the role of Manager of Provincial Operations.
DUC is looking for a seasoned leader to help promote a healthy environment for wildlife and people by joining our community of enthusiasts who have been conserving wetlands and associated habitats since 1938.
Apply now. Know someone who'd be the perfect addition to our flock? Share our post!