How our work impacts conservation across Canada.
Where we're working on the ground from coast to coast.
We need your help to protect our water, wildlife, and wetlands. Here's how you can make an impact.
Ducks Unlimited Canada recognized as one of Canada's best non-profit employers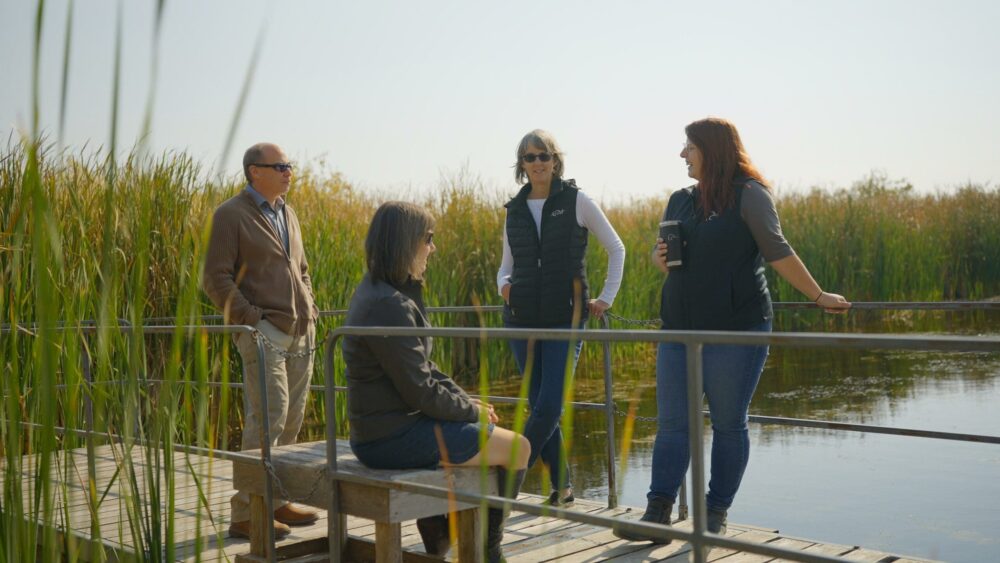 February 13, 2023 – Oak Hammock Marsh, Man. – Ducks Unlimited Canada (DUC) has been named a Canadian Nonprofit Employer of Choice – an exciting recognition for the organization that is also celebrating its 85th anniversary this year.
The Canadian Nonprofit Employer of Choice (NEOC) Award is an annual national recognition program aimed at identifying, recognizing and promoting the best employers in the Canadian non-profit industry. Awards are given to organizations based on an evaluation of their people leadership, employee engagement, social responsibility, governance and transparency.
As one of the largest and longest-standing conservation organizations in North America that employs more than 400 employees across Canada, this award recognizes DUC's focus on balancing the needs of its employees with the demands of achieving its vision of healthy wetlands and clean water for waterfowl, wildlife and people.
"This award is a testament to the people within our organization. Every person on our team plays an important role in furthering our mission," says Kirsten Hayes, DUC's director of human resources. "Our passion and concern for the environment and people, our emphasis on science and our ability to work with others are among DUC's best assets. As we celebrate our 85th anniversary, this award reflects our accomplishments, celebrates our colleagues and showcases the progress we've made as a team."
With staff working in every province and territory, DUC's efforts to provide effective methods of communication through a variety of channels is paramount to cultivating a strong and engaged work culture.
Encompassing a wide array of talented people with diverse interests and skills, from science and engineering to fundraising and education, feedback was gathered from employees through an online assessment tool that measured their workplace satisfaction.
"We're very excited to announce the winners of the 2022 Nonprofit Employer of Choice™ award," says Jeff Doran, president of Corporate Culture and Employer of Choice Inc. "Even as we begin to emerge from the pandemic, things are not status quo. These organizations continue to place their employees as their number one priority. They took the time to assess their operations and recognize their employees for all their hard work and sacrifice. My hat is off to all of these amazing nonprofits. All winning nonprofits showed strong leadership qualities, particularly in the areas of building trust and respect, communication, and employee engagement."
The award complements other recognition DUC has received as a five-star Canadian charity—the highest rating reserved for the top 100 charities in the country.
To date, DUC has conserved more than 6.2 million acres of habitat and has influenced 228.1 million acres more through partnerships and policy efforts. While conservation progress is often tallied in acres or hectares, DUC's success and longevity is directly attributed to its dedicated people and their passion and commitment to moving the organization's mission forward.
"As we work together to conserve and restore wetlands and other natural areas across Canada, we're thankful for our great team, employees that are working hard every day to ensure our natural habitats remain healthy for generations to come," says Roger d'Eschambault, president of DUC's national volunteer board of directors. "We are committed to making DUC a place of belonging for all people, united in conservation."
– 30 –
Ducks Unlimited Canada (DUC) is the leader in wetland conservation. A registered charity, DUC partners with government, industry, non-profit organizations, Indigenous Peoples and landowners to conserve wetlands that are critical to waterfowl, wildlife and the environment. To learn more about DUC's innovative environmental solutions and services, visit www.ducks.ca