How our work impacts conservation across Canada.
Where we're working on the ground from coast to coast.
We need your help to protect our water, wildlife, and wetlands. Here's how you can make an impact.
Peninsula Shores students bring wetland education to Wiarton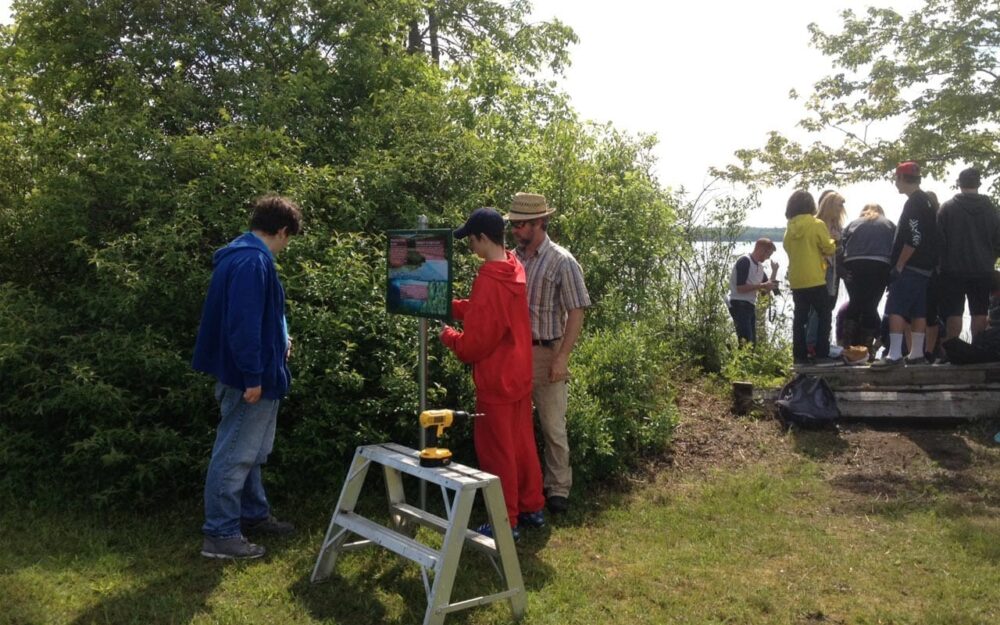 Wiarton, Ont. – Students, nature enthusiasts, the entire community of Wiarton and beyond, will now be able to get a hands-on lesson about the importance of wetlands thanks to the efforts of a group of Peninsula Shores District School (PSDS) students and the Bluewater Outdoor Education Centre. With funding support from the Statefarm© Youth Advisory Board, a series of interpretive signs – researched, written and designed by these young conservationists – were unveiled and installed along the centre's trails today.
In between exploring the centre's wetland and using dip nets to find and identify the critters found within it, the PSDS students spent time installing the ten distinctive interpretive signs – each one relaying valueable information that will help educate future visitors about the importance of wetlands and the many species that rely on them for survival.
"I was very excited to see the final version of my sign," says Stephanie Kemp, grade 10 student at PSDS. "We worked hard to make sure that we had enough information, and to make sure our research was accurate. I hope that lots of students and adults will be inspired by my sign to learn more about wetlands."
In 2014, Ducks Unlimited Canada (DUC) recognized PSDS as an Ontario Wetland Centre of Excellence. Wetland Centres of Excellence (WCE) are schools that commit to the long-term care of local wetlands where students plan and undertake a variety of conservation and education-related activities. Each WCE is based on the unique nature of the local wetlands and the interests of the students. Their activities range from tackling wetland restoration and habitat improvement projects to research, or like the PSDS students, wetland education in their local community.
"It is important to teach the next generation about the importance of the land and its natural resources," says Krystal Hewitt, education specialist for DUC. "These centres are great examples of the kinds of engaging and practical hands-on learning that brings education to life. They create a real commitment from young people to be involved in their communities and in conservation activities in general."
Each year approximately 2000 students experience the great outdoors at the Bluewater Outdoor Education Centre. According to Deborah Diebel for Bluewater Outdoor Education Centre, the entire community can look forward to experiencing the beautiful walk to Boat Lake armed with a bit more information about what they are seeing.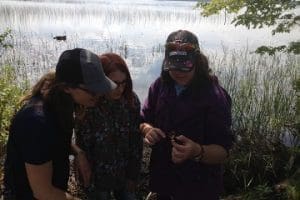 "The trail to Boat Lake is a popular one, used by many visitors to the BOEC," says Diebel. "Now, thanks to the hard work of the students and teachers involved in this project, future visitors will learn more about the special landscape through which they are travelling, and the creatures that call this property home."
Thanks to the ongoing financial support from sponsors such as the Statefarm© Youth Advisory Board, more than 80,000 students have participated in DUC's education programs across Ontario. Its continued success has shown that students who participate become more passionate about the environment. They gain skills in outdoor activities, build self-confidence, and increase their respect for wildlife. Students also gain a sense of empowerment in realizing they can play an important role in creating a better world.
Wetlands are one of the most diverse ecosystems on earth – second only to rainforests. Besides providing habitat for hundreds of wildlife species, they naturally filter and store water, mitigate floods, droughts, storm surges and the effects of climate change. They provide enormous benefit to society yet we continue to lose them.
"Educating youth about wetlands and waterfowl is a big part of our mission at Ducks Unlimited Canada," says Lynette Mader, manager of provincial operations for Ducks Unlimited Canada. "We need to make sure all Ontarians, including young people, understand the value of our precious natural resources and the need to stop wetland loss. That's why we're calling for the development of an Action Plan for Ontario wetlands."
Don't miss out! A Family Fun Day is taking place at the Bluewater Outdoor Education Centre (BOEC) on Saturday, June 13th where local families, students, supporters and other interested parties will gather to explore and enjoy the BOEC. This will be a great opportunity to view the new interpretive signs!
Ducks Unlimited Canada (DUC) is the leader in wetland conservation. A registered charity, DUC partners with government, industry, non-profit organizations and landowners to conserve wetlands that are critical to waterfowl, wildlife and the environment. To learn more, please visit ducks.ca.
The Bluewater Outdoor Education Centre (BOEC) is proud to offer a full roster of high quality, curriculum-driven, outdoor and environmental education experiences for the students of Bluewater District School Board. Through time spent out of doors, the BOEC plants the seeds of curiosity and wonder, growing students who value and understand our connection to nature and make wise decisions for our planet.
Contact Information
Joanne Barbazza
Communications Specialist, Ontario
Ducks Unlimited Canada
(705) 721-4444 ext. 240
j_barbazza@ducks.ca