You're a Common eider!
You were banded one spring by Ducks Unlimited Canada scientists at Table Bay, near Cartwright, Labrador.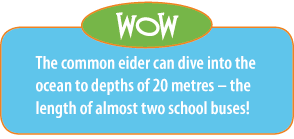 Here, your mom laid you and five other green eggs in a soft, feather-filled nest on the ground near the ocean. She guarded you closely, and didn't even eat until you hatched. In fact, your mom lost almost half her weight during this time!
Soon after, your "aunt" and other female common eiders joined your family, helping your mom protect you from predators like large ravens. By midsummer, you learned how to dive deep into the ocean to find your favourite foods: clams, scallops and crabs.
In the fall you and your family migrated a short distance south to Yarmouth, Nova Scotia to spend the winter.
Download your certificate here to share with your friends and family.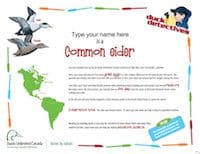 Fast Facts:
largest duck in North America
nests in colonies close to many other eiders
eats prickly sea urchins and other small sea life
people collect the fluffy down feathers from nests after the eggs hatch and use them to make warm parkas, pillows and quilts
the eider was almost extinct 125 years ago and needs our help to keep its population healthy