Across Canada, extreme weather is increasingly common. Canadians have endured heatwaves, droughts, forest fires and storms. Floods have brought destruction to cities and communities from British Columbia to New Brunswick.
The 2011 and 2014 floods each cost Manitoba taxpayers $1 billion in damage that included washed out culverts, roads and bridges. It's estimated those floods combined cost Saskatchewan at least $720 million.  The Toronto flood of 2013 caused $850 million in damage to insured property, and that same year $6 billion in damage was done to Calgary and Southern Alberta.
In its report, Combatting Canada's Rising Flood Costs: Natural infrastructure is an underutilized option (September 2018), the Insurance Bureau of Canada stated that losses from to climate change and extreme weather rose to an average of $1.8 billion per year for 2009-2017 from $405 million for 1983-2008. The report noted that flood risk could be limited through conservation and restoration of natural infrastructure such as ponds, wetlands and vegetation.
Governments, businesses and property owners need to be ready; they need to make their communities more climate resilient. Ducks Unlimited Canada can show you how with natural infrastructure —a cost-effective way to meet the growing demand for infrastructure, while protecting people and property from extreme weather.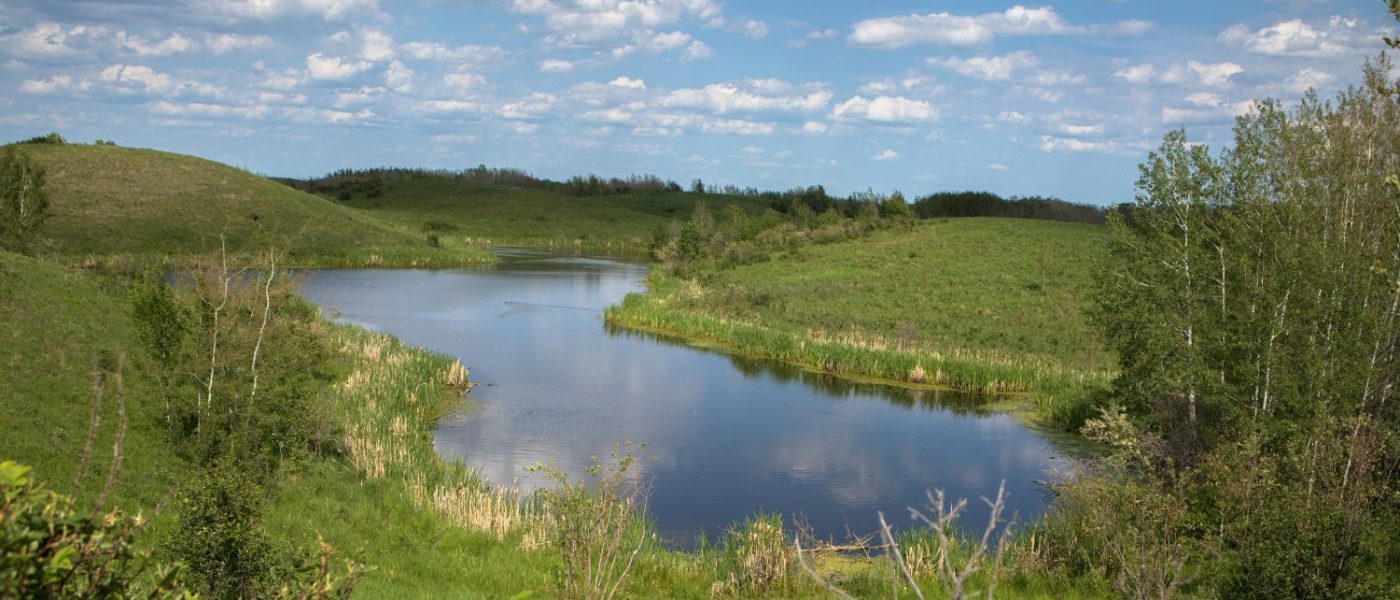 Natural infrastructure uses ecosystems such as wetlands, forests and grasslands to reduce flooding and purify water. It's a form of green infrastructure, a broader practice that uses nature to protect us from extreme weather and improve air and soil quality.
The use of natural infrastructure to complement  traditional "grey infrastructure" like dams, culverts and water treatment plants not only improves climate resiliency, it saves public funds.
With more than 80 years of experience in conservation, we have proven expertise in the conservation and restoration of wetlands, grasslands and boreal forest. Wetlands are a practical way to improve climate resiliency, and they provide clear results.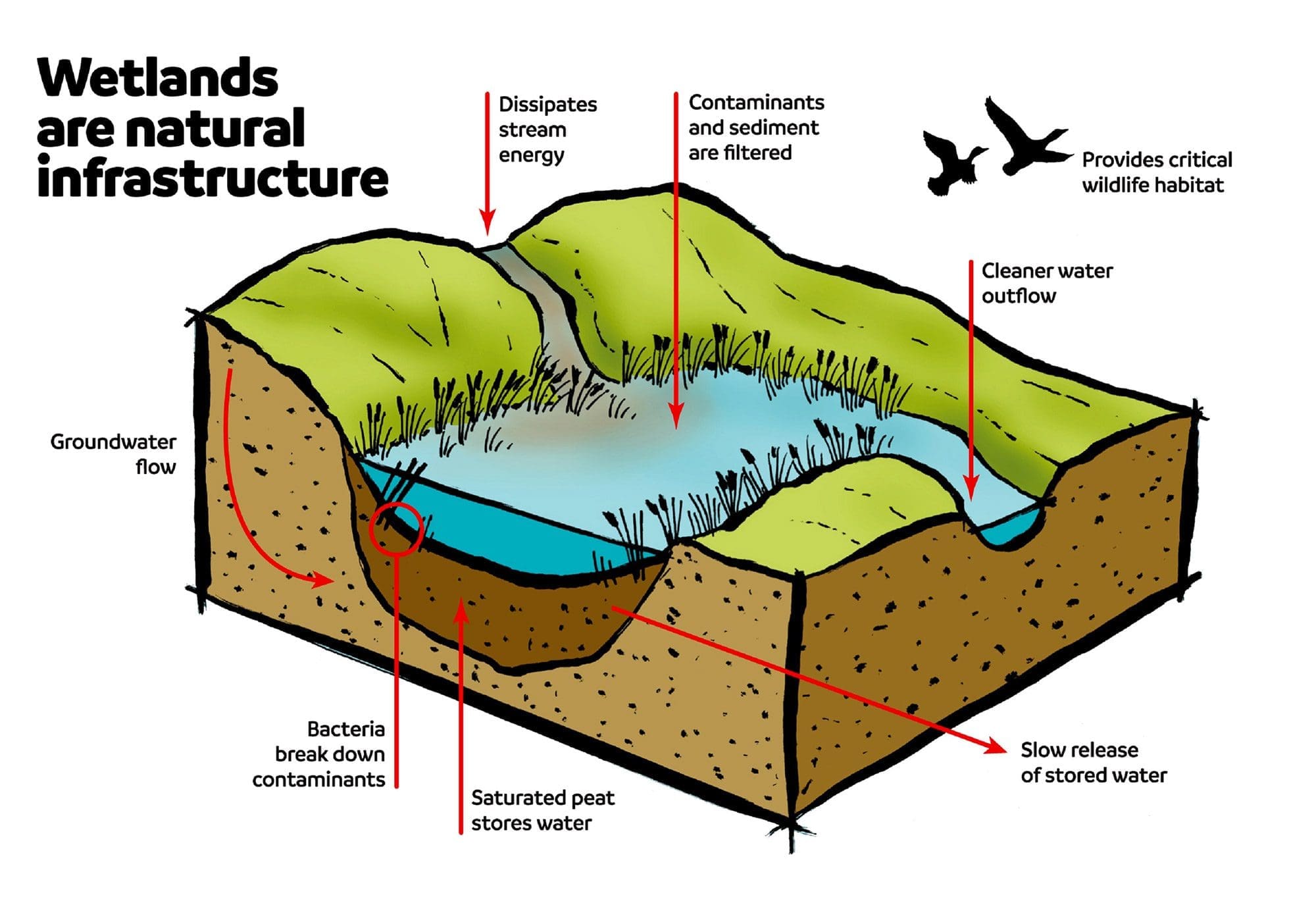 Wetlands as natural infrastructure and storm water management
Save money—Affordable green infrastructure complements and extends the life of constructed grey infrastructure such as municipal drains.
Reduce damage—Wetlands slow the flow of water from runoff into rivers and lakes and lessen the impact of flooding.
Protect people—They're part of healthy landscapes that form buffer against extreme weather such as flooding, coastal storm surges and drought.
Supply clean water—Wetlands and their vegetation filter water, including removing excess nutrients that would otherwise find their way into streams, rivers and lakes and cause harmful algae blooms. They also store water, helping to protect against drought.
Promote tourism—Wetlands provide food and shelter to wildlife, and they're areas of natural beauty that draw outdoors enthusiasts. Those same qualities increase nearby property values.
Provide a strong return on investment*—One study of one Ontario watershed made a business case for wetland retention and restoration based on the social benefits they provide (nutrient filtration, biodiversity, carbon retention, and recreation.) It concluded that the benefits of simply keeping wetlands in that area would be worth $1.52 million over 30 years (despite the loss of land for other purposes such as farming and development). Restoring wetlands also generated a strong return on investment.
Retain carbon—Wetlands trap carbon and prevent its release into the atmosphere where it would contribute to climate change.
*Ducks Unlimited Canada, 2011. A Business Case for Wetland Conservation. The Black River Subwatershed.
---
We Can Boost Natural Infrastructure Funding and Support
Not only do wetlands provide proven benefits as forms of green infrastructure, we can help you get even more out of your investment. We can use our own funding sources to multiply money available through government programs. We'll work with municipalities and conservation districts to apply for funding through programs dedicated to natural infrastructure, such as the Investing in Canada plan and Disaster Mitigation and Adaptation Fund.
Let's Work Together
DUC is an innovator in natural infrastructure solutions. Contact us to discuss how we can work with you to make your community more resistant to extreme weather.
We provide natural infrastructure solutions such as:
Wetland restoration—We restore drained and altered wetlands to their natural water levels. Wetlands may be restored as part of a conservation agreement.
Conservation easements—Landowners agree to protect wetlands and surrounding grasslands, thereby preserving their many benefits (including flood resistance).
Forage program—DUC provides incentives to farmers to seed forage that provides habitat for nesting ducks while supplying food for their cattle. Forage and grasslands also help to protect against floods.
Revolving Land Conservation Program—This innovative program allows us to restore and protect wetlands while keeping land in agricultural production.
Natural storm water reservoirs and ponds—Affordable options for flood protection that are better at cleaning water than constructed storm water ponds.
Filtering wetlands—In Ontario, DUC and municipal partners built three wetlands at the Keet Municipal Drain to filter nutrients from the runoff from farm fields and keep them out of the Thames River. On the prairies, DUC works with landowners to conserve and restore natural wetlands that perform the same function.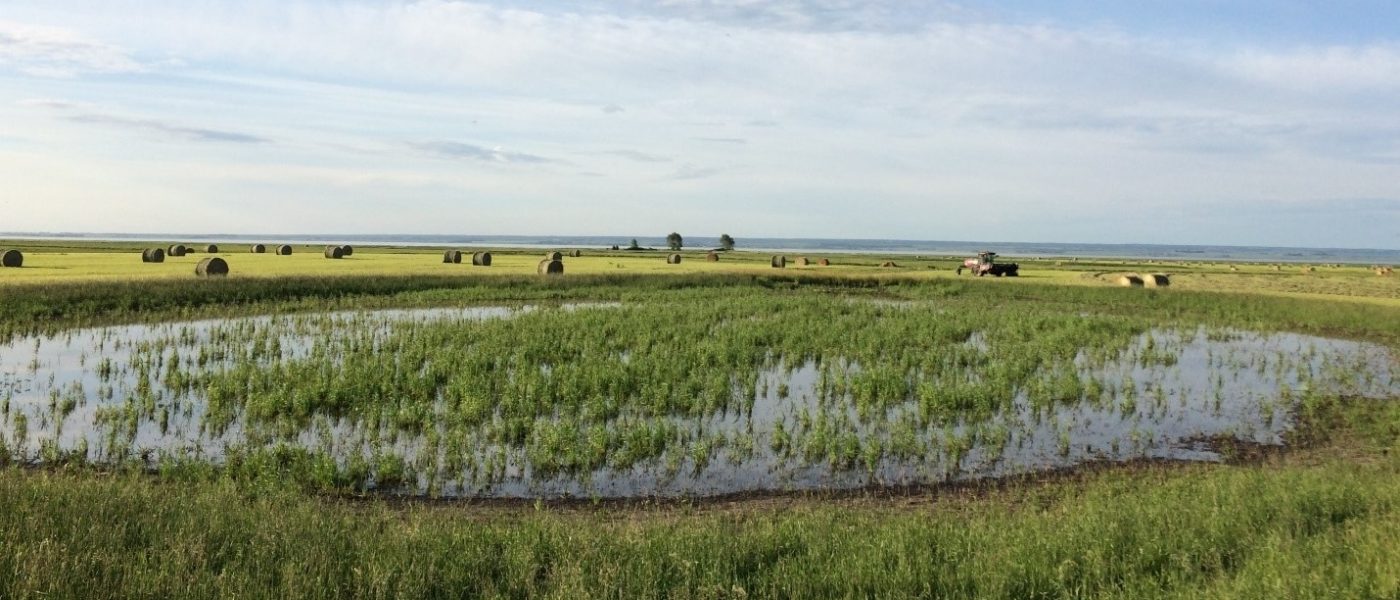 Proven Success
We have a proven track record of working with partners and landowners to deliver on-the-ground results. Now we want to work with you. Here are some examples of our projects:
Contact us to learn how natural infrastructure can benefit your community.