How our work impacts conservation across Canada.
Where we're working on the ground from coast to coast.
We need your help to protect our water, wildlife, and wetlands. Here's how you can make an impact.
$750 million to protect biodiversity in Southern Quebec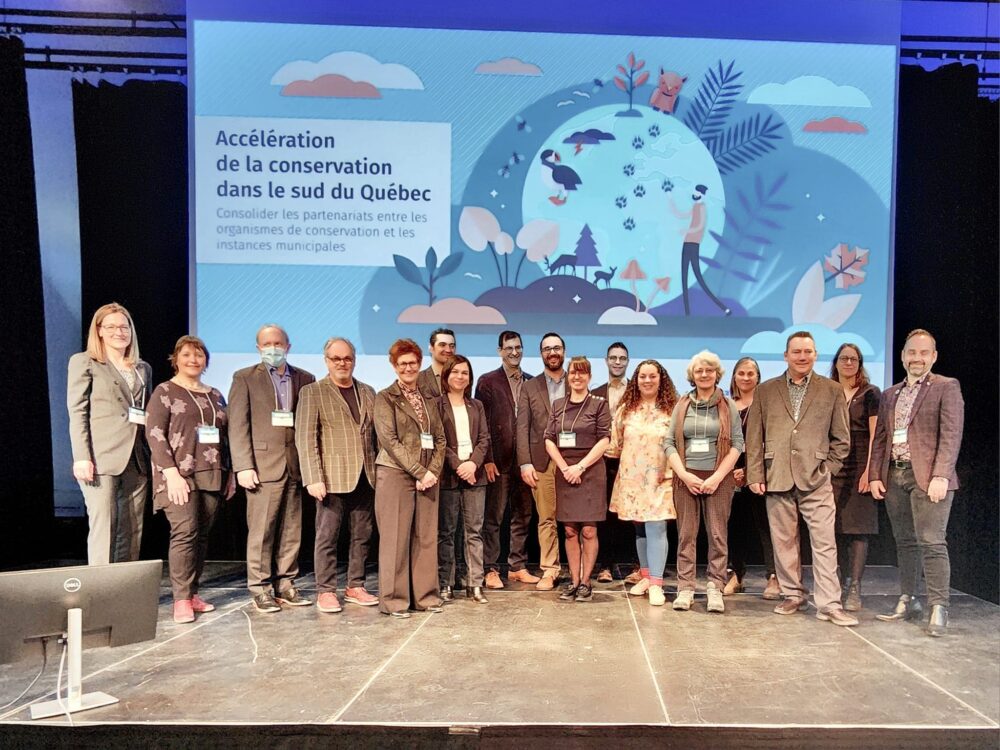 The Accelerating Conservation in Southern Quebec (ACSQ) project requires the cooperation of governments and the private sector
Montreal, December 15, 2022 – To accelerate the conservation of natural ecosystems and halt the loss of biodiversity, a collective of 70 nature conservation organizations presented the "Accelerating Conservation in Southern Quebec" (ACSQ) project, which requires an investment of $750 million. In response to the Government of Quebec's intention to protect 30 per cent of its territory by 2030, the collective made this proposal at an event held today in the Agora at the Coeur des sciences de l'UQÀM as part of the United Nations Conference on Biodiversity (COP 15).
A solution aligned with the Government's Nature Plan
The investment planned for the ACSQ aligns with the Nature Plan, a $650-million investment over seven years, recently announced by Premier François Legault and welcomed by conservation organizations, which are still waiting to find out how the government will allocate the funds. The ACSQ partner organizations hope to obtain $300 million from the Government of Canada and $300 million from the Government of Quebec, and  plan to increase this funding by raising $150 million from private funds. The ACSQ partners believe this challenge is achievable.
"We have extensive expertise in complex and diverse legal and financial arrangements. In the last three years alone, we have raised $53 million from private funds, federal funds and philanthropy, including land donations," says Pascal Bigras, Executive Director of Nature-Action Québec, one of the project's supporting organizations.
Conserving our land is also about ensuring our safety, health and well-being
The event was an opportunity to emphasize the alarming context: the degradation of natural habitats, the decreasing biodiversity and the disruption of the natural balance are threatening the well-being of the current and future generations.
"The risks are numerous for all types of life on Earth. We are not only talking about environmental issues, but also about economic, social, public security, public health, quality of life, health and food sovereignty issues. In this regard, the ACSQ project has a broad impact," says Claire Ducharme, Vice President for Quebec at the Nature Conservancy of Canada.
"To reverse the loss of biodiversity and further protect threatened and vulnerable species, we want to continue our collaboration with the Quebec government. We are already in 2022. We have no time to lose," says Brice Caillié, Executive Director of Réseau de milieux naturels protégés.
A conservation project with ambitious goals
The ACSQ project will ultimately support conservation organizations in their efforts to achieve more than 1,000 protection projects by 2030, as well as double the number of natural sites conserved and make more of them accessible in Southern Quebec.
"The preservation of our natural heritage for current and future generations is essential. This unique conservation project will contribute to the rehabilitation of natural environments and the protection of habitats of more than 200 endangered or sensitive species," says Sébastien Rioux, Director of Provincial Operations for Ducks Unlimited Canada.
The challenge of conservation on an entirely private land?
Conservation organizations work hand in hand with municipalities and MRCs to implement land-use policies that respect natural ecosystems. The ACSQ project already has the support of some 15 municipal authorities in Southern Quebec.
"The Appalachians cross several municipalities. To ensure overall protection, and therefore connectivity of natural habitats, we provide advice and support to the municipalities in the area where we are working," says Mélanie Lelièvre, Executive Director of Appalachian Corridor.
An impressive record of achievements over the past two years
The event was also an opportunity to present an impressive list of achievements. The ACSQ collective has already protected 71,000 hectares in Southern Quebec.
In the last two years, an area twice the size of Mount Orford Park has been protected in Southern Quebec. Conservation organizations have delivered $110 million worth of projects in three years and have seven years left until the 2030 target. An envelope of $750 million will allow them to accelerate the pace and help the government reach its objective of protecting 30 per cent of the province's natural ecosystem by 2030.
---

The Nature Conservancy of Canada
The Nature Conservancy of Canada (NCC) is the country's unifying force for nature. NCC seeks solutions to the twin crises of rapid biodiversity loss and climate change through large-scale, permanent land conservation. As a trusted partner NCC works with people, communities, businesses and government to protect and care for our country's natural areas. Since 1962, NCC has brought Canadians together to conserve and restore more than 15 million hectares. In Quebec, nearly 50,000 hectares have been protected.
For over 35 years, Nature-Action Québec, a non-profit organization, has been guiding individuals and organizations in the application of better environmental practices. The organization works with municipalities, businesses, community organizations and citizens to carry out concrete projects that contribute to improving the environment, health, well-being and quality of life of the Quebec population.
Appalachian Corridor is a non-profit conservation organization created in 2002, whose mission is to protect natural environments in the Green Mountains region through the implementation of a cross-border conservation strategy. Over the past 20 years, Appalachian Corridor, along with its affiliate partners and the Nature Conservancy of Canada, has worked with over 230 landowners to carry out conservation projects in perpetuity. To date, more than 16,252 ha of natural environments have been protected in perpetuity on private land – the equivalent of more than the size of the city of Granby.
Ducks Unlimited Canada (DUC) is a leader in wetland conservation. As a registered charity, DUC works with government, industry, non-profit organizations and landowners to conserve wetlands essential to waterfowl, wildlife and the environment.
Protected Natural Areas Network
The Protected Natural Areas Network (PNAN) brings together the majority of the province's private land conservation community, approximately 80 individuals and organizations, with over 11,000 volunteers, staff and members. Through various voluntary conservation measures, over 71,000 hectares of natural areas are protected.
Contact Information
Sonia Reboul
COPTICOM, Strategies and Public Relations
(438) 930-3630
sreboul@copticom.ca