How our work impacts conservation across Canada.
Where we're working on the ground from coast to coast.
We need your help to protect our water, wildlife, and wetlands. Here's how you can make an impact.
DUC says wetland conservation and restoration are key to Canada's efforts to reduce emissions and achieve climate goals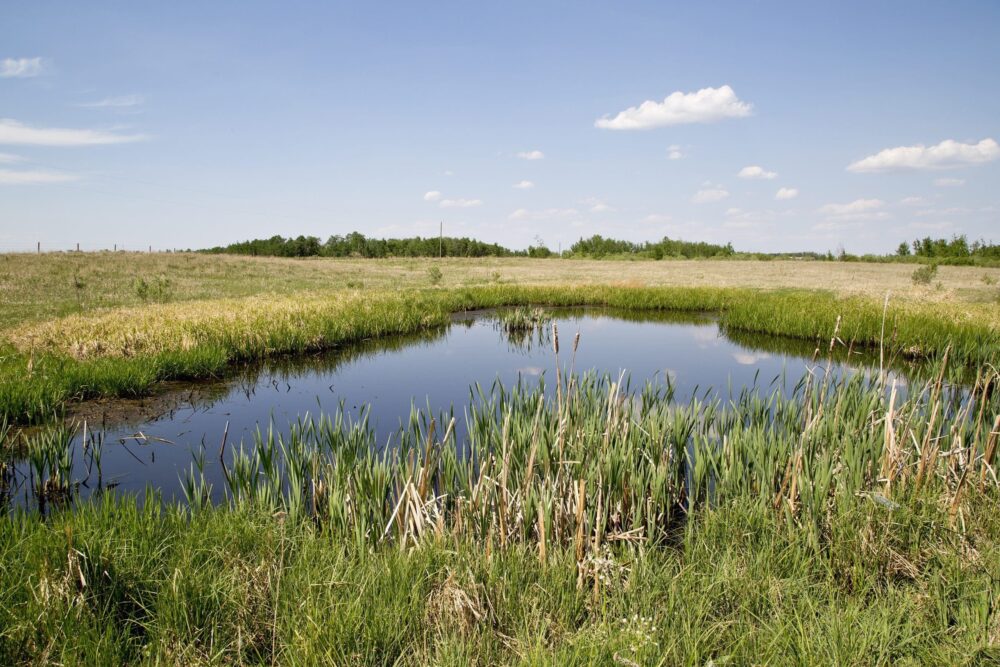 Conservation organization responds to federal government's 2030 Emissions Reduction Plan and emphasizes importance of nature-based solutions  
Oak Hammock Marsh, Man. – After years of falling short on climate targets, Canada is refocusing its actions to reduce greenhouse gas emissions. The 2030 Emissions Reduction Plan, announced today by the federal government, is an important course correction and Ducks Unlimited Canada (DUC) applauds significant new supporting investments made in nature-based solutions. 
"We have a tremendous opportunity to harness the power of critical ecosystems like wetlands in achieving Canada's climate goals," says Larry Kaumeyer, Chief Executive Officer of DUC. 
Key to the federal government's plan of reducing greenhouse gas emissions by 40 per cent is a $780-million boost to the Government's Nature Smart Climate Solutions Fund that supports projects that conserve, restore and enhance wetlands, peatlands and grasslands to capture and store carbon. DUC is the country's leading conservation organization dedicated to protecting and restoring these habitats, which are recognized as being some of Canada's most threatened—and valuable—natural assets.    
"This is a game-changing commitment," says Kaumeyer. "The funding more than doubles the Government's investment in the Nature Smart Climate Solutions Fund and has made safeguarding wetlands and other associated habitats the principal means of pursuing its nature-based carbon capture and sequestration goals." 
DUC is poised and ready to transform the dollars into on-the-ground results. The organization is already a major delivery partner for the Government of Canada and has 84 years of experience delivering science-based conservation and restoration projects across the country. Led by its best-in-class science and conservation program delivery, DUC is well positioned to support industry in the development of carbon protocols and to assist in delivering products and services to help reduce greenhouse gas emissions across Canada. 
Many of the areas where DUC works, and where Nature Smart Climate Solutions Funding will be used, are found in working landscapes. That's why DUC works closely with Canadian farmers, ranchers and other landowners and strongly supports the Government's $470-million investment in Agricultural Climate Solutions: On-Farm Climate Action Fund.    
"We are proud to champion the role that agriculture can—and must— play in mitigating climate change," says Kaumeyer. "We know that helping farmers build on their existing sustainable practices will support our climate change goals, while also providing additional biodiversity habitat and greatly improving surface water management on Canada's agricultural landscapes." 
While today's announcement represents an important step in the right direction, Canada's larger climate change mitigation strategy requires additional development and scaling of nature-based solutions.  Additional conservation planning tools including a comprehensive national wetland inventory and monitoring system (currently being led by DUC's conservation knowledge and expertise) as well as advancing standardized carbon quantification and protocol development are needed.   
"We look forward to working with partners across all sectors to realize the potential of nature-based climate solutions to contribute to Canada's carbon reduction objectives," says Kaumeyer.  
---
Ducks Unlimited Canada (DUC) is the leader in wetland conservation. A registered charity, DUC partners with government, industry, non-profit organizations, Indigenous Peoples and landowners to conserve wetlands that are critical to waterfowl, wildlife and the environment. To learn more about DUC's innovative environmental solutions and services, visit www.ducks.ca 
Contact Information
Ashley Lewis
Ducks Unlimited Canada
media@ducks.ca