How our work impacts conservation across Canada.
Where we're working on the ground from coast to coast.
We need your help to protect our water, wildlife, and wetlands. Here's how you can make an impact.
Ducks Unlimited Canada invites Canadians to join the race to conserve and restore our wetlands this October 14 and 15, 2023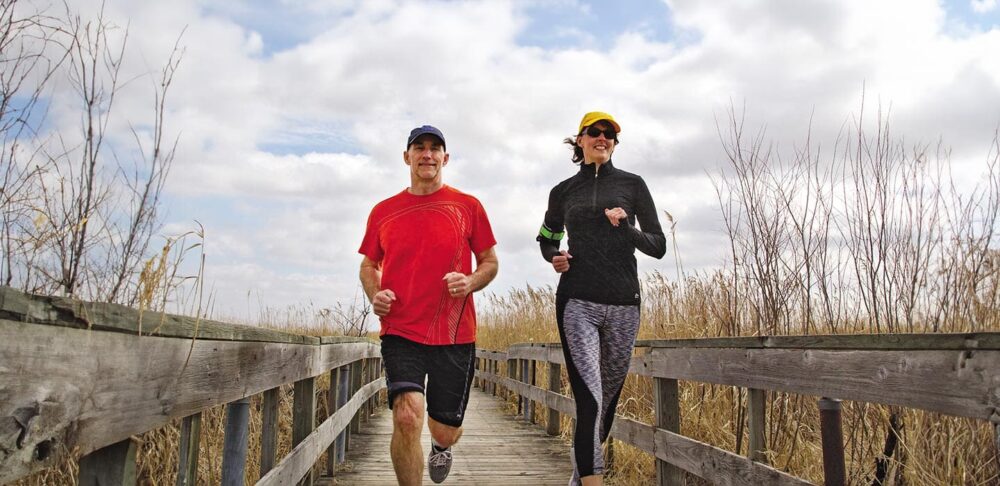 Oak Hammock Marsh, Man. – August 14, 2023 – This fall, Ducks Unlimited Canada and event sponsor Bass Pro Shops & Cabela's Canada are proudly presenting the first annual Duck and Run challenge in support of nature conservation. This new community-based and virtual "fun run" encourages Canadians to lace-up to support a healthier world.
"Wetlands are home to countless species of plants, birds and animals but they also help to mitigate the impacts of severe weather and provide outdoor recreation and clean water to people and communities," says Michael Nadler, CEO of Ducks Unlimited Canada. "We're hoping communities and supporters from coast to coast will join our efforts to drive awareness and funding for habitat conservation."
Celebrating its 85th anniversary, Ducks Unlimited Canada has set an ambitious target to conserve, restore and influence 15 million acres this year.  Nadler says, "Ducks Unlimited Canada is grateful to the many supporters and partners who are helping to make a difference for nature conservation."
"Our employees and customers care deeply about conserving Canada's great outdoors for generations to come," says Brent Bowen, Regional Director for Bass Pro Shops & Cabela's Canada. "The Duck and Run is a great opportunity for our community to come together in support of conservation." Beyond supporting a good cause, Duck and Run participants can expect a fun community event with great giveaways, prizes and more.
One of the first communities to join the Duck and Run challenge is Sackville, New Brunswick, located in the municipality of Tantramar. Recently recognized as North America's first accredited "Wetland City," the city of Sackville worked with partners like Ducks Unlimited Canada to create a 55-acre urban waterfowl park with four acres of trails and boardwalk.
"Our community values the clean water, flood mitigation and wildlife habitat that the park provides," says Andrew Black, Mayor of Sackville. "But beyond this, the recreational benefits and opportunity to connect with nature are so important to our health and well-being. I am hoping the Duck and Run challenge will inspire more communities to invest in natural solutions like wetlands."
Quick facts:
Ducks Unlimited Canada's first annual national Duck and Run is an all-ages fun run to support nature conservation in communities across Canada. It is proudly sponsored by Bass Pro Shops & Cabela's Canada.
Everyone is welcome to join for a five-kilometre or one-kilometre fun run or walk, or a 10,000-step challenge.
Ducks Unlimited Canada is inviting communities across Canada to organize Duck and Run events.
Participants can join a community event or participate in virtual challenges.
Funds raised will support Ducks Unlimited Canada's nature conservation efforts and will help keep Canada's vital wetlands healthy.
To learn more about how you can support wetland conservation and participate in upcoming Duck and Run events being held on October 14 and 15, 2023 please visit www.ducks.ca/run. Registration for the 10,000-step virtual challenge is open now, and locations for in-person community events are being added regularly.
-30-
About Ducks Unlimited Canada: Ducks Unlimited Canada (DUC) is the leader in wetland conservation. A registered charity, DUC partners with government, industry, non-profit organizations, Indigenous Peoples and other landowners to conserve wetlands that are critical to waterfowl, wildlife and the environment. To learn more about DUC's innovative environmental solutions and services, visit www.ducks.ca
Contact Information
Ashley Lewis
Ducks Unlimited Canada
media@ducks.ca