How our work impacts conservation across Canada.
Where we're working on the ground from coast to coast.
We need your help to protect our water, wildlife, and wetlands. Here's how you can make an impact.
Ducks Unlimited Canada welcomes six influential leaders to board of directors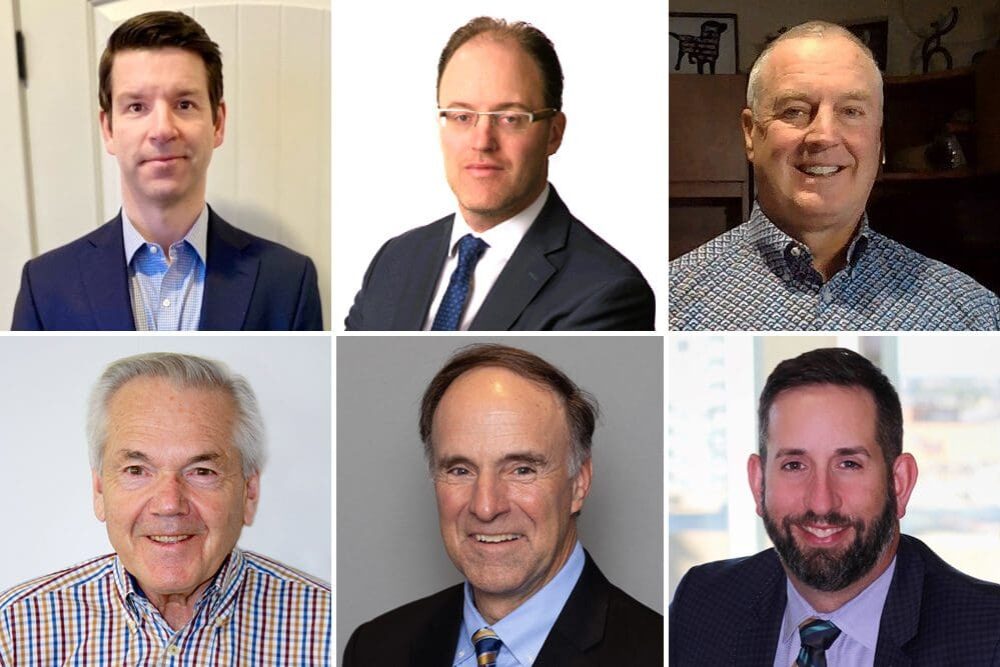 Montreal, Que. – Ducks Unlimited Canada (DUC) is pleased to welcome six new members to its board of directors. Supporting the organization's mission to conserve and restore wetlands and other natural areas, these directors bring a wealth of knowledge and expertise to help DUC advance sustainability, biodiversity and climate resiliency and achieve its vision of healthy wetlands and clean water for waterfowl, wildlife and people.
Andre Tremblay, Bob Spoerl, Bruce Tetz, David Brandt, Jeff Dolan and Ron Miller were elected to their volunteer leadership roles during DUC's board of directors meeting in Montreal this past weekend.
"We're pleased to welcome these outstanding individuals to our board, and we look forward to the many ways they will help advance our conservation mission," says Kevin Harris, board chair of DUC. "Their strong leadership will provide DUC with valuable insight and guidance as we work together to preserve and protect our wetlands and natural areas to help us solve the conservation challenges of tomorrow – for people and for nature."
Andre Tremblay has over 20 years of public sector experience that includes various levels of government as well as non-government organizations and academia. Since joining the Alberta Government, Tremblay has served in a variety of senior leadership roles, currently serving as Deputy Minister of Education and previously as the Deputy Minister of Agriculture and Forestry, the Deputy Minister of Transportation and the Associate Deputy Minister of Health in Edmonton, Alberta. As an experienced civil servant, Tremblay has gained extensive experience in policy development, strategic thinking and relationship building.
Bob Spoerl has a deep understanding of DUC's mission and priorities, having served on a number of Ducks Unlimited, Inc. committees in the United States. Today, he serves as Ducks Unlimited Inc.'s First Vice-President as well as a director for Ducks Unlimited Mexico. Now retired, Spoerl lives with his wife, Kim, in Waupaca, Wisconsin and is an avid outdoorsperson.
Bruce Tetz brings more than 30 years of expertise and experience in strategic planning and leadership. Under his leadership as Senior Vice-President, Advisor to the President for PPI Sales, the company has grown to be a market leader in the insurance industry, with substantial advancement for over a decade. A proud Albertan, Tetz makes his home in Calgary.
David Brandt is a skilled entrepreneur from Winnipeg, Manitoba. With significant professional experience in wealth management, Brandt guides his firm's portfolio investments and develops and implements the company's strategic vision.
Jeff Dolan is Executive Director for the Nova Scotia Department of Labour, Skills and Immigration Technical Safety program. Focused on regulatory affairs, intergovernmental relations and corporate governance, Dolan has extensive experience working in partnership with government and industry leaders with a particular focus on climate resilience and environmental standards. He resides in Bedford, Nova Scotia.
Ron Miller is a lifelong conservationist with a historic connection to DUC as a long-standing volunteer and member of DUC's Manitoba Provincial Council. Located in Winnipeg, Manitoba, Miller is a passionate community supporter and spends time hunting and fishing in the great outdoors as he enjoys his retirement.
Celebrating its 85th anniversary this year, DUC is one of the largest and longest-standing conservation organizations in Canada. To date, DUC has conserved more than 6.2 million acres of habitat and has influenced 228.1 million acres more through partnerships and policy efforts.
– 30 –
About Ducks Unlimited Canada: Ducks Unlimited Canada (DUC) is the leader in wetland conservation. A registered charity, DUC partners with government, industry, non-profit organizations, Indigenous Peoples and landowners to conserve wetlands that are critical to waterfowl, wildlife and the environment. To learn more about DUC's innovative environmental solutions and services, visit www.ducks.ca
Contact Information
Ashley Lewis
Ducks Unlimited Canada
media@ducks.ca