How our work impacts conservation across Canada.
Where we're working on the ground from coast to coast.
We need your help to protect our water, wildlife, and wetlands. Here's how you can make an impact.
Saskatchewan researcher honoured by Ducks Unlimited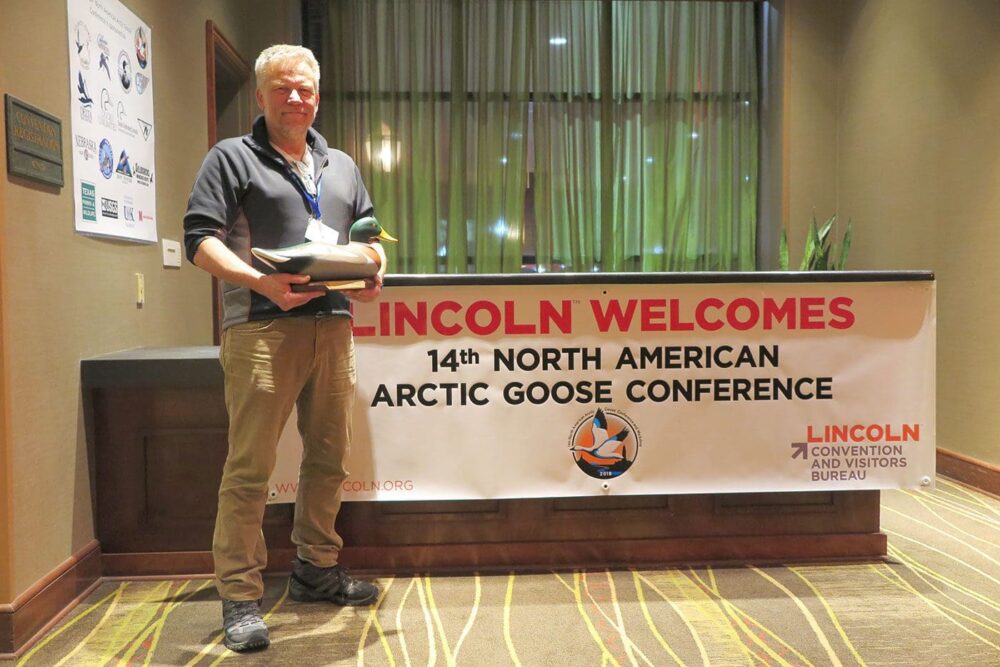 Dr. Ray Alisauskas receives Wetland Conservation Achievement Award
April 2, 2018 – OAK HAMMOCK MARSH, MAN – Dr. Ray Alisauskas is one of the most respected goose, sea duck and waterfowl population ecologists in the world. Over the weekend, another honour was added to his impressive list of accolades as Ducks Unlimited presented him with its 2018 Wetland Conservation Achievement Award in the research/technical category.
Alisauskas is a research scientist with the Science and Technology Branch of Environment and Climate Change Canada, and adjunct professor in the Department of Biology at the University of Saskatchewan.
"Ray is revered by his students and respected by waterfowl professionals around the world," says Dr. David Howerter, Ducks Unlimited Canada's national director of conservation operations. "His mentorship and collaborative work have been exemplary, making him most deserving of this recognition."
The impact of Alisauskas' research is felt around the globe, and his long-term work on over-abundant white geese has provided much of the scientific underpinnings for difficult management decisions in both the United States and Canada.
Throughout his career, Alisauskas has demonstrated an unrelenting commitment to the Arctic. More than 25 years after establishing a northern research facility in the Queen Maud Gulf region of the central Arctic, he sustains a productive research program and remains active in Arctic research. Combining traditional and scientific knowledge has been key to his success.
"Ray has encouraged the direct participation of Indigenous and other local people in all facets of research activities," says Dr. Bob Clark, who serves alongside Alisauskas as a research scientist at Environment and Climate Change Canada, and adjunct professor in the Department of Biology at the University of Saskatchewan. "Furthermore, Ray's stellar track record in studies of nutrition, cross-seasonal interactions, and survival and reproductive rates of birds represents a remarkable body of work, and much of this resulted directly from his Arctic research."
Ducks Unlimited's Wetland Conservation Achievement Awards are presented annually in six categories to recognize individuals who have made outstanding contributions to the conservation and restoration of North America's wetlands and waterfowl. To view a complete list of the 2018 Wetland Conservation Achievement Award winners, visit ducks.org/wetlandawards.
Ducks Unlimited Canada (DUC) is the leader in wetland conservation. A registered charity, DUC partners with government, industry, non-profit organizations and landowners to conserve wetlands that are critical to waterfowl, wildlife and the environment.
Contact Information
Ashley Lewis, Communications Specialist
Ducks Unlimited Canada
Tel: 204-467-3252
Email: a_lewis@ducks.ca