How our work impacts conservation across Canada.
Where we're working on the ground from coast to coast.
We need your help to protect our water, wildlife, and wetlands. Here's how you can make an impact.
Trent Lakes artist Trevor Tennant named NAP Artist of the Year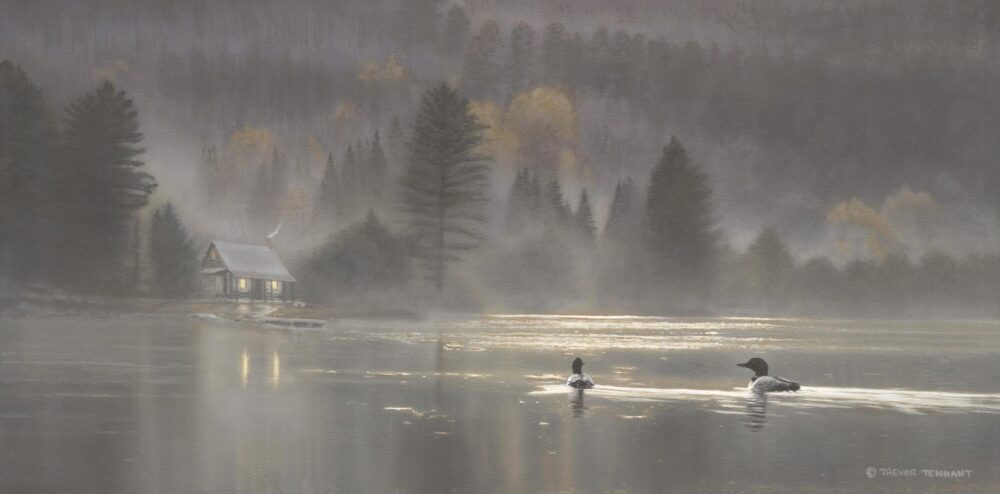 Oak Hammock Marsh, Man. – Trevor Tennant of Trent Lakes, Ontario has been named Ducks Unlimited Canada's (DUC) 2020 Artist of the Year for his painting, Evening Enchantment. Tennant's artwork is one of just four pieces selected from hundreds of submissions by Canada's most prestigious nature artists for consideration in DUC's National Art Portfolio. The Artist of the Year distinction is the portfolio's top honour.
By donating his artwork to DUC, Tennant is helping raise important funds for wetland conservation. Paintings selected for DUC's National Art Portfolio are made into high-quality prints for use in DUC's fundraising initiatives. Money raised supports DUC's wetland conservation projects, scientific research and education programs.
"Trevor Tennant is an incredible ambassador for conservation and a long-time supporter of Ducks Unlimited Canada who also earned our Artist of the Year title in 2016," says Michaela Bell, DUC's national manager of retail operations. "His latest painting is yet another example of the incredible talent he has in capturing the beauty of the natural world and the need to conserve it."
DUC's National Art Portfolio was established in 1986. It gives artists a highly visible platform to share their conservation-inspired artwork, while raising important funds for some of the most important ecosystems on the planet. In addition to providing critical habitat for wildlife, wetlands naturally clean water, prevent floods and droughts, and help mitigate the effects of climate change by holding large amounts of carbon.
"I'm once again very honoured and proud to be awarded Artist of the Year," says Tennant. "It has never been more important to protect the natural environment and conserve our natural resources. Ducks Unlimited Canada conserves, restores, and manages wetlands which benefits everyone and everything. I'm thrilled my art will help raise awareness and appreciation for our beautiful outdoors while supporting this great cause."
Tennant's painting techniques are entirely self-taught. He believes that art is best learned through mistakes, and by the determination to make each new painting better than the one before. He paints primarily in acrylic, creating the impression of depth, distance and texture through layers of thin acrylic paint. In his painting Evening Enchantment, Tennant captures a dreamlike setting featuring a pair of loons. He describes the scene as follows:
"As the last rays of sunlight sparkle on the water, the crisp autumn air produces mist over the rugged landscape. During this quiet time just before sunset, this loon pair silently paddles into the scene leaving a sunlit wake as their haunting call reverberates across the lake. On the distant shore, the aroma of wood smoke from the old cabin welcomes the viewer home as they settle in for the evening. The mist adds a mysterious atmosphere across the landscape while the muted colours in the painting help convey the feeling of calmness and peacefulness and transports the viewer to an idyllic time and place…an Evening Enchantment."
Other artists selected for DUC's 2020 National Art Portfolio
Artwork featured in the National Art Portfolio is being sold at DUC community fundraising events and on art auction easels in businesses across the country.
---
Ducks Unlimited Canada (DUC) is the leader in wetland conservation. A registered charity, DUC partners with government, industry, non-profit organizations and landowners to conserve wetlands that are critical to waterfowl, wildlife and the environment. 
To arrange interviews with the artist or representatives from DUC, or to obtain photos of Trevor Tennant and his artwork, please contact:
Ashley Lewis
Senior Communications Specialist
Ducks Unlimited Canada
Tel: 204-467-3252
Email: a_lewis@ducks.ca