How our work impacts conservation across Canada.
Where we're working on the ground from coast to coast.
We need your help to protect our water, wildlife, and wetlands. Here's how you can make an impact.
UN Biodiversity Conference (COP15) delivers the greatest holiday gift: a landmark commitment to protect nature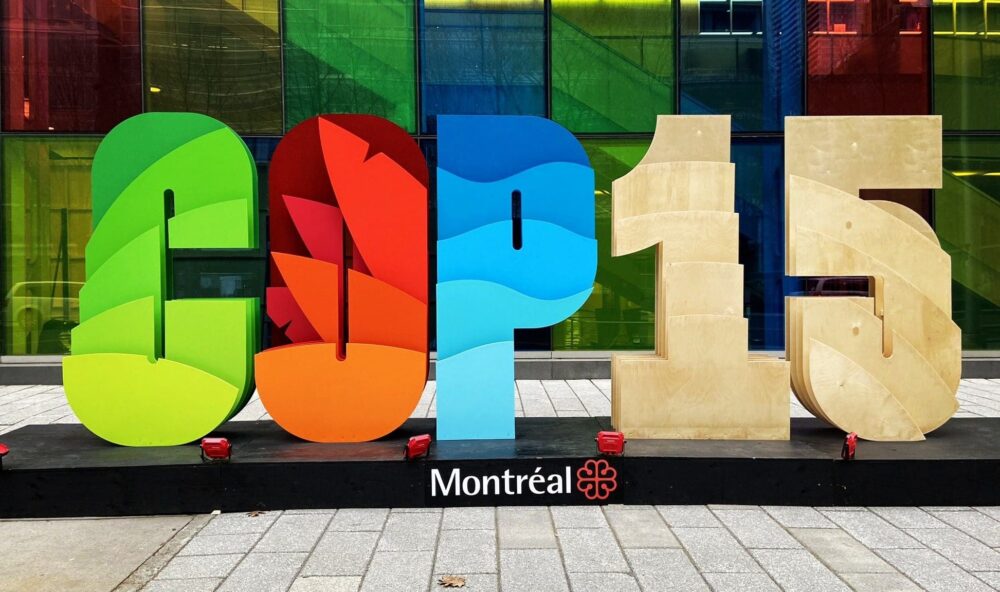 Long-awaited Global Biodiversity Framework outlines ambitious measures to address biodiversity loss and restore natural ecosystems
December 19, 2022 – Montreal, Quebec – Historic is a word that's defined the Fifteenth meeting of the Conference of the Parties to the Convention on Biological Diversity (COP15). The rate at which species are disappearing around the world has reached an all-time high, making the impetus behind these meetings monumental. Two years of delays due to COVID-19 made the gathering a notable re-energizing of coordinated global dialogue on the international biodiversity crisis. And, with representatives from 188 governments along with 16,000 delegates and observers descending upon Montreal, COP15 is the largest-ever international biodiversity summit.
But early this morning, participating parties provided the most compelling reason this event is one for the record books. By finalizing and approving a historic package of measures to halt and reverse the decline of biodiversity, a long-awaited and urgently needed Global Biodiversity Framework has now been adopted. After hours of painstaking deliberations, one of the biggest land and ocean conservation commitments in history has been made.
It's called the Kunming-Montreal Agreement, referencing both the Chinese Presidency and Canada as the host that brought the world together to develop this shared roadmap toward ecological recovery.
Central to the agreement are two monumental "30×30" targets. The first is a commitment to ensure that 30 per cent of terrestrial, inland water, and coastal and marine ecosystems are conserved and managed sustainably by 2030. The second is a commitment to ensure that 30 per cent of degraded terrestrial, inland water, and coastal and marine ecosystems are under effective restoration by 2030. Simply put, it's about conserving the precious natural habitats that remain and restoring what's been lost.
"DUC welcomes the adoption of the Kunming-Montreal Agreement," says Jim Brennan, National Director of Industry and Government Relations for DUC. Brennan, along with a team of DUC representatives, attended the two-week conference where the organization served as part of the Canadian delegation and supported Environment and Climate Change Canada with the official negotiations.
"Given the pace, severity and impacts of biodiversity loss, it was imperative that nations agreed to a deal while in Montreal," he says. "Today, we celebrate this landmark achievement, but tomorrow the real work begins."
That's because the Global Biodiversity Framework, while historic in scope, is extremely ambitious in the context of a 2030 timeframe. Brennan says that with only seven years to achieve these goals, strong action and implementation at the national level is needed. It will require all levels of government within each of the attending party governments and a whole-of-society approach.
The framework also includes important calls to action regarding invasive species, pollution, ocean acidification, sustainable agriculture, and greenspace connectivity. Policy and regulatory developments as well as financial incentives, knowledge sharing, and inclusiveness were also agreed to be top priorities.
Just in time for the holidays, COP15 delivered the best possible gift—one that will benefit habitats in every corner of the globe and every species on Earth. This historic moment is a breakthrough for biodiversity conservation and DUC looks forward to helping advance the implementation of the agreement within Canada.
The full text of the Kunming-Montreal Global Biodiversity Framework can be accessed here.