How our work impacts conservation across Canada.
Where we're working on the ground from coast to coast.
We need your help to protect our water, wildlife, and wetlands. Here's how you can make an impact.
Premier Pallister puts Manitoba wetlands at the heart of Climate and Green Plan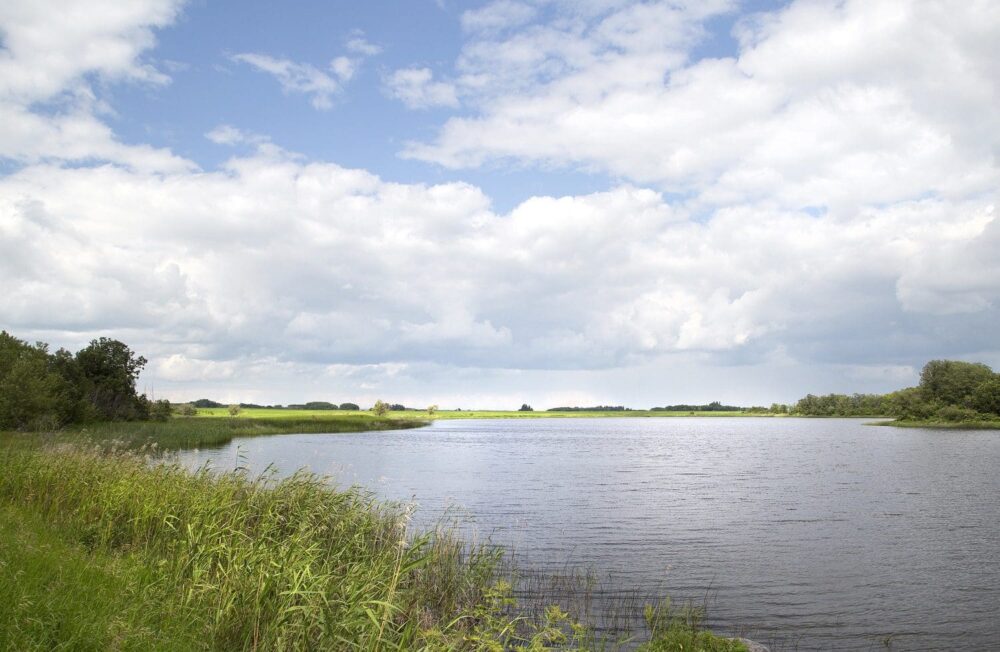 New protection will deliver environmental benefits for all Manitobans
October 27, 2017, Oak Hammock Marsh, Manitoba – Premier Brian Pallister today announced the "Made in Manitoba Climate and Green Plan," which includes important investments in wetlands. The plan is an encouraging step that Ducks Unlimited Canada (DUC) hopes will lead to legislation that will commit essential wetland conservation efforts into law.
"All Manitobans will benefit from stronger wetland protection outlined in the plan," says Scott Stephens, DUC's director of regional operations for the Prairies. "It's better for the environment and better for the economy."
Wetlands are some of the best natural defences in the fight against climate change. They also provide solutions to some of the province's most pressing environmental concerns including flooding, algae blooms and species at risk.
In the north, the provincial government has committed to developing a boreal wetland conservation policy aimed at striking a balance between conserving wetlands and pursuing economic opportunities. It's an approach that will require collaboration between northern communities, industry, Indigenous Peoples, NGOs and all stakeholders that live and work in the boreal. By working together, these parties can seize one of the best opportunities for climate change mitigation and adaptation.
"The boreal region covers approximately 80 per cent of the province and holds more than twice as much carbon as tropical forests," says Stephens. "As much as 27.9 billion tonnes is estimated to be stored in Manitoba's boreal peatlands – an amount equivalent to more than a century of Canada's total greenhouse gas emissions. If these wetlands are drained or destroyed, that carbon will be released into the atmosphere and deliver a devastating blow to the environment. That's why conserving and keeping them intact is so important."
In the prairie region, the plan outlines enhanced protection of seasonal, permanent and semi-permanent wetlands. Conserving these natural areas is essential to mitigating floods that have devastated communities and agricultural producers in recent years.
"In 2014, agricultural losses due to flooding included 3.5 million acres (1.4 million hectares) of unseeded land or lost crops. The estimated cost to the Manitoba economy was in excess of $1 billion," says Stephens. "Conserving wetlands makes the environment more resilient against these kinds of extreme weather events."
Acting like natural sponges, wetlands hold water during wet periods and slowly release it during dry periods. Despite this, wetland loss continues. Approximately nine acres (3.6 hectares), or 4.5 Canadian Football League fields, of wetlands are lost per day.
DUC is confident that these provincial commitments will not only make a difference for Manitoba's natural heritage, but also will promote a strong, sustainable economy.
"An investment in wetlands is not only an investment in critical habitat for wildlife, but it is also an investment in green infrastructure, jobs for rural communities, a sustainable working landscape and in providing Manitobans opportunities to connect with nature," Stephens says.
Proof will come when the plan is put into action, adds Stephens.
"The plan is solid. And, like all plans, it is only as good as the implementation that follows," he says. "Today, we are very encouraged by the positive steps that have been taken in wetland conservation and stewardship as well as climate change mitigation and adaptation. We look forward to continuing to work with other stakeholder partners to implement this plan and initiate legislation that will protect all wetlands across the province."
Ducks Unlimited Canada (DUC) is the leader in wetland conservation. A registered charity, DUC partners with government, industry, non-profit organizations and landowners to conserve wetlands that are critical to waterfowl, wildlife and the environment. www.ducks.ca  
Contact Information
Ashley Lewis
Communications Specialist, Ducks Unlimited Canada
Cell: 204-941-3097
Email: a_lewis@ducks.ca