How our work impacts conservation across Canada.
Where we're working on the ground from coast to coast.
We need your help to protect our water, wildlife, and wetlands. Here's how you can make an impact.
RBC supports conservation work in Manitoba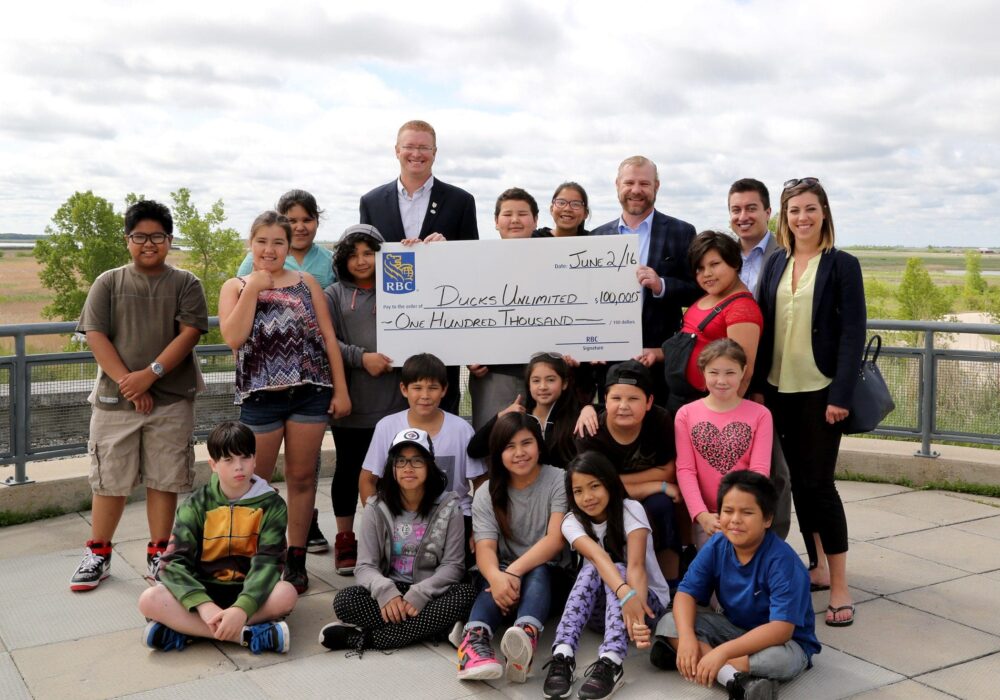 RBC's $100,000 Blue Water Leadership Grant, presented recently by Ryan Downey, Vice President and Portfolio Manager with RBC Wealth Management, will assist Ducks Unlimited Canada (DUC) in fighting for the health of Lake Winnipeg to conserve almost 300 acres of wetlands in the RM of Pipestone. These wetlands will store runoff and filter nutrients such as phosphorus and nitrogen before they enter our waterways – functions crucial to Lake Winnipeg's healing process.
"In 2013, the Global Nature Fund proclaimed Lake Winnipeg as the most threatened lake of the year due to toxic algal blooms as a result of increased nutrient levels attributed to wetland drainage within the Lake Winnipeg watershed," says Scott Stephens, director of regional operations – Prairies, DUC. "This iconic lake is important to all Manitobans, but especially those who own property adjacent to the lake and enjoy the rich tradition of recreational opportunities that a summer cottage at the lake has to offer."
RBC-funded conservation efforts will be focused in the RM of Pipestone located in the Prairie Pothole Region of Manitoba. An area historically rich with natural areas, it is now one of the most threatened landscapes when it comes to wetland drainage. DUC specifically works in this area as one of its most important breeding areas for waterfowl in North America and to ensure our watersheds remain healthy for many generations to come.
"We appreciate all the work that Ducks Unlimited Canada does to support water preservation across Canada," says Alan Dunnett, RBC Wealth Management Regional Director of Saskatchewan, Manitoba and Northwest Ontario. He continues to state that DUC is a trusted partner of RBC and it's great to have their support on projects like Blue Water Day. "Together we will continue to work on initiatives to help protect and preserve water."
In partnership with RBC, DUC has conducted studies that reinforce the value of wetlands in providing a solution to nutrient loading and the degradation of Lake Winnipeg. Wetlands not only store runoff and filter nutrients, they mitigate the impacts of flooding and drought, provide groundwater recharge, capture carbon while lessening the effects of climate change, and support economically and culturally important recreational and tourism opportunities such as hunting, fishing, bird watching and canoeing.
Ducks Unlimited Canada (DUC) is the leader in wetland conservation. A registered charity, DUC partners with government, industry, non-profit organizations and landowners to conserve wetlands that are critical to waterfowl, wildlife and the environment.
Contact Information
Karli Reimer, Ducks Unlimited Canada
Telephone : 204-801-1211
email : k_reimer@ducks.ca