How our work impacts conservation across Canada.
Where we're working on the ground from coast to coast.
We need your help to protect our water, wildlife, and wetlands. Here's how you can make an impact.
Partnership supports Timmins and area wetlands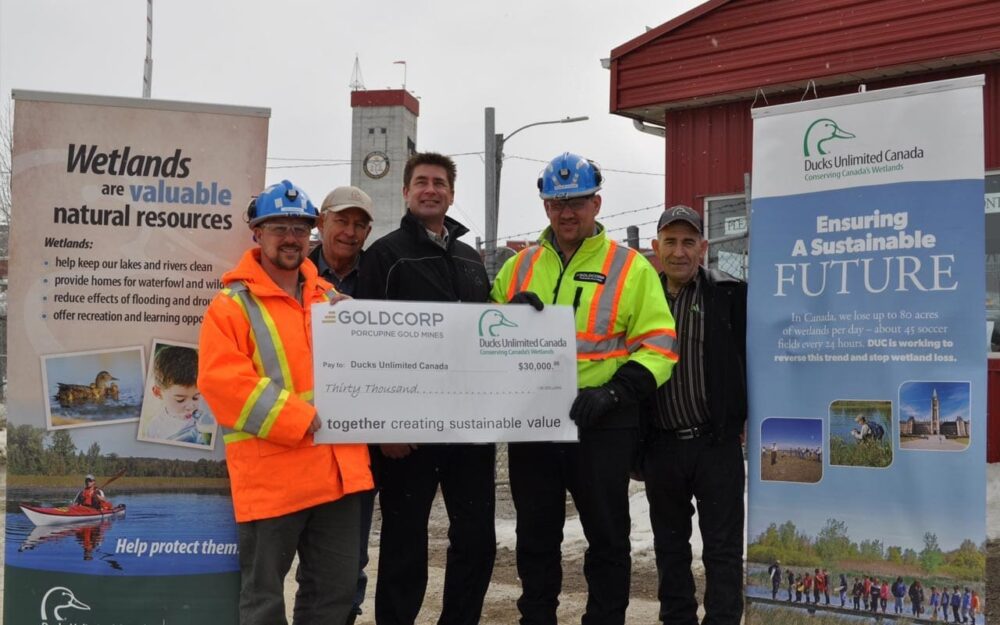 Thunder Bay, Ont. – Wetlands and other natural features in the Timmins area are receiving a helping hand thanks to a $30,000 sponsorship from Goldcorp Porcupine Gold Mines. The new three-year partnership with Ducks Unlimited Canada (DUC) will support the conservation and restoration of wetlands vital for waterfowl, other wildlife and the people of Timmins and the surrounding areas.
"Goldcorp is committed to responsible mining and sustainability excellence which includes environmental stewardship of the lands where we operate. We are very excited to have this partnership with Ducks Unlimited Canada in helping build and conserve wetlands in the Timmins area" said Brendan Zuidema, Mine General Manager for Goldcorp Porcupine Gold Mines.
Wetlands are incredible ecosystems, often compared to tropical rainforests for the environmental benefits they provide. Besides providing habitat for hundreds of wildlife species and offering tremendous places to visit and learn in nature, they naturally filter and store water. They also mitigate floods, droughts, storm surges and the effects of climate change.
DUC has a strong history in Ontario's north with conservation efforts resulting in a major concentration of wetland projects surrounding New Liskeard and Timmins. This conservation activity represents an accumulated investment of more than $3.5 million over the last 30 years. Today, the challenge is maintaining them for the future. DUC recently evaluated the condition of these projects and is ready to take the next steps toward ensuring the long-term sustainability and healthy function of these important waterfowl and wildlife habitats.
"To achieve our wetland conservation project rebuild goals within a 100 kilometre radius of Timmins, we need to raise approximately 1.4 million dollars" said Lynette Mader, Manager of Ontario Provincial Operations for DUC. "We rely on the support of corporations, individuals and organizations who care about our environment and wetlands in particular. This sponsorship reflects Goldcorp's commitment to environmental stewardship. With their help, our local volunteers' support and financial assistance from other like-minded donors, we can ensure some of the most valuable ecosystems in Northeastern Ontario continue to be part of our wetland conservation legacy."
This new partnership was formally announced today, at Goldcorp's Dome Mine by Brendan Zuidema, Mine General Manager of Goldcorp Porcupine Mines and Rob Watson, Sr. Manager of Events, Volunteer Relations & Development, Northeastern/Northwestern Ontario for DUC.
Ducks Unlimited Canada (DUC) is the leader in wetland conservation. A registered charity, DUC partners with government, industry, non-profit organizations and landowners to conserve wetlands that are critical to waterfowl, wildlife and the environment. To learn more, please visit ducks.ca.
Contact Information
Joanne Barbazza
Communications Specialist, Ontario
705-721-4444 ext. 240
j_barbazza@ducks.ca