Years of wetland walks inspire help for Serpentine
White Rock couple compelled to help DUC's first project in the Lower Mainland.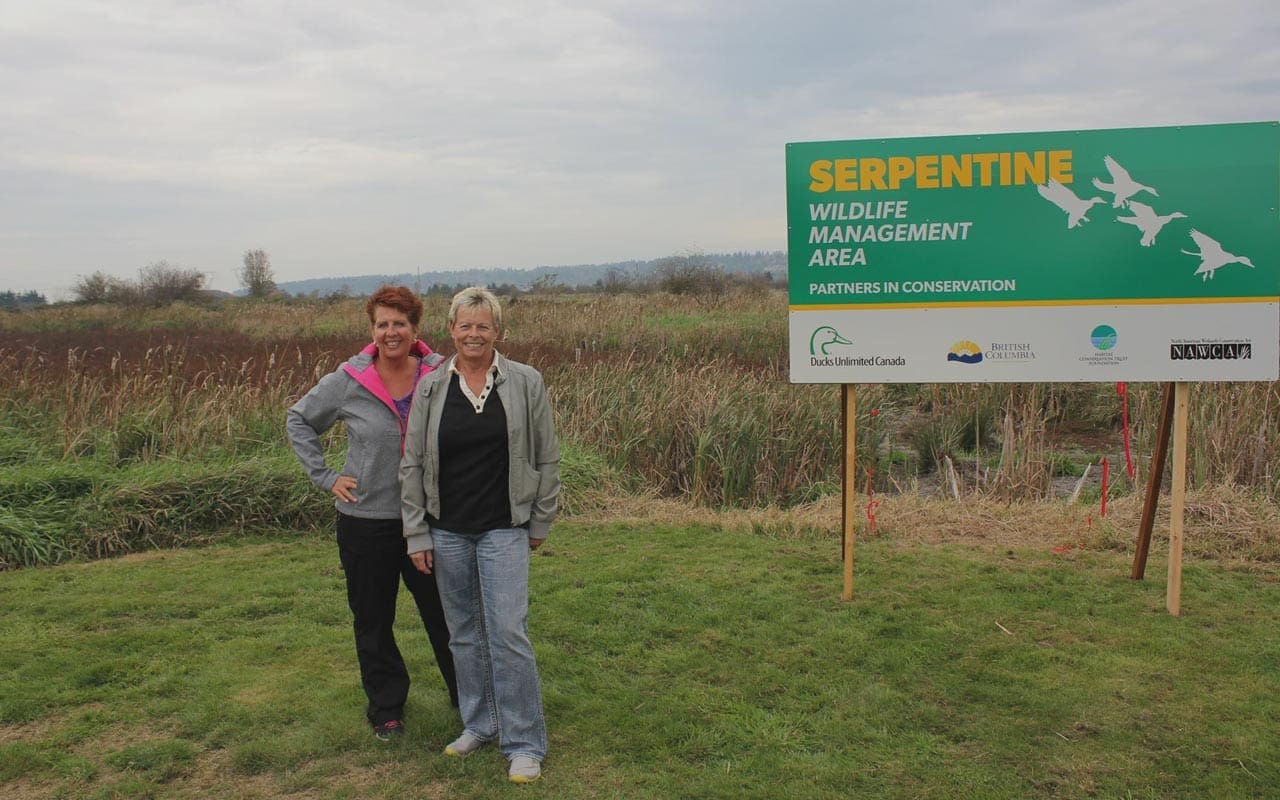 From their house on Panorama Ridge overlooking Serpentine Wildlife Management Area, Debbie Lawrance and Irma Bijdemast had a magnificent view. Thousands of ducks and geese would move through the wetland at a time during migration season.
Every day, they would walk their dogs through the marsh and let the stress of life fall away.
"It was a big part of our lives. It was a place we knew we could always escape from the pressure of work to peace and tranquility. There's not a lot of places left like that within the city," said Lawrance.
Every visit to the wetland was accompanied with a moment of awe.
"Almost every time we were there we had a nature show. The sun would hit the wings of a flock of birds and they were just like diamonds in the sky. It was magical," said Lawrance. "We could hear their wings making a little woosh noise. I'd never heard that before visiting Serpentine."
Celebrating its 30th anniversary this year, Serpentine was DUC's first project in the Lower Mainland. Though the couple has since moved down to White Rock, they returned to their paradise in the city for a barbeque to mark the occasion.
There they learned more about the important role Serpentine plays in the migration of waterfowl along the Pacific Flyway.
"We were happy to hear that Serpentine is a place where birds can get some rest and relaxation as well," said Lawrance. "Yes, it's beautiful to us, but it serves its place for nature too."
That's why the pair was shocked to learn that Serpentine is under threat. An invasive species of aquarium plant known as Parrot's Feather has taken over the marsh, choking out the habitat for ducks and geese. This year, DUC had to drain the wetland in an attempt to kill off the scourge and is urging owners of turtles and fish not to dump their pets into the wetland.
"It's actually horrifying that people do that without knowing the consequences," said Lawrance. "I understand where they're coming from in terms of compassion for their pet but they don't realize how many lives they're impacting."
When she learned what was needed for a long-term solution, she wanted to do her part.
"It makes me passionate and inspired to get the word out there," said Lawrance. "If we can just educate the public not to drop their pets and the remnants of their aquariums into the marsh, we can ensure this place is kept healthy for all."