Wetland restoration creates a powerful ripple effect that generates real environmental gains for communities throughout the country. Working with landowners, Ducks Unlimited Canada (DUC) is impacting diverse landscapes across Atlantic Canada through its small marsh restoration program, to improve water quality and increase biodiversity.
Although many of these projects are focused on small marshes or ponds, these restorations make a big impact. Transforming unproductive land is a common theme for those accessing the small marsh program, but so too is the landowners' focus on the sustainability and environmental stewardship of their operations.
"We work with landowners to identify areas on their property that may not be as productive as they'd like and help come up with options to maximize their land's potential," says Santina Beaton-MacEachern, conservation programs specialist for DUC in Atlantic Canada. "We provide the expertise and resources to help them make a lasting difference for the environment and meet their own personal conservation goals."
With 12 projects completed last year, over 38 wetland acres and over 18 surrounding grassland acres were restored, with 60 per cent of those occurring on farms.
"
Our landowners have unique, personal connections to their land and conservation — and we're extremely grateful for these partnerships as we continue to advance our vision of healthy landscapes and clean water for future generations.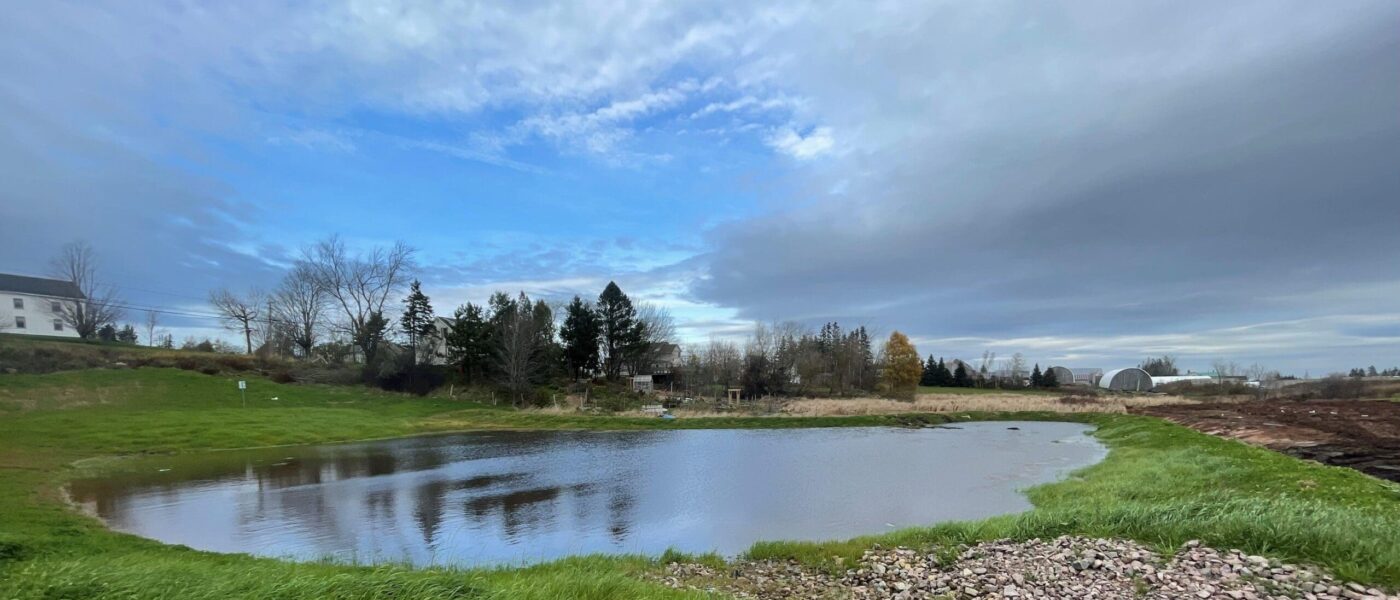 Regenerative agricultural practices, sustainability and biodiversity
At the Estabrooks beef and dairy farm in Sackville, N.B., a very wet and unproductive area was restored into a small wetland. Crossing over two properties with two different landowners, this project is a true partnership between the Estabrooks family and the neighbouring landowner, an avid birder, and both passionate DUC supporters. The Beauchamp dairy farm in Memramcook, N.B. and Rustaret Farm in Shamrock, P.E.I. are also key DUC partners with multiple restored wetlands on their properties. Focused on regenerative agricultural practices, sustainability and biodiversity are top of mind for these landowners.
When landowners work with DUC on a project, they retain ownership throughout the process and commit to conserving the land's natural integrity. Many factors are considered when looking at a potential small marsh project including soil types, slopes and gradients, drainage ditches, field tiles, size and shape, grassland management, water sources, vegetation—as well as provincial and federal environmental regulations.
Generally, wetland projects within this program are one to three feet deep and one to two acres in size. Typically, shallower ponds with varying water depths encourage the growth of wetland plants, which limits algae production, keeping the water cleaner while also providing shelter to wildlife.
A vision of healthy landscapes and clean water
Restored wetlands provide many benefits, including increasing biodiversity by providing habitat for insects, amphibians, waterfowl and other wildlife and improving water quality by filtering nutrients and sediments. When wetlands are returned to the landscape, birds and pollinators come back. And so do the land's natural abilities to defend against things like floods and droughts. Wetlands reduce the effects of flooding by holding back water and releasing it at a slower rate.
DUC has teamed up with more than 22,000 people across Canada to protect and steward the ecological services provided by their land. With an ambitious goal to conserve, restore and influence more than 15 million acres of natural habitat across Canada this year, partnering with landowners is essential to preserving the country's most valuable—and vulnerable—natural habitats including wetlands, grasslands and forests.
"Our strength comes from working together, partnering with all who care about the landscape," says Beaton-MacEachern. "Our landowners have unique, personal connections to their land and conservation — and we're extremely grateful for these partnerships as we continue to advance our vision of healthy landscapes and clean water for future generations."