When conservationist and long-time DUC volunteer Duncan Campbell passed away earlier this year, his three children—Chris, Andrew, and Jill—knew the perfect way to honour his life.
The Fredericton man and his late wife Fay, who predeceased Duncan in 2021, were passionate about community, education, and giving back. That's why the family started a memorial fund to help support DUC's wetland field trip program in New Brunswick. Anyone who wanted to celebrate their parents' life, explains their son Andrew Campbell, can donate to help get kids outside, learning about nature and the wildlife that live there.
"Having Mom and Dad's name attached to field trip classes is really important," says Andrew. "They wanted to help inspire kids to create connections about the natural resources we have and how to better those ecosystems, and maybe inspire some of them to turn it into a career."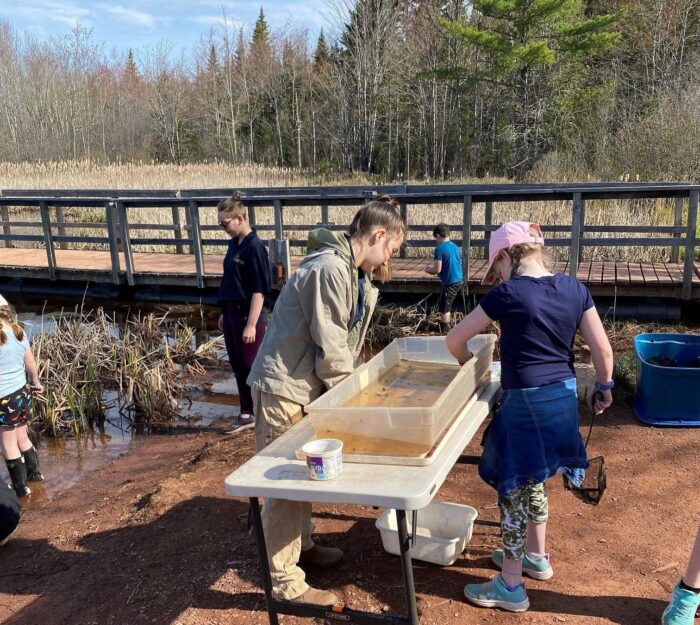 Duncan started volunteering on the Fredericton DUC fundraising committee in the 1980s, where he formed lifelong friendships with both staff and his fellow volunteers. He even created a photo album of the first DUC wetland field trip, called the Greenwing program at the time, at a marsh outside of Oromocto. He was so proud of the committee and all they accomplished for kids and conservation over the years. "He grabbed hold of things that were good," Andrew says.
Duncan was an avid waterfowler, but loved wetlands for everything they provided. He took his children and grandchildren fishing regularly, and he and Fay enjoyed hiking and birdwatching together. Duncan and Fay's son Chris Campbell remembers summers at the cottage and time spent outdoors learning from their father. "He had so much knowledge, and he shared that with us when we were out in the woods." Giving back, Chris says, "was never a burden."