Landscapes known as swamplands or peatlands often go unnoticed for their ecological splendour. They are as globally significant as rainforests, and function as critical carbon sinks for addressing our climate crisis. This compelling account by journalist and award-winning author Edward Struzik, brings to life these wild, diverse and vital spaces while revealing their fascinating secrets.
---
When I was a kid, my friends and I would head to a frozen bog pond to play shinny hockey. To make sure I came home before dark, my Polish mother warned me about Kikimora, a swamp witch who had the feet of a chicken and the face of a dead woman. If she followed you home and got into the house, unspeakable things would happen.
Poles are not the only people who believed in swamp creatures. In England, swamp gases that glow in bogs at night were "corpse candles" or Jack-o'-Lantern — a man who, having committed unspeakable crimes, was condemned to walk the bogs at night carrying a lamp. In the Netherlands, the irrbloss were the souls of unbaptized children shining lights that tricked people into getting lost in the mire. In Bolivia, they are luz mala, "evil lights." The one I like best is the Jersey Devil, which bears the name of the NHL New Jersey hockey team and was immortalized in a Bruce Springsteen music video.
Bogs and fens and to a lesser extent, swamps and marshes are where peat — partially decayed vegetation — accumulates in moist, oxygen-starved conditions. Part land, part water, these landscapes have gotten a bad rap over the centuries. As well as thought to be the haunt of ghostly apparitions; they were considered to be unhealthy. The decaying smell was believed responsible for a variety of illnesses like cholera, malaria and dysentery. "Swamp fever" was how it was often diagnosed by doctors.
To reduce the perceived (and unwarranted) public health threat, the Canadian and United States governments encouraged the drainage of wetlands in a variety of ways. Over time, many of these natural water filters were lost.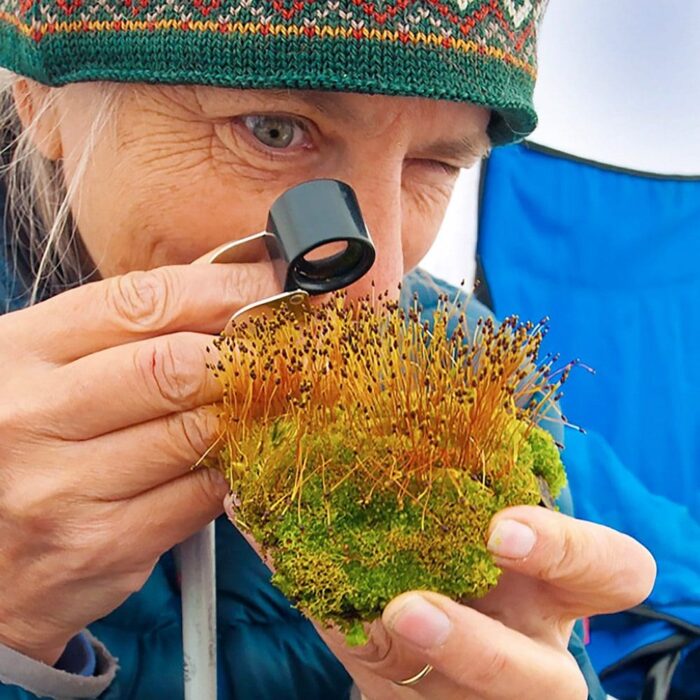 There is still a lot of peat left in the wetlands that represent 14 per cent of the landscape in Canada. The challenge in protecting them is that not enough people care. Not only are they buggy; they do not lend themselves readily to the picturesque as mountain vistas, prairie skies and sunburnt desert canyons do, unless you're willing to slog through them as I attempted to do on an 85-kilometre hike across Ivvavik National Park in the northern Yukon to the Arctic National Wildlife Refuge in Alaska. It was visually stunning. But all we managed to cover while grunting across boot-sucking, ankle-turning turf was eight kilometres in four sweaty days.
The idea for a book on peat came to me incrementally during several trips I made to Banks Island, one of 36,563 islands in the Canadian Arctic Archipelago where less than six inches of precipitation falls, mostly as snow, during every month of the year. The first trip was a month-long paddle down the Thomsen River, the most northerly navigable river of appreciable length in the world. It flows north into McClure Strait, part of the Northwest Passage that stays frozen for much of the year.
So much of what I saw on that journey affirmed and yet challenged everything one assumes about the polar world: the blizzard that greeted us on the first day, and the not-so-familiar thunderstorm that arrived with a bang close to the end; barren, rock-hard tundra lying next to butter-soft peat that gave rise to clumps of mosses, matchstick-sized saxifrage, and pretty white avens; a stark, polar desert river fed by tea-coloured streams flowing out of verdant cotton grass meadows where sandhill cranes and more than 80,000 muskoxen roam.
The abundance of life on this polar landscape was baffling in its ability to transcend expectations and sidestep simple explanations. Remarkably, there are six fish species, including Arctic char and lake trout, in the Thomsen, as well as 97 mosses and 83 specimens of lichen growing along its banks. Why, I wondered, while participating in a scientific survey of raptors a few years later, do peregrine falcons, gyrfalcons and rough-legged hawks come to nest here in such large numbers? Is it for the same reason that a half-million snow geese make the trip from California, New Mexico and Mexico to nest on the west side of the island? And how did the wolves on Banks Island evolve to become genetically distinct from most other wolves in the Arctic? Was it because there was no need to migrate and mix with other wolves when there were so many beefy muskoxen grazing contentedly in sedge and grass meadows?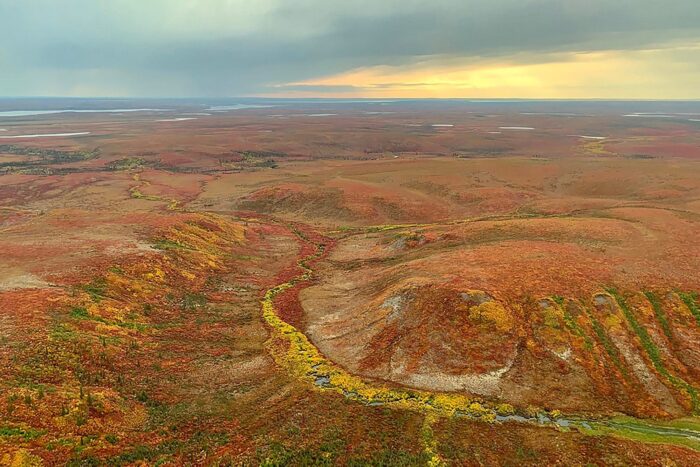 Part of the answer, I learned on yet another month-long trip to the island in the company of geologists and bryologists, has to do with deglaciation, which was, and still is a main driver in the formation of peat. As every horticulturalist knows, peat is an effective medium for plant growth. It holds up to 25 per cent of its weight in moisture and is very good at retaining nutrients. Where there is peat, there is an abundance of life, even in the coldest and hottest places.
The added importance of peat is that it holds twice as much carbon as all the world's forests.
In the writing of the book, I did more than thirty trips to explore these ecosystems across North America. In Canada, I visited northern Ellesmere Island in the High Arctic, the glaciers and icefields along the Ragged Range in the Mackenzie Mountains of the Yukon and Northwest Territories, inside polar bear dens in the Hudson Bay Lowlands, and many of the fens and bogs situated in the boreal forest that extends from Labrador to northern British Columbia.
Then, there was the 66-day solo kayak trip I did from Virginia Falls on the Nahanni River through some of the 82 peatlands along the Liard and the Mackenzie, the second longest river on the continent. I was three-quarters of the way along the Mackenzie when my water filter failed me. The constant rain and snow had passed by then, but the enervating heat of the 22-hour-long Arctic days was withering. The river water was so silty that letting it sit overnight was not sufficient to provide me with anything close to a clean drink. With no trees to shade me, I was badly burned by the sun and so dehydrated that I was on the verge of hallucinating when the river was about to narrow from more than two kilometres wide to 100 metres where it squeezes through a rampart.
Just then, I saw a stream flowing down a hill, sparkling in the sunlight. The adrenaline returned and I came back to my senses.
The water turned out to be wonderfully clear and cold, but curiously sweet and smelling of smoke. The stream led me up that hill into a vast, endless wetland that had recently been burned along the edges by wildfire. The peaty flavour and smokiness of that water, I realized, was like the flask of peaty whiskey I had brought along. I recognized some of the plants, like Labrador tea, blueberry and the carnivorous sundew. There were many others, like the common Calypso orchid, that didn't seem to belong this far north.
What enchanted me most was a pale green carpet of reindeer lichen that had survived the burn. Fresh caribou tracks suggested that I may have frightened them off. There were moose here, many boreal birds, and, as I learned later, more than one per cent of Canada's Pacific loons, scaup and scoters nesting each spring. I saw more signs of life in those five hours of sloshing through peat than I had seen in the previous 50 days.
When I returned and set up camp along that stream and cooked up a packet of Kraft macaroni and cheese dinner, I thought I was in heaven. Just as I was about to feast beneath the cool light of the midnight sun, a conspiracy of ravens gurgled, croaked and krawed overhead. I knew that something was up, and I soon found out what it was when I spied a grizzly bear coming down that hill — lured, no doubt, by the smell of my dinner. I closed my tired eyes, took one big mouthful of the salty, cheesy macaroni, folded up the stove, packed my gear and jumped into the kayak — not happy about being hungry, but certain that I had an introductory story for my book.
Edward Struzik's book, Swamplands: Tundra Beavers, Quaking Bogs, and the Improbable World of Peat highlights the unappreciated struggle being waged to save peatlands by scientists, conservationists and landowners around the world. It urges us to see the beauty and importance in these least likely of places.
---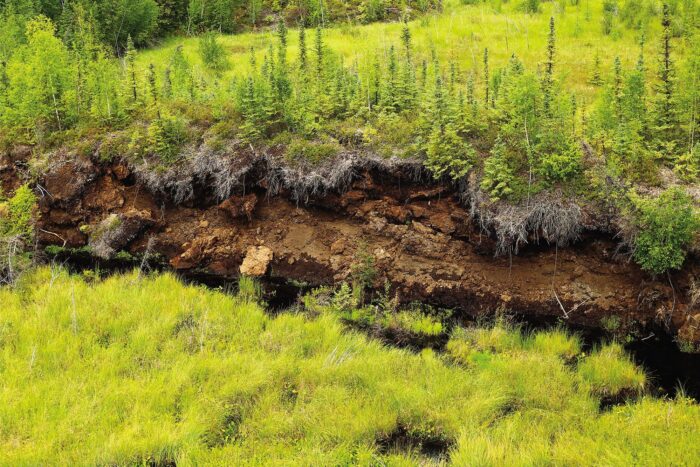 Putting Canada's boreal peatlands on the global stage
In November 2021, the United Nations Climate Change Conference took place in Glasgow, Scotland. Widely recognized as the most significant and influential meeting about climate issues, the event brought together leaders and top experts from around the globe both in person and online. Ducks Unlimited Canada (DUC) was proud to contribute to these key conversations that are shaping the future.
Kevin Smith, DUC's national manager of boreal programs, spoke as part of a panel focused on Canada's peatlands. Smith shared new, leading-edge research that shows how these carbon-rich wetland ecosystems, scattered throughout the boreal region, are a nature-based solution to climate change and deserve enhanced protection.
"Given that Canada has one-quarter of the world's carbon stored in its peatIands, and if Canada is going to reach net zero by 2050, we need effective nature-based climate solutions that keep the legacy carbon in the ground and peatlands continuing to sequester carbon," said Smith. "Canada has an opportunity to show global leadership and real progress towards collective climate goals."
Work to implement the plans agreed upon in the Glasgow Climate Pact are underway. Here in Canada, DUC has a running start. For more than 20 years, our national boreal program has been working to conserve these important landscapes alongside many partners to deliver the kind of nature-based solutions needed to limit global temperature rise to 1.5 degrees Celsius.
DUC is already making significant progress, positively influencing more than 121.1 million acres of boreal habitat to date, with the goal of conserving at least 660 million acres in the next 10 years. Projects such as the creation of the 10,000 square-kilometre Indigenous Protected Area Ts'udé Nilįné Tuyeta near Fort Good Hope, N.W.T. are an example of the boreal program's role in uniting Indigenous communities, government and other land users in supporting collaborative management and protection of these ecologically indispensable regions.
However, says Smith, protection is only part of the puzzle. Sustainable land management and knowledge sharing are also key pieces needed to reach Canada's — and the world's — climate action goals.
"This includes influencing higher certification standards for industries operating in boreal peatlands and forests, establishing direct industry conservation partnerships, and encouraging the adoption of codes of practice, policies and regulation that help to maintain peatland function."
Conservator Magazine
Conservator magazine delivers beautiful photography and incredible stories from Canada's wetlands in a stunning print edition. Annual subscription with a donation of just $35.
Join Now