Spend more time in nature.
At times it's felt like the catchphrase of 2020/21. With public indoor spaces closed and recreation options limited for much of the past two years, many Canadians have been encouraging one another to try activities outside, instead.
Consider it the new "call of the wild."
Tim Binch, DUC's national manager of volunteer fundraising, says he's inspired to see people heeding the call for more time spent outdoors. DUC is listening and his team is ready to meet them there to help facilitate their adventures.
"Connecting with nature and spending time outdoors means as much to our supporters today as it did to the people who founded DUC in 1938. And we've got both the physical space with our conserved properties and the experts on hand — our volunteers, partners and staff — to deliver an endless variety of outdoor events and workshops," says Binch.
"Our Outdoor Event Series is about connecting passionate experts in our community with folks who want to learn more about outdoor sports and hobbies."
Finding connection, building community
Ben Commodore is a longtime DUC volunteer and an accomplished retriever trainer. He's gifted his time on many DUC committees over the years, and his most recent act of volunteerism was as a subject matter expert leading a DUC Outdoor Event: a waterfowl retriever training course in Alberta. Daisy, Commodore's two-year-old retriever, was also in attendance and showed off her impressive skills with retrieving demonstrations.
"I eat, sleep and breathe waterfowl hunting, so my goal is to get as many people as possible involved," says Commodore. He believes the best way to get someone interested is to find a way to make a personal connection. For him, that connection lies in retrievers like Daisy. "When folks see a dog working and doing exactly what it's bred for, it's inspiring. Demonstrations like this show people there's more to waterfowling than shooting."
Empowering others to take on new challenges
David Forrest and Kristen Kalbfleisch, attendees of Commodore's retriever training event, are experienced hikers and campers who love exploring new outdoor opportunities in their area. "It's nice to get outside after working indoors nine to five every day," says Kalbfleisch. The duo are self-starters with a positive attitude when it comes to hunting and activities like ice fishing. "Sometimes you just have to go out, drill a hole, drop a line and see what happens," says Forrest.
Their latest pursuit has been training their Nova Scotia duck tolling retriever puppy, Sako. "We got Sako when he was eight weeks old. We've both spent lots of time training him and trying to gauge his progress," says Forrest. While they're not the type to shy away from a challenge, even go-getters like Forrest and Kalbfleisch appreciated the guidance that Commodore offered. "This course was a nice reminder that there's no real rush. It was great to see a trained retriever in action; it gave us some perspective for the goals we are working towards with Sako," says Forrest.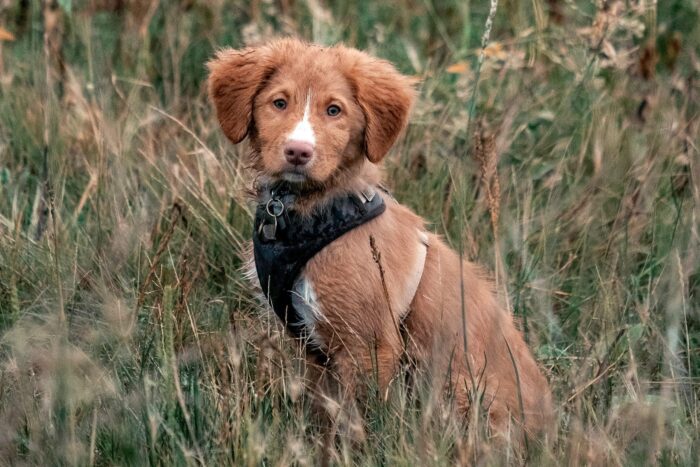 Mentors wanted
Commodore has words of encouragement for folks who are considering sharing their expertise at a DUC Outdoor Event. "There are plenty of people who have forgotten more than I know — but there are more people who don't even know where to start. Having someone there to explain their journey and offer some ideas and approaches to get started helps immensely."
DUC's Outdoor Event Series encompasses retriever demos like the one held in Alberta, along with wildlife photography, backcountry camping, waterfowl identification and more. Together, we can empower each other to experience nature in new ways… and build support for conservation at the same time.
If you want to share your outdoor passion, whatever it might be, send us a message via ducks.ca/volunteer