The farmers who make up Ducks Unlimited Canada's (DUC) agricultural sustainability team are leaving their own mark on the Canadian landscape. They're at the forefront of industry-wide change, faced with the complex challenge of supporting sustainable food systems and protecting our environment, while raising the next generation of food producers and conservationists.
Kristine Tapley: farming for the future
DUC's sustainable beef lead, Kristine Tapley, is a young Manitoba beef farmer who has started writing her own sustainable food chapter with her husband and two young children by providing beef from their farm near Langruth, on the west side of Lake Manitoba.
For Tapley, ensuring our future generation's needs are met starts at home.
"When I think about my kids' future, I want my farm to become something that makes them proud to come from agriculture," says Tapley. "When I grew up, being just a farmer was a regular sentiment, but that's not the case anymore. If my children are proud of their roots and what our family has created, then that would be my goal."
There is a future for young people in agriculture and Tapley's family reflects this reality for the industry. While still in university, she convinced her city-raised husband to build a life together on the farm. With a tremendous amount of fortitude, Tapley and her husband, Graham, took an abandoned gravel pit and turned an otherwise unproductive area into grazing land for their growing herd of cattle. In doing so, they re-introduced a variety of native plant species, and have seen the wildlife come back, leaving the land healthier than when they found it.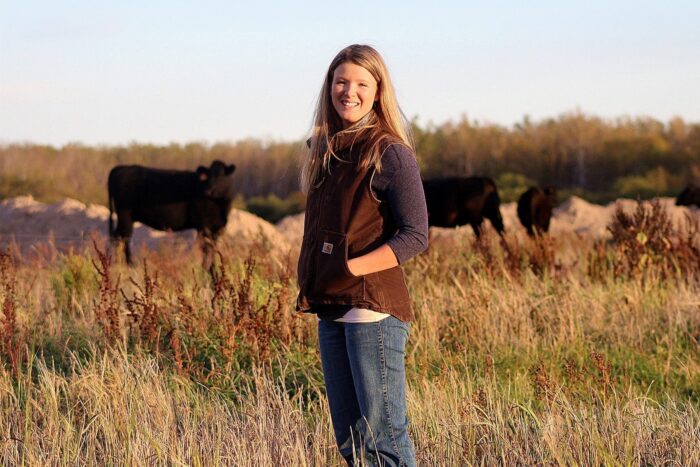 Paul Thoroughgood: leading by example
One province over, Paul Thoroughgood's story is one that goes back generations. The Saskatchewan grain farmer and DUC's national manager of agricultural sustainability can be found seeding a variety of crops during spring planting or in the cab of his combine during harvest when he's not leading the organization's agricultural partnerships and initiatives.
"When I think about sustainability, I think about legacies. Our family has been on this farm since 1904, and from the beginning, soil has been our basis for production and everything we do," he says. "I will not condemn the practices of my great-grandfather even though what he did led to some significant soil erosion by today's standards. He was following the best practices of the day. But as I look forward to my children's, and eventually my grandchildren's futures, I want them to think I did the best I could, knowing when they take over, they will do even better."
Thanks to scientific advancements and innovations in agriculture, Thoroughgood implements best management practices on his prairie farm. One he likes to highlight is his practice of not tilling the soil. Because of this, he has created more life in the ground and his land is healthier and more resilient to change. After living though extreme drought conditions the last few years, he can say the production on his farm is better now than it was in previous dry years.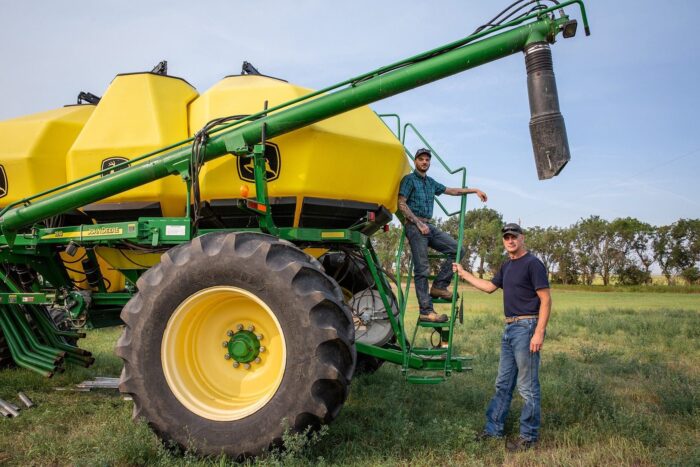 The conservation connection
So, where does conservation fit into Tapley and Thoroughgood's sustainable vision for Canadian agriculture? They both agree that organizations like DUC that place a high value on partnering with the agriculture industry, can achieve big goals through many small steps. DUC does this by connecting the best available science with the practical realities of modern farming. As a key industry player, DUC is well tooled to influence sustainable practices over entire landscapes by working at every level of our food production system—from the raw product or ingredient that leaves the farm gate right to your dinner plate.
"We have the opportunity to define what the future of sustainability looks like and help guide that discussion with all partners in agriculture and food, but this is, and must be, a continuous conversation," says Tapley.
Because our work is rooted in science, DUC is often the only conservation group at the table during discussions about sustainable farming and food. DUC is further committed to making those connections by helping improve transparency and public trust of Canada's food systems while ensuring conservation goals stay top-of-mind. Simply put, DUC is ready to share stories about conservation and sustainable food with Canadian consumers.
"There are many people out there who are passionate about food and the environment, but many of the choices in front of them are not backed by science," says Thoroughgood. "Sustainable food needs research and this is where DUC can play a larger role, knowing that agriculture needs conservation and conservation needs agriculture."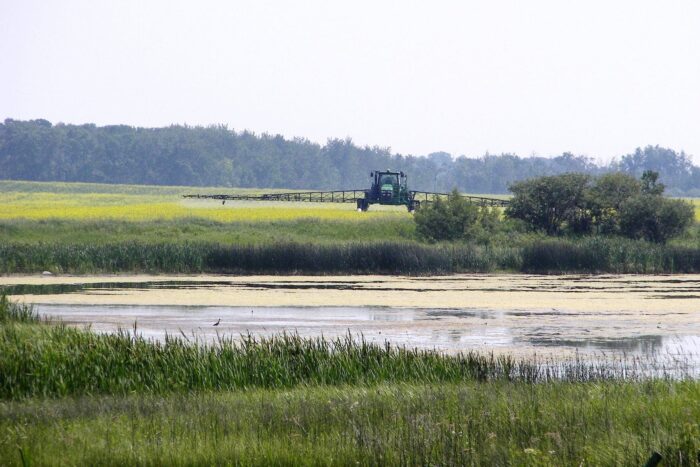 Growing forward for conservation
Since DUC was established 83 years ago, our partnership with the agricultural community has been essential to our mission. Still today, many of DUC's volunteers, donors and staff like Paul Thoroughgood and Kristine Tapley have grown up on farms, are actively farming or ranching, or have ties to a rural way of life. These connections make us stronger and more successful.
2021 has seen the launch of some exciting partnerships that will help safeguard critical wetland and grassland habitats for both the feathered and hoofed residents that rely on them. There's also been significant new investments in farmers and ranchers, recognizing their role as some of the country's most valuable land stewards.
We proudly present this roundup of some of the powerful new ways that DUC and Canada's agriculture industry are growing forward, together.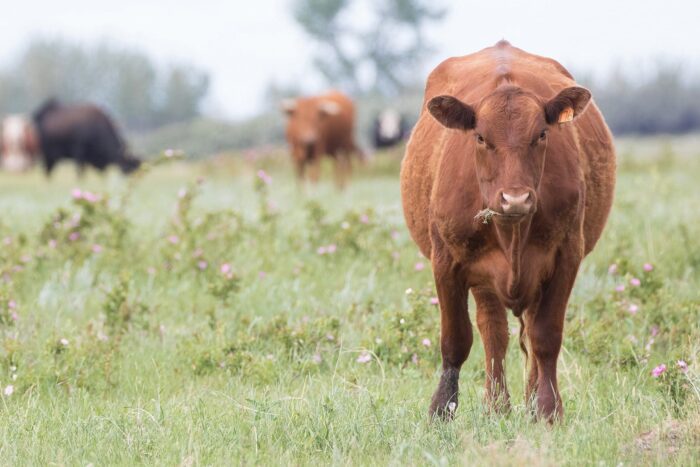 Collaborating to conserve 125,000 acres: Cargill and McDonald's Canada join forces with DUC to offer forage program to beef farmers and ranchers
DUC's exciting new partnership with Cargill and McDonald's Canada is helping ranchers do what they do best: produce quality food while protecting our land, water and wildlife. Together we're delivering a forage program that will conserve vital wetlands and grasslands across the Prairies by returning 125,000 acres (50,586 hectares) of cropland to grass and pasture by 2025. The companies are investing $1.25 million over the next five years, with DUC adding $3.75 million through matching programs. Funds allow DUC to provide farmers and ranchers with incentives via discounted seed and technical support to help establish the forage on their land. In return, program participants agree to maintain the forage for 10 years.
Through the forage program, Canadian farmers and ranchers will deliver impressive environmental benefits —including the removal of 75,000 metric tonnes of carbon dioxide from the atmosphere.
---
A historic effort to conserve prairie grasslands: DUC receives $5 million from the Weston Family Foundation
DUC is proud to join one of the largest prairie grassland conservation efforts in Canadian history. The Weston Family Foundation has launched the Weston Family Prairie Grasslands Initiative that provides nearly $25 million in grants to conserve four million acres of priority grassland habitats over the next five years.
DUC is one of only five organizations tapped to make it happen. Working alongside Canadian farmers and ranchers, we will use a $5-million contribution from the Weston Family Foundation to advance our conservation easement program. The goal is to protect nearly 25,000 acres (10,120 hectares) in perpetuity on private agricultural lands. Results will deliver habitat for waterfowl, support biodiversity and provide healthy grazing areas for cattle.
Our role in this initiative will shape the future of one of the country's most important and at-risk ecosystems.
---
Canada's dairy farmers committed to enhancing biodiversity: A focus on environmental stewardship provides landscape resilience
Dairy farmers have a long-standing commitment to quality and high standards of practice. The proAction program, which is mandatory on all Canadian dairy farms, establishes a quality assurance framework in areas like animal care, food safety and milk quality.
Now, dairy farmers are taking their stewardship to the next level, with the phasing in of a new module focused on the environment.
The new module cements dairy farmers' position as global leaders in sustainability. The dairy industry is constantly striving to reduce its environmental impact. Farmers are keen to adopt the best nutrient management, soil health and water management practices. They also work to reduce waste and enhance biodiversity.
DUC is partnering with dairy farmers on stewardship initiatives such as wetland and grassland restoration in certain regions. As an important first step in our partnership, Dairy Farmers of Canada and DUC commissioned research from the University of Guelph supported by the Canadian Agricultural Partnership to help establish biodiversity benchmarks and identify ways to integrate more habitat stewardship planning on Canadian dairy farms.
Hundreds of farmers participated in this work. We learned that many farms are already pioneers in biodiversity, but there are still opportunities to grow when it comes to wetland restoration. Many farmers have made changes to their crop management practices, including reducing the use of chemical herbicides and pesticides. Twenty-three per cent of farmers surveyed have established riparian buffers to protect their waterways and ponds.
Looking ahead, DUC will be collaborating with dairy farmers across the country to design habitat programs that meet their needs.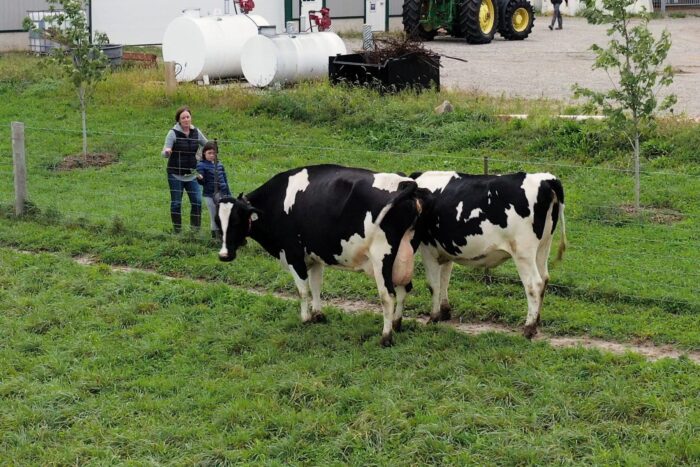 Seventh-generation dairy farmer Mary Ann Doré has taken on environmental stewardship as a generational responsibility, part of being an extended farming family in Ontario.
"Farmers always think of themselves as stewards of the land," says Doré.
The size of the average dairy farm in Canada is measured in the hundreds of acres and most on-farm work is directed to growing good feed in the fields which requires healthy pollinators and soil.
Dairy operations—like the Dorés' Heritage Hill Farms—are well positioned for stewardship thanks to their size and focus on growing crops for their cows. DUC is helping Doré integrate habitat restoration into her on-farm environmental management in Wellington County.
"I benefited from the decision-making of the past," says Doré. "And I want to pass along a good field and a profitable business for my future generations."
If you see a familiar blue cow and an iconic green duck head pop up in your ads this fall, take a minute to watch Doré share her reasons for restoring wetland habitat on her Wellington County farm: HereForTomorrow.ca