European water chestnut is a widespread invasive species, introduced aquatic plant in the northeastern United States that is only found in pockets along bordering waters in Ontario. We want to keep it that way—with the goal of eradicating it from these waterways.
European water chestnut grows in water with broad, green leaves that float on the surface. The plant was introduced in the United States in the late 1800s because it's attractive and fast-growing in aquatic environments. But it outcompetes native plants in wetlands and waterways, forming dense mats that can block sunlight and, in extreme cases, starve fish and other aquatic life of oxygen.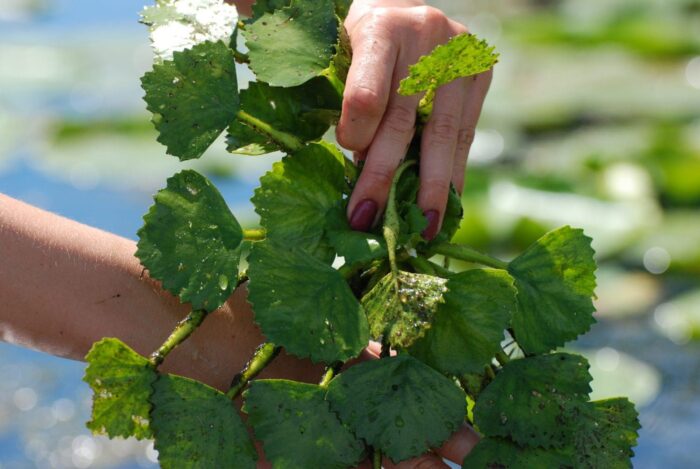 Tracking an invasive aquatic plant in Lake Ontario and the Rideau River
Since 2014, DUC has been working with conservation partners to conduct active surveillance and control of invasive European water chestnut in Eastern Ontario. We're tracking and physically removing the plants where they've been identified in coastal wetlands and nearshore sites around Wolfe Island and in the Rideau River and Greater Cataraqui River.
Water chestnut is best removed by hand pulling. The labour-intensive method is the preferred control technique because it removes the whole plant, including seeds, reducing the number of plants producing viable seed in future years. The plant biomass is removed from the habitat for safe disposal.
Annually, new plants propagate from seeds in the lake or river bottom and must be removed. Unchecked, the plants will fill in open water areas rapidly. Also, the barbed spines of water chestnut seeds are painful for people and pets to step on in the lakebed .
Each year, except 2020, the sites have been surveyed by invasive species specialists to detect re-establishing water chestnut clusters, which are removed. Surveillance conducted from watercraft is now augmented by drone photography—vastly improving the efficiency of the field program.
The good news? European water chestnut is an annual plant that depends on the success of its seeds to return each year. Since the control program began, the amount of water chestnut at the sites has decreased dramatically and some small populations have been completely removed from the area.
But the bad news is that the seeds can lay dormant for up to a decade, so long-term monitoring remains a necessity for eradication.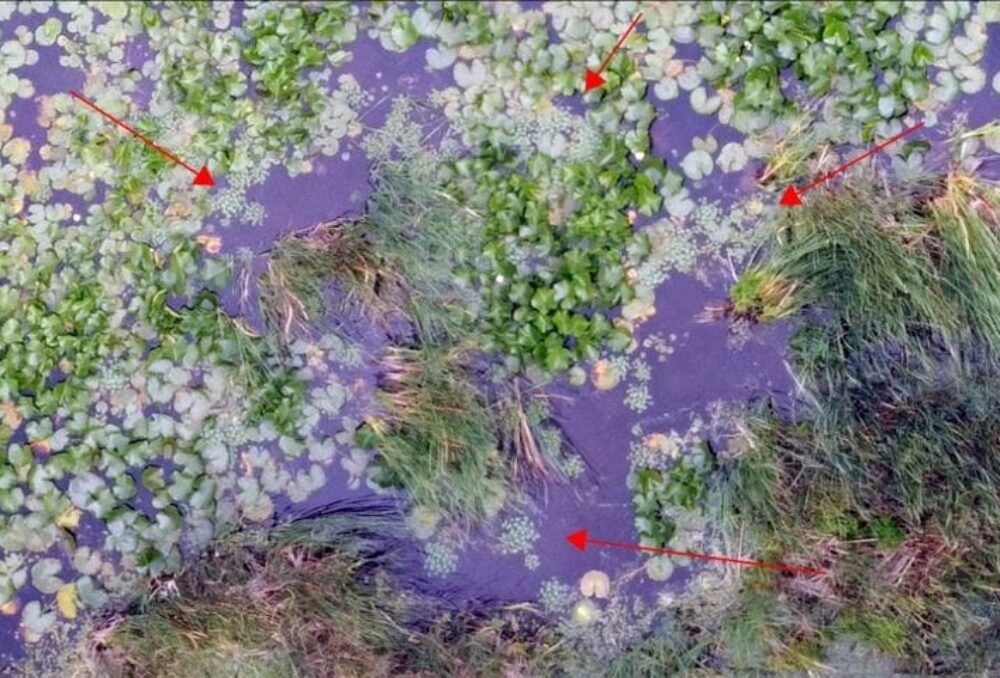 Control and monitoring program in Eastern Ontario
Since 2017, DUC has monitored about 40 sites between Brighton and Gananoque to prevent European water chestnut from becoming established in local waterways. Clusters of the plant were identified around Wolfe Island, in the Greater Cataraqui River and in Rideau Canal.
Wolfe Island (St. Lawrence River)
Invasive species specialists have monitored and controlled clusters of the plant along the coastal wetlands, bays and nearshore areas of Wolfe Island. The main clusters were in Bayfield Bay and Button Bay along the southern shoreline of the island and smaller clusters were found in Brown's Bay and Lewis Bay.
In 2021, DUC began to use drones to collect aerial imagery of the habitat where water chestnut populations were known from prior years. Invasive species specialists could then pinpoint small clusters to be removed by hand before the plants could drop mature seeds into the lakebed. This approach increased the efficiency and accuracy of the surveillance.
Year

Plants removed

2017
2244
2018
1284
2019
914
2020
–*
2021
1440
*DUC did not receive funding for the program in 2020
No plants found in the coastal habitat at Button Bay
The year without a control program (2020) allowed water chestnut plants in the bays around Wolfe Island to multiply and there were more than 1.5 times the amount of plant biomass removed than in 2019. But there was good news too. Following several seasons of decline, water chestnut was not observed at all in Button Bay in 2021.
---
Rideau Canal (Ottawa)
In 2014, European water chestnut was identified by DUC staff on the Rideau River at the Rideau Canal National Heritage Site. Volunteers from the Rideau Valley Conservation Authority joined conservation staff in hand-pulling the plants. Each year, surveillance uncovers fewer clusters near the Black Rapids Lockstation. Control is managed by Parks Canada to detect and remove new plants produced by dormant seeds and protect the waterway.
---
Greater Cataraqui River (Kingston)
Water chestnut was identified on the south side of the Belle Park peninsula in the Greater Cataraqui River in the City of Kingston. The usual approach to hand-pull small clusters and remove the biomass from the environment. But consultation with environmental authorities revealed concern about contaminated sediments in the river bottom which could be pulled up into the water with the plants.
As an alternative, DUC received special permits from Parks Canada and the Ontario Ministry of Environment, Conservation and Parks for an approved aquatic herbicide commonly used at marinas. This approach reduced the plants by 92 per cent, and follow-up monitoring showed minimal impact to native plants.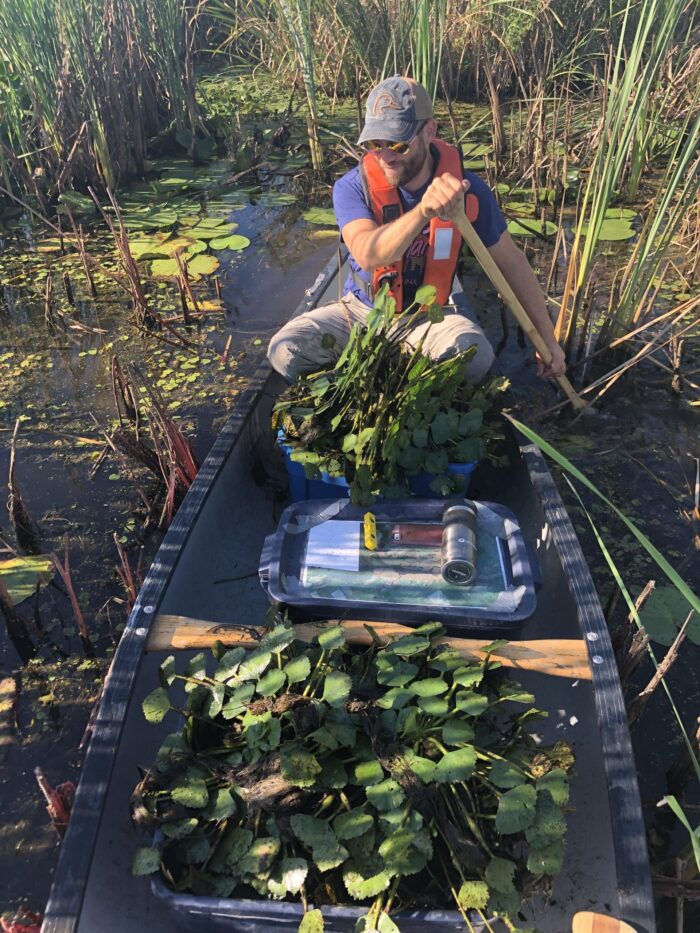 Support for European water chestnut control
DUC's European Water Chestnut Eradication Program helps monitor and control aquatic invasive species in Ontario, and supports Ontario's Invasive Species Strategic Plan and A Wetland Conservation Strategy for Ontario 2017-2030.
Partners: Ducks Unlimited Canada, Ontario Northern Development, Mines, Natural Resources and Forestry, Invasive Species Centre, Parks Canada, Ontario Federation of Anglers and Hunters.
"Eyes on the water" came from the Ontario Wildlife Foundation, landowners and local sporting clubs. Other support:
Frontenac Islands Township
Rideau Valley Conservation Association
Ontario Invasive Plant Council
Voyageur Provincial Park
Queen's University Biology Department
Elbow Lake Environmental Education Centre, Queen's University
---