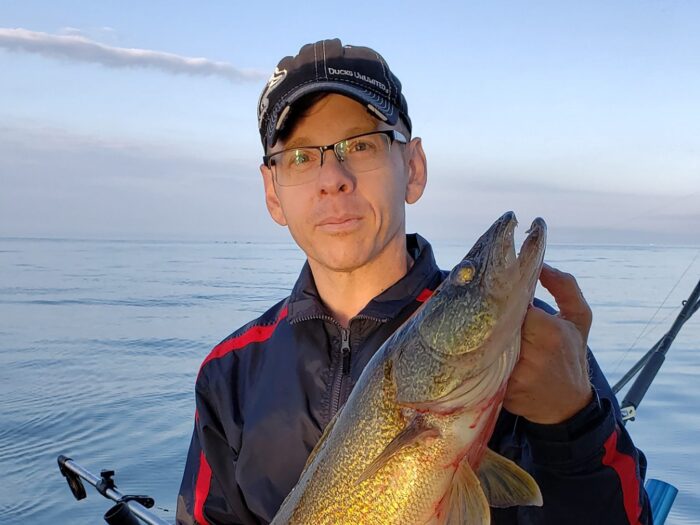 Craig Lalonde knows a thing or two about giving back. The 25 years he's devoted to volunteering with Ducks Unlimited Canada, (DUC) have been his way of saying thank you to the organization that sparked his curiosity, wonder and passion when he was just a little boy. For his selfless dedication and hard work, Lalonde has been named DUC's Volunteer of the Year in Ontario.
Like many people who get involved with DUC, Lalonde was first introduced to the organization through his father, Leonard, who brought him to several DUC conservation dinners beginning when he was just six years old. There, he learned about the work of DUC and the importance of conserving Canada's wetlands.
As Lalonde grew, so did his interest and involvement with DUC. In his hometown of Dunnville, he started the local chapter of the Greenwing Club, enlisting the help of his peers to build and install nest boxes and remove the invasive purple loosestrife from what is now the Thompson Creek Eco Centre. They built a pavilion and planted trees on this site as well.
When he was 16, his brother encouraged him to take part in a DUC contest. He had to identify a number of birds and other wildlife species, as well as answer a few essay questions. Lalonde was shocked to learn that he had won the contest and his prize was a trip to DUC's national office at Oak Hammock Marsh near Stonewall, Manitoba. The trip cemented his connection to nature, wetlands, waterfowl and conservation.
The experience at Oak Hammock Marsh inspired Lalonde to pursue post-secondary studies in Fish and Wildlife Technology, although his path took him elsewhere. Now living in Waubaushene with his wife Kerrie and their two sons, Caleb, 10 and Cameron, 6, he is well-known in his community as "the DUC guy." Lalonde spends much of his time with his 12-member Midland chapter organizing conservation dinners, securing donations and getting his boots dirty in wetland projects wherever he can.
"I've always enjoyed the fundraising events. After a few years I started emceeing our hometown events and I always seeing the same people every year," he says. "Everyone remembers your story and you remember theirs; you build a good connection with them."
An avid birder and hunter of waterfowl, deer and moose, Lalonde supports the work done by DUC to conserve and restore wetlands in Canada, as well as educating the broader public about its mission. He says DUC's science-backed projects illustrate the organization's forward-thinking approach.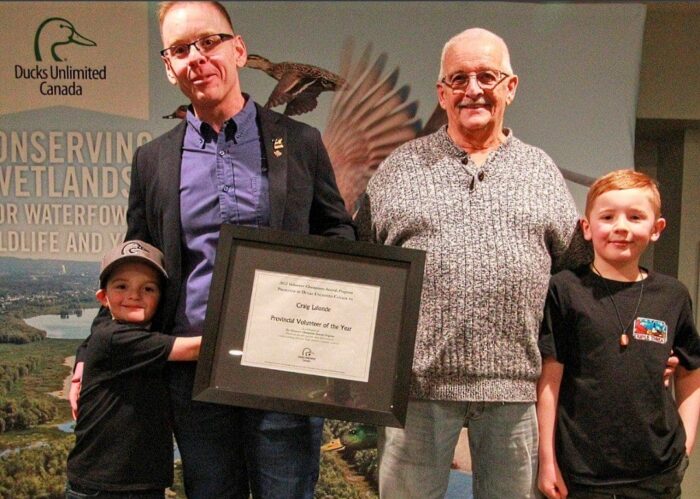 Despite his lifelong dedication to the organization, being honoured as DUC'sVolunteer of the Year in Ontario came as quite a shock.
"Being awarded means the world to me," Lalonde says. "I'm still overwhelmed, but so touched I was chosen. DUC is my passion and I believe in what this organization stands for. When you consider the scope of the work done and the benefits of that work, you can't help but respect DUC. I'm so honored to be a part of the DUC community."
Last fall, Lalonde visited Oak Hammock Marsh with his father Leonard, brother Chris and son Caleb. It was a full-circle moment for him as he returned to the place that had lit the flame of conservation 25 years earlier. The experience was made even more memorable by sharing it with his loved ones.
"The things that always get to me are the nostalgic fall smells of mud and swamp that take me back to being a kid out with my dad."
There are more than 800 DUC volunteers in Ontario. and 3,950 across Canada. DUC is proud to recognize each of them—including outstanding leaders like Craig Lalonde —as volunteer champions and conservationists who serve with generosity, passion and dedication.