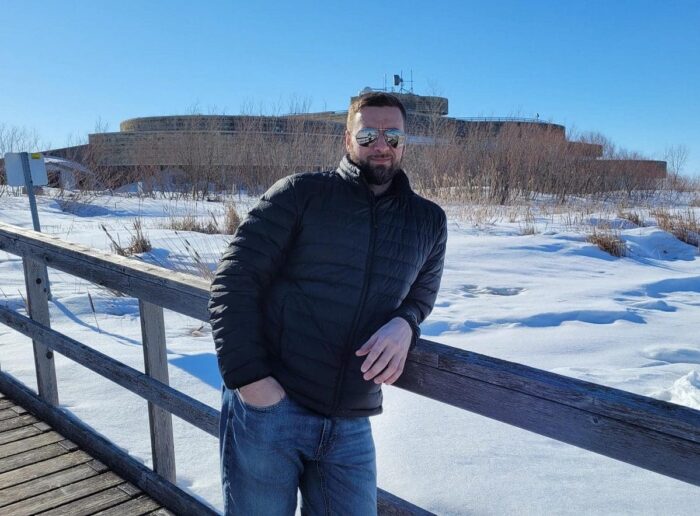 All in. It's the only way to describe Luke Parsons and his support for DUC. A volunteer from Wabush, a small community in the western tip of Labrador, Parsons believes wetland conservation is more than just a worthy cause—it's a way of life.
When we called on him to chat about his volunteer work with DUC, Parsons had to put down his power tools to answer the phone. He was in the middle of assembling a DUC nest box that he was shipping across the province to Happy Valley-Goose Bay, along with the supplies for a fellow volunteer to build 22 more. Prior to that, he'd spent a good portion of the day dropping off sponsor letters to businesses and following up with folks who'd purchased tickets to the nearly sold-out fundraising dinner his local DUC volunteer chapter was hosting in two weeks time. His plans for the evening? Drumming up support and interest in DUC's newly formed Newfoundland and Labrador provincial council, of which he is the chairman.
This kind of commitment doesn't go unnoticed, or unappreciated. DUC staff and volunteers from across the country regularly call on Parsons to share ideas, and he recently travelled to DUC's national headquarters at Oak Hammock Marsh in Manitoba to discuss ways of re-energizing DUC's volunteer network in a post-COVID world. It's this kind of drive and unwavering dedication that earned Parsons the title of DUC's Volunteer of the Year in Newfoundland and Labrador—an honour he's now received for the second year in a row.
So, where does his motivation come from? Parsons' day job as a conservation officer has certainly contributed to his passion for wild places. But his appreciation for nature was instilled much earlier. As a kid growing up in rural Newfoundland, the outdoors was his personal playground. He'd often follow his dad into the woods and wetlands surrounding their community where he learned from an early age about the important role these ecosystems play in the health of the environment and in the lives of both wildlife and people.
"My dad had a famous saying that, 'if something isn't worth working for, it's not worth having.' And that's why I put in the work," says Parsons. "Every person in the country benefits from the conservation of wetlands. Whether it is using the wetland for recreational activities, fishing, hunting, and hiking or if it is as simple as turning on your tap and filling your glass with clean drinking water."
Parsons is spreading this important message far beyond his home community. After initiating an innovative new fly-tying competition as a fundraiser for DUC, Parsons received messages from people as far away as Italy, Ukraine and Indonesia who wanted to enter.
"It's pretty cool to think that our event and our message about how wetlands support clean water and healthy fish populations got international exposure," he says.
Parsons' advice to his fellow volunteers is to remember that their actions, however big or small, reach farther and deeper than they might imagine.
"As volunteers we need to remember that the time we give to DUC isn't about us as individuals, it is about being a part of something much bigger and something much more important. It is about ensuring that the next generation of Canadians gets to enjoy the vast playgrounds that we did as kids, and it is about raising funds and giving back to the natural resource that we should never take for granted."
We'll say it again: Luke Parsons is "all in" for conservation. Thank you, Luke. All of us at DUC are grateful for the many ways you're making the world a healthier, more sustainable place.