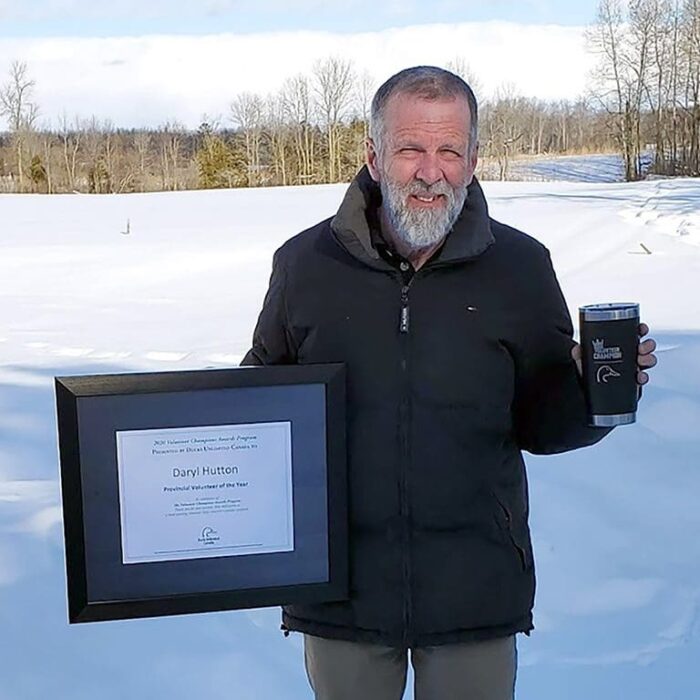 Daryl Hutton's passion for bird habitat began when he was a boy growing up on his family's farm near Hanover, Ont. He spent that youth doing chores and fishing in the Habermehl Creek that meandered past the Hutton dairy herd. The creek fed the mighty Saugeen River, rich in duck-filled wetlands. When he was 15, Daryl built his first habitats – wooden houses for the birdlife all around him. Ten years later he started making nesting boxes for wood ducks and he hasn't stopped for 41 years.
"I've always loved nature, that's what drew me to DUC," says the avid hunter and fisherman. "I've a had a lifelong passion for hunting and conservation," he says. "And without habitat, with or without hunting, there would be no ducks."
Daryl, 66, joined the Mount Forest DUC volunteer chapter 22 years ago, eight years after he had become a DUC member after reading a magazine article about the organization. He's still an avid fundraiser, proud of the $30,000 his chapter raised at the spring dinner right before COVID-19 sent us all back inside our own habitats. He also heads out to local wetlands to install and clean nesting boxes to keep the duck population thriving whenever he can. These days, the retired quality assurance manager and his wife Faye share their love of the outdoors with three children and five grandchildren on their 143-acre (58-hectare) farm just north of Harriston, Ont.
"It's important we conserve the habitat we have, and that ducks have," Daryl says. "DUC has allowed me to give back, and that matters to me."
In recognition of his outstanding volunteer service and passion for conservation, Daryl Hutton was named DUC's Volunteer of the Year in Ontario.