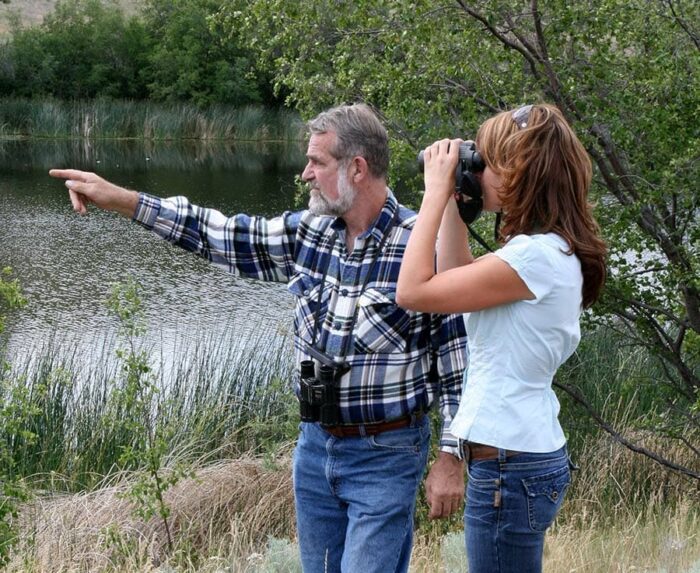 What started as a small group looking to form a DUC chapter in Kamloops has blossomed into 37 years of dedication to conservation and unequivocal friendships for Glenn Dreger. DUC in B.C. is honoured to name Glenn as its volunteer of the year for the province.
"It's certainly an honour, but we don't do this for the awards," Glenn says, who has helped raise hundreds of thousands of dollars for DUC in Kamloops. "Knowing that I have this tight group of friends that I can really count on to work with me to put on events has been a reward in itself."
Glenn, a conservationist and avid photographer, is chair of the Kamloops DUC committee, a position he's held for the past 10 years. Glenn says he shares the award with every member of the committee. He points to friendships he's fostered over the years with Bev and Barry Corbet, Don Romanin, Kim Hansen, and the late Dave Sharpe, who have helped him keep the Kamloops chapter thriving for the past 37 years.
Manda Hanson, volunteer fundraising administrator and event fundraising for DUC in B.C., says it was an unprecedented year of dealing with the COVID crisis. She says Glenn understood DUC's situation and was ready to do whatever it took to motivate his chapter to find a new way of fundraising.
"Because of Glenn's determination and leadership, we are on schedule to raise $20,000 for a cause that's close to his heart during a pandemic year," she says.
Glenn says he's still passionate about the cause, especially as increased populations and development have swallowed wetlands around the region. But the greatest reward continues to be the bonds he has formed with committee members and knowing the work they do means building a stronger community.
"One thing you could always count on is if someone said they were going to do something, you could count on it being done," he says. "I have never had to pick up a loose end because someone made a commitment and didn't follow through. And that's been very rewarding to work with a group of people like that."
In recognition of his outstanding volunteer service and passion for conservation, Glenn Dreger was named DUC's Volunteer of the Year in B.C.