Imagine combining two of your most favourite activities. Of course, you'd jump at the opportunity in an instant. And jump I did when the DUC Ride for Conservation came to Kingston, Ontario, on a Saturday in late July. Not only would I get to cycle along some of Ontario's best roadways, I could also contribute to conserving wildlife, both being among my favourite activities.
As many in this region know, Kingston and Frontenac County have many wonderful cycling roads. Not only do many of the roads have smooth, paved shoulders, they also twist and turn because of the topography. Recall that the Canadian Shield extends into here. Further, the roads for this ride were along routes which mirrored conservation success stories. The many marshes, streams, creeks and lakes inter-meshed with woodlots, homes and farmland. It was a true slice of eastern Ontario living within nature.
I first discovered this opportunity via @DUContario on social media. Signing up was a breeze. It occurred all online in seconds. I could even activate a personalized web page so that supporters could easily contribute to my endeavour. Given the ease of entry and set-up, I anticipated a fun time at the actual event.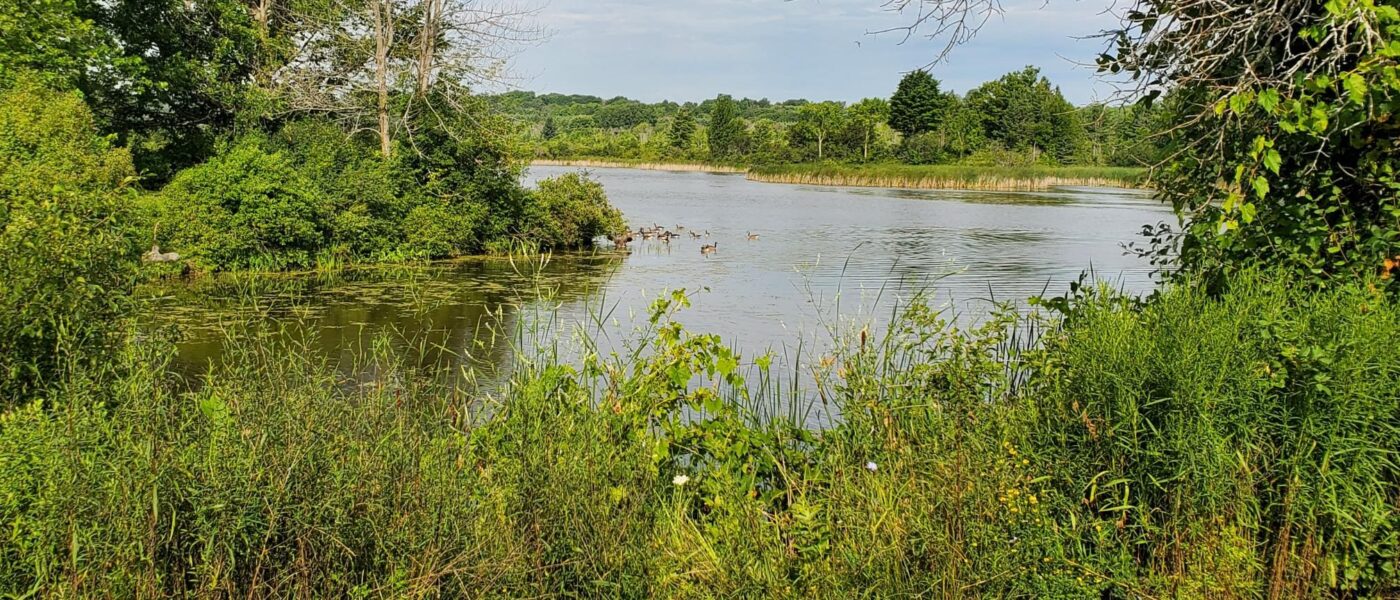 Starting the day at Little Cataraqui Creek Conservation Area
"How was the event?" you ask. Simply put, it was great.
I arrived at the start point at the Little Cataraqui Creek Conservation Area a little before the start time. I felt both confident of the ride and a little unsure of the logistics. However, I needn't have worried. Noreen and Marco, DUC staff, had set up a welcome site featuring a prominent green tent and a treasure trove of snacks and drinks. They answered the few questions I had, and I was ready for the countdown to begin.
Waiting in a conservation area while the sun rises could be harrowing to some. Images of mosquito swarms and clouds of black flies get conjured up. But none were about. I watched the Cataraqui Creek slip by, then I spied an osprey hunt for its breakfast. Walking to the shoreline, I saw a parade of geese sail slowly along while a cormorant tore by across the tree line. I heard about a water snake slithering nearby, I unfortunately missed seeing it. I definitely want to return to this conservation area when I don't have cycling on my agenda.
Eventually, time ticked down, and I pulled myself away from the creek edge and back to the business at hand. Start time was upon us and I hopped onto my bike and began pedalling. Soon leaving the conservation area behind, I gained historic Highway #10 and headed north toward Perth. The day was brilliant, the few clouds had quickly dispersed and the following breeze all made this first leg of the trip a delight.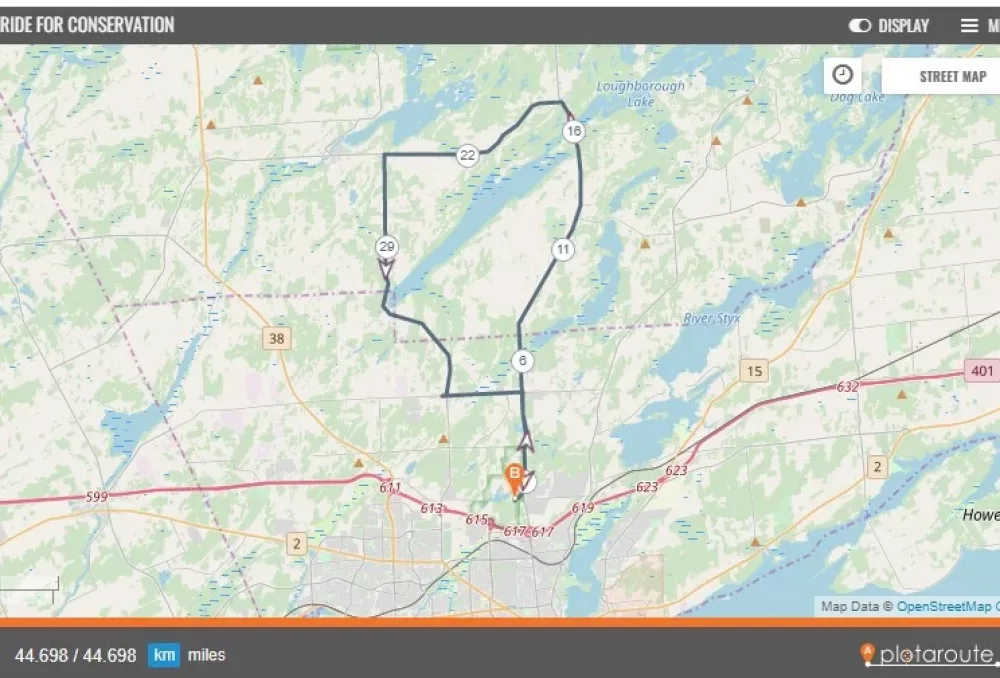 Event route passed by scenic countryside and conservation successes
The event's route traced a simple rectangular loop, heading first north, then west, then south, and, lastly, eastward to return to the start. I kept seeing event signs all along the side of the road that confirmed that I was on the correct path. The vehicle traffic was light and most drivers seemed very considerate and gave a wide berth. And, as mentioned, the route itself was fun. Gentle rolling hills, together with bends and turns in the road, kept me varying my cadence and heightening my concentration.
The scenery spanned from light industrial, then rural dwellings and to natural settings. Particularly rewarding were the views of Loughborough Lake. At that point, I really thought of taking a few minutes for a quick swim. All too soon, however, I had completed most of the loop and I was back on Highway #10 heading south to return the conservation area.
Once again, I was at the bright green DUC tent. On checking my trusty GPS, I saw a total distance of a little over 40 km. And there must have been some nice hills as I also saw momentary speeds of more than 50kph! All fun for a morning's cycle through some of Eastern Ontario's scenic countryside.
After changing back into street clothes, I thanked Noreen and Marco for setting up and running a wonderful event. I then rejoined my family and took the rest of the day to take in the sights of Kingston and to enjoy dining at some of their fine restaurants.
It was a fabulous event and I got to both cycle and support conservation. It couldn't have been better, except perhaps if I had taken that opportunity to swim. Maybe next year!