United in Conservation
The need for nature connects all people.
Nature is what keeps us healthy and happy. It's what keeps our communities safe and economy successful. But nature — including precious wetland habitat — is being pushed beyond its limits. Fortunately, DUC knows exactly what we're up against. Drawing upon our strengths, and those of our fervent conservation community, we're a force that's gaining ground.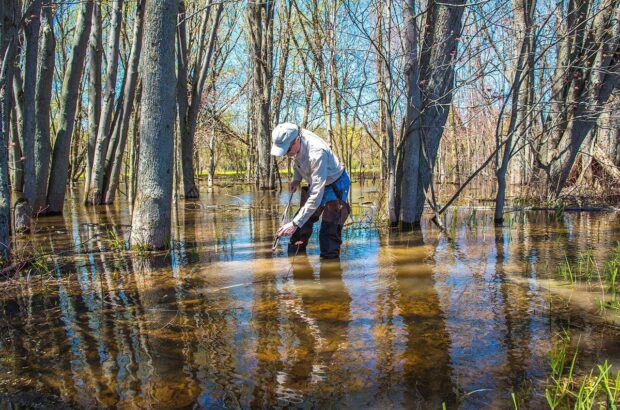 Nationwide conservation results
6.6 million
Acres conserved
(including 3.4 million acres restored)
195.2 million
Acres influenced
---
Our Impact
Our work for Canada's wetlands and waterfowl is working.
We know this because we're committed to measuring what matters and calculating the impact of our conservation efforts in tangible ways. Whether it's putting more ducks in the sky or dollars in your pocket, the value of Ducks Unlimited Canada's conservation work is manifested in many important ways that every Canadian can count on.
Climate Regulation $1.65 BILLION

Storing and sequestering carbon through soils and plants

Water Supply - $1.54 BILLION

Supplying water for drinking and use by agriculture and industry

Water Purification - $1.01 BILLION

Treating and purifying water by absorbing pollutants

Pollination - $478 MILLION

Providing habitat for native bees, butterflies and other pollinators

Regulation of water flow - $318 MILLION

Controlling how water moves across landscapes

Biodiversity $106 MILLION

Maintaining habitat that supports a host of living things

Food $106 MILLION

Providing sources of food like fish, game and fruit

Biological Control $53 MILLION

Supporting plants and organisms that provide pest and disease control

Erosion Prevention $53 MILLION

Stopping the wearing away of soil
SAFE HAVENS FOR SPECIES AT RISK
Supporting struggling wildlife populations starts with conserving Canada's wetlands.
Wetlands are biodiversity hotspots where more than 550 species of wildlife find food, seek shelter and raise their young. Ensuring this habitat exists is even more critical for the 97 creatures that rely on wetlands and are identified as species at risk.
In the face of dire biodiversity losses, our projects are helping to pull populations back from the brink.
| | | |
| --- | --- | --- |
| | Wetland species | Species at risk supported by wetlands |
| Mammals | 101 | 16 |
| Reptiles | 38 | 14 |
| Amphibians | 43 | 18 |
| Birds | 338 | 37 |
| Fishes | 31 | 12 |
| Total | 551 | 97 |
Our conservation community
At Ducks Unlimited Canada, we believe the need for nature connects all people.
Our strength comes from working together, partnering with all who care about the landscape. Every member of our conservation community has a unique, personal connection to our mission — and we're extremely grateful for the many generous ways they give.
STEADFAST SUPPORTERS
During the most challenging year in DUC history, our supporters stood by us. The steadfast commitment of more than 60,000 passionate people sustained us and provided both the foundation and inspiration to forge on. Armed with their trust, generosity and confidence, we rallied to achieve great things for conservation.
Feathers in our cap5h>
These special groups of DUC supporters fill us with hope and pride for the future. Each represents different ways of taking action and making a difference:
4,294 volunteers continued raising funds and awareness for wetland conservation, freely sharing their time and talents.
18,894 landowners protected vital habitat on their property, providing the space and stewardship that's critical to our mission.
2,922 major donors stepped up with significant gifts, making generous financial commitments.
339 Feather Society members made DUC part of their living legacies through a planned gift.
4,011 students and teachers learned more about wetlands and engaged in their own activities to support conservation.
359 staff members adapted to new ways of working and went above and beyond to ensure we met our goals.
MAKING CONNECTIONS AND CONSERVATION IMPRESSIONS
We continue building relationships with hundreds of thousands of Canadians who are learning more about DUC and our wetland conservation mission. Whether it was visiting our interpretive centres, engaging on our social media channels or accessing our news and educational resources, people are keen to explore how wetlands contribute to their lives. Over the past year, we made more than 200,000 connections with people we're proud to consider our supporters of tomorrow.
DIVERSITY AND INCLUSION AT DUC
Nature is diverse. So are we.
When nature is diverse, the Earth thrives. When our organization is diverse, people thrive. That's why Ducks Unlimited Canada is building a culture where everyone is welcome. We believe a variety of cultures, identities and beliefs enriches our environment. We believe innovation is enhanced through diversity and inclusion, and this in turn allows all of us to grow and prosper. We commit to making Ducks Unlimited Canada a place of belonging for all people, united in conservation.
OUR CONSERVATION COMMITMENT
Making the most of every charitable dollar is a responsibility we take seriously.
That's why Ducks Unlimited Canada is committed to upholding the highest standards of accountability, transparency and trust. By directing funds in ways that produce the greatest conservation impact, every donor can take pride in knowing that they're making a difference in their backyard — and beyond.
Our goal is to invest 80 per cent of our expenditures in habitat conservation annually. In the 2021 fiscal year, Ducks Unlimited Canada invested 90 per cent in habitat conservation.
USES OF FUNDS (Millions)
2021 Goals
2021 Results
2020 Results
2019 Results
Conservation
(Includes capitalized land purchases)
$88.8
83% investment
$87.0
90% investment
$74.0
82% investment
$79.8
81% investment
Fundraising
$5.6
$4.9
$10.2
$12.2
Administration
$6.9
$5.4
$6.5
$6.3
---
LOOKING AHEAD TO 2022
Ducks Unlimited Canada is planning to realize $104 million in gross revenue.
| | | | |
| --- | --- | --- | --- |
| SOURCES OF REVENUE (Millions) | 2021 | 2020 | 2019 |
| Government Grants | $43.3 | $42.1 | $39.3 |
| Fundraising Revenue* | $8.1 | $15.7 | $17.3 |
| Program Revenue | $21.0 | $20.0 | $14.9 |
| Non-Government Partnerships | $16.0 | $10.1 | $11.1 |
| Investment Income (Loss) | $32.6 | ($7.1) | $13.4 |
* Includes gift-in-kind donations. DUC also leveraged lines of credit for our Revolving Land Conservation Program of $13.3 million in 2021, $13.6 million in 2020 and $19.3 million in 2019.