---
It started in the Dust Bowl… 
If you've ever wondered why the 1930s are called the "Dirty Thirties," it's because of massive dust storms that defined the decade.
The Dust Bowl was the perfect storm of poorly calculated federal land policies, changes in regional weather, and the economic devastation of the Great Depression.
Following the American Civil War, a series of federal land acts made it possible for pioneers to try their hand at farming in the Great Plains. The Homestead Act of 1862, the Kinkaid Act of 1904, and the Enlarged Homestead Act of 1909 opened up major land parcels to inexperienced farmers in the U.S.. What these land acts failed to consider were the ecological impacts of removing native grasslands.
As Canadian farmer Bert Cartwright wrote, is was a "dust-choked perdition…dried out, lifeless expanses of sun-smitten prairie." Here in Canada, wetlands were steadily declining too – and waterfowl populations were also in dramatic decline.
---
The Demand for Wheat
Rising wheat prices in the 1910s and 1920s increased demand for wheat. As a result, farmers increased production, plowing millions of acres of native grassland to wheat, corn and other row crops.
When the Great Depression arrived in the 1930s, wheat prices plummeted. Farmers had no choice but to harvest even more grassland to increase their crop yield to make a profit.
The drought arrived in 1931. Because the deep-rooted prairie grasses were gone, the bare and over-plowed farmland had no anchor to the earth, causing soils to blow off of fields and creating massive dust storms that had never been seen before.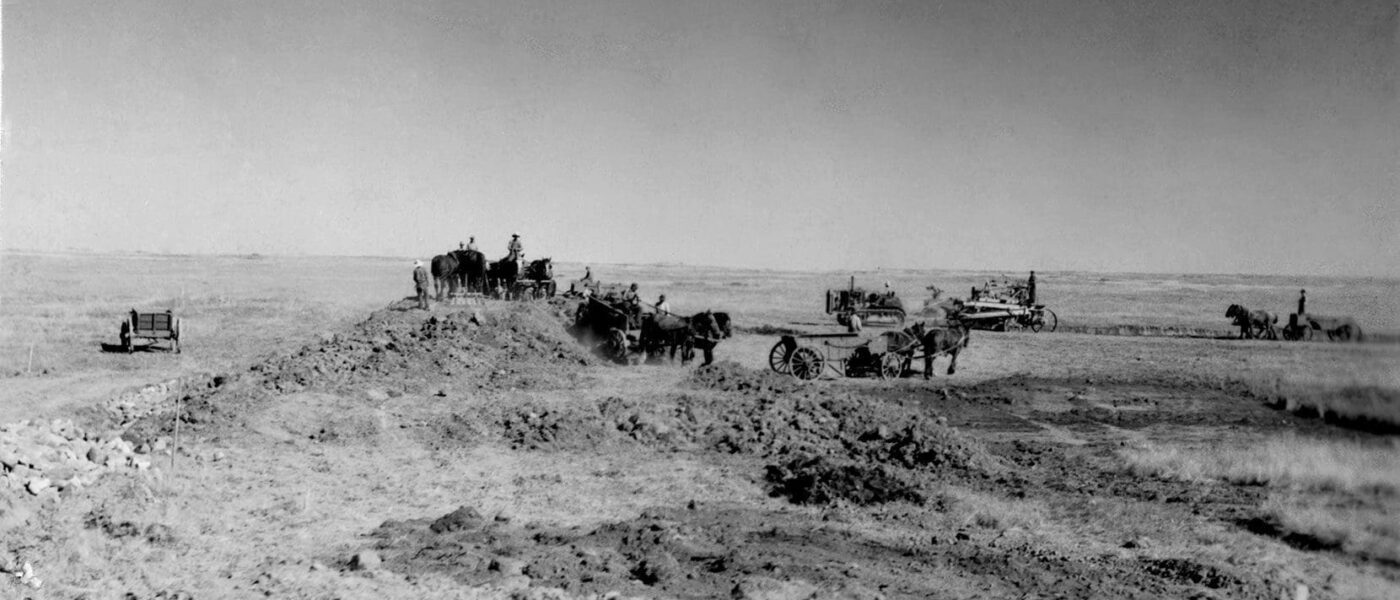 ---
A duck depression, too
With no water sources and no grasslands, ducks faced a serious impediment to their survival.
The duck hunting season in the United States in 1936 was a mere 30 days. And many hunters fully expected the 1937 season to be cancelled completely. Duck hunters (or waterfowlers, as they're known), knew that if they wanted to hunt game birds like ducks, they were going to have to help them to survive first.
It was the duel disasters of drought and drainage that had rocked the duck depression – and also gave rise to Ducks Unlimited, and idea birthed on the banks of a river in a small hunting lodge.
---
An idea whose time had come: the origin of Ducks Unlimited and Ducks Unlimited Canada
In 1929, a group of conservation-minded leaders in the United States formed the More Gamebirds in America Foundation. Its focus was to improve the quality of waterfowl habitats, which would then help secure the future of migratory bird populations. It was an example of hunters as conservationists – a movement that continues today.
The men of this foundation recognized that waterfowl largely bred in Canada in the spring and migrated to the U.S. and Mexico in the winter, so they developed a list of management ideas and suggested that a new intergovernmental agency be organized to implement them. This would allow species to be managed on a continental basis, rather than by each individual country.
But first they needed to document the impact of conservation programs, so the group undertook a major wild duck census in the prairie regions of the U.S. and Canada using a large corps of volunteers who worked on the ground counting ducks. Others took to the skies in aerial surveys.
When governments failed to act after the census was complete, Joseph Knapp, John Huntington, and Arthur Bartley formed Ducks Unlimited, Inc. to deliver the habitat restoration plans that they had developed.
---
Big Grass Marsh and Beyond
In 1937, operations began in the United States. The following year, Ducks Unlimited Canada, headquartered in Winnipeg, Manitoba, started its operations led by Tom Main and a small staff. The initial focus of the organization was to secure permanent water in the face of widespread drought and wetland drainage. The first projects were established using water conveyance structures, dams and dykes built by hand and with horse-drawn machinery. These projects included Big Grass Marsh in Manitoba, Waterhen Marsh in Saskatchewan and Many Island Lake in Alberta. These projects are still in operation to this day.
At the end of its first year–and really only eight months of field operations–the organizations collectively had met their goal by restoring 155,000 acres of habitat.