You're an American wigeon!
You were banded as a two year old in a large wetland near Williams Lake, British Columbia during your fall migration.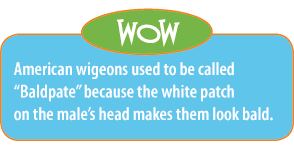 In your first year of life your parents flew to the Yukon for nesting. After mating, your mom laid you and eight other eggs in a shallow, feather-filled nest, well-hidden by grasses. On the day you hatched, you followed your mom on a short walk to the nearest wetland, where there were plenty of green plants to eat.
In the fall you flew from the Yukon to spend winter off the coast of southern British Columbia. Here you joined other wigeons to feed in grassy areas, in farm fields or in tidal ocean mudflats where you could feed on tasty plants like eelgrass and sea lettuce.
Download your certificate here to share with your friends and family.
Fast Facts:
eats more plants than any other duck, thanks to a special bill
males don't quack but give a high pitched three noted whistle
dabbling duck that eats at water surface or by "tipping up"
Wigeon numbers have been declining in recent years. Ducks Unlimited scientists and others are working hard to find ways to reverse this