How our work impacts conservation across Canada.
Where we're working on the ground from coast to coast.
We need your help to protect our water, wildlife, and wetlands. Here's how you can make an impact.
80 years of conservation is no joke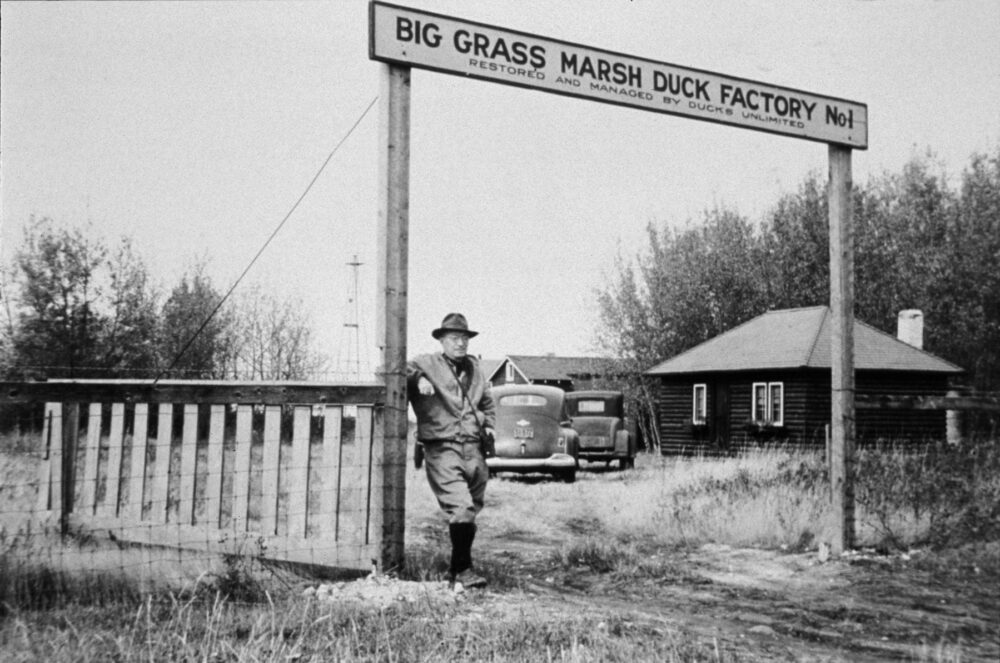 Ducks Unlimited Canada celebrates milestone anniversary on April 1st.
On April 1, 1938, Ducks Unlimited Canada's (DUC) founders had the nerve, or rather the confidence, to launch the organization on April Fool's Day. Eighty years later, as one of the country's largest conservation charities, DUC's track record of conservation achievements is proof that science surpasses superstition.
Science is at the heart of DUC's history and success. It provided our first conservationists with the tools they needed to restore wetlands across the drought-stricken Prairies. Today, it continues to inform every decision we make. It's the driving force behind DUC's on-the-ground conservation achievements, which now exceed 6.4 million acres (2.6 million hectares) country-wide. This includes 3 million acres (1.2 million hectares) restored.
"We have a rich heritage at DUC," says national director of conservation operations, David Howerter. "Over the years, our scientific approach to conservation has taught us a great deal about waterfowl and other wildlife, about the environmental benefits wetlands provide to people, and the impacts a changing landscape has on these things. Our 80th anniversary is a testament to the responsible way we conserve land and water, but also to the passionate people who bring this work to life."
The people Howerter are referring to are the other half of DUC's 80 years of success. In addition to world-leading researchers, conservation specialists, policy experts, marketers and fundraisers, DUC enjoys the support of more than 5,900 volunteers. These people generously share their time and talents to further DUC's wetland conservation mission.
"Volunteers are integral to the DUC story," says Howerter. "In 1938, volunteers gave life to the organization as our founding members. Today they continue driving our conservation mission by fundraising, advocating and helping deliver conservation in their communities."
Looking ahead to the next 80 years, what DUC can accomplish for Canada's land, water and wildlife is no joke. Our science is sound, our volunteers are at the ready, and no threats of hoaxes or horseplay will hold us back. History's on our side.
Ducks Unlimited Canada (DUC) is the leader in wetland conservation. A registered charity, DUC partners with government, industry, non-profit organizations and landowners to conserve wetlands that are critical to waterfowl, wildlife and the environment.
Contact Information
Ashley Lewis, Communications Specialist
Ducks Unlimited Canada
Tel: 204-467-3252
Email: a_lewis@ducks.ca