How our work impacts conservation across Canada.
Where we're working on the ground from coast to coast.
We need your help to protect our water, wildlife, and wetlands. Here's how you can make an impact.
Canadian wetland education network wins national honours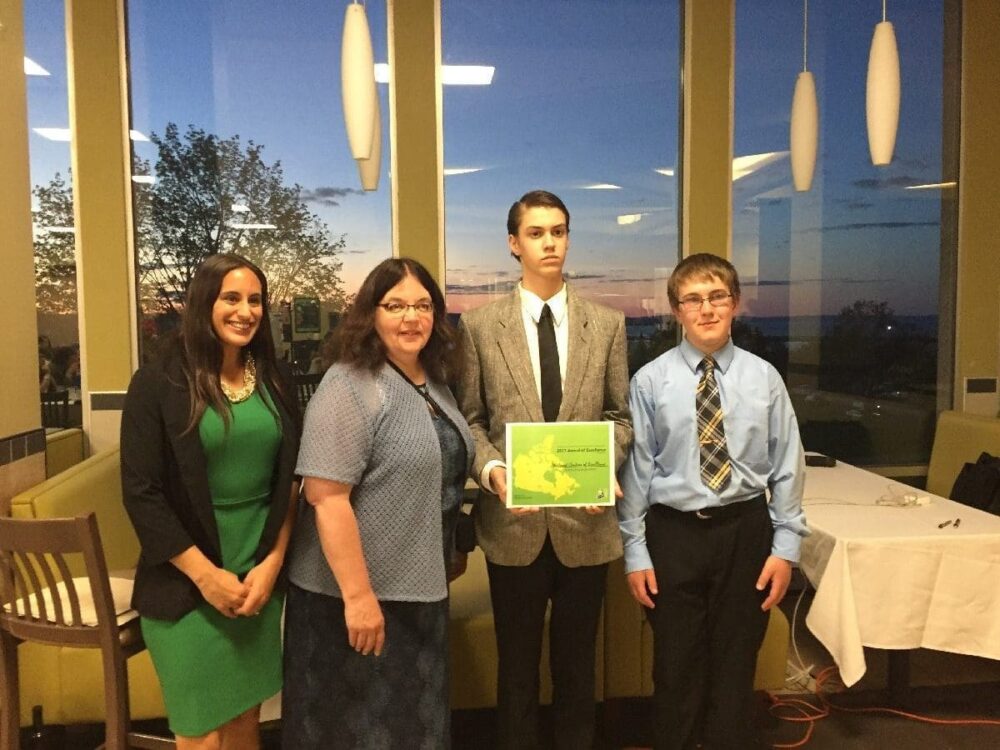 Ducks Unlimited Canada's Wetland Centres of Excellence garner EECOM awards
At its annual national conference, EECOM (the Canadian Network for Environmental Education and Communications) presented three of five EECOM Awards to Ducks Unlimited Canada-related programs and teachers.
EECOM's Outstanding Organization Award was presented to DUC's Wetland Centres of Excellence/ Centres d'excellence des milieux humides (WCE/CEMH) network.
DUC's WCE/CEMH form a national network of dedicated educators, students, supportive administrators, and communities working to conserve wetlands. Participants have constructed boardwalks, banded birds, built nest boxes, written and designed interpretive signs, planted and restored wetlands,  tested birds for avian flu, conducted water quality tests, and carried out a myriad of other student-directed projects in their local communities.  Over the years WCE/CEMH students have acted as advocates for wetland conservation, including taking part in meetings with provincial and federal politicians, and several have gone on to pursue careers in conservation and related fields.
Since 2003 when DUC recognized Tantramar Wetland Centre, N.B. as the first WCE/CEMH, learning and sharing their experiences with others has been a key component for each Centre. In many cases WCE/CEMH students act as mentors, conducting wetland field trips for younger students and some even "teach the teachers" through hands-on wetland workshops.
Nancy MacKinnon, lead teacher at Tantramar Wetland Centre, accompanied by two of her students and conference attendees from other WCE partners, accepted the award on behalf of the WCE/CEMH network.
"This is a well-deserved award for all of those who are involved with these great initiatives in their communities," says Merebeth Switzer, DUC's national manager, education. "I also want to commend our education staff who have devoted so much time to support them and to thank Wildlife Habitat Canada who helped us strengthen this national network over this past year."
Two Manitoba-based WCE/CEMHs garnered other EECOM Awards in the following categories:
EECOM 2017 Outstanding K-12 Class, School, or School District Award – to Rivers Collegiate, a Ducks Unlimited Wetland Centre of Excellence, recognized for their wide-range of environmental activities, including wetland conservation.
Outstanding K-12 Educator award – Julie Mathieson (nee Brunel) – lead teacher at the Virden WCE, and a dedicated and inspiring educator devoted to environmental education.
There are 25 established WCE/CEMHs across Canada involving more than 30 schools and others are under development. The Centres are large and small, rural and urban, and each is unique.
Ducks Unlimited Canada (DUC) is the leader in wetland conservation. A registered charity, DUC partners with government, industry, non-profit organizations and landowners to conserve wetlands that are critical to waterfowl, wildlife and the environment.
Wildlife Habitat Canada (WHC) is a national, not-for-profit, non-governmental, charitable conservation organization whose objectives are to:  provide funding for wildlife conservation programs in Canada; conserve, restore and enhance wildlife habitat; foster coordination and leadership in the conservation community; and, promote the conservation contributions of waterfowl hunters and encourage participation in waterfowl hunting.
Contact media@ducks.ca if you would like to arrange an interview or publish a story about WCE/CEMHs in your province. Visit Wetland Centres of Excellence for more information.
British Columbia
Clarence Fulton Secondary School, Vernon
Manitoba
Fort Richmond Collegiate, Winnipeg
Nellie McClung Collegiate, Manitou
Rivers Collegiate, Rivers
Virden Collegiate Institute, Virden
New Brunswick
Daly Point Nature Reserve, Bathurst
Fredericton High School, Fredericton
Simonds High School, Saint John
The Tantramar Wetlands Centre, Sackville
Nova Scotia
Somerset Elementary School, Berwick
Ontario
Bluewater WCE
Cambridge WCE
Durham Region WCE
East Elgin Secondary School,  Alymer
Hilliardton Marsh, New Liskeard
Holy Trinity School, Richmond Hill
Luther Marsh, Mount Forest
Ottawa WCE
Royal Botanical Gardens, Burlington
Sir John A. MacDonald SS, Toronto
Toronto WCE
Quebec
CEMH Côte-de-Beaupré
CEMH Papineau
Saskatchewan