How our work impacts conservation across Canada.
Where we're working on the ground from coast to coast.
We need your help to protect our water, wildlife, and wetlands. Here's how you can make an impact.
Ducks Unlimited Canada and CPAWS-NWT team up to deliver conservation in the Northwest Territories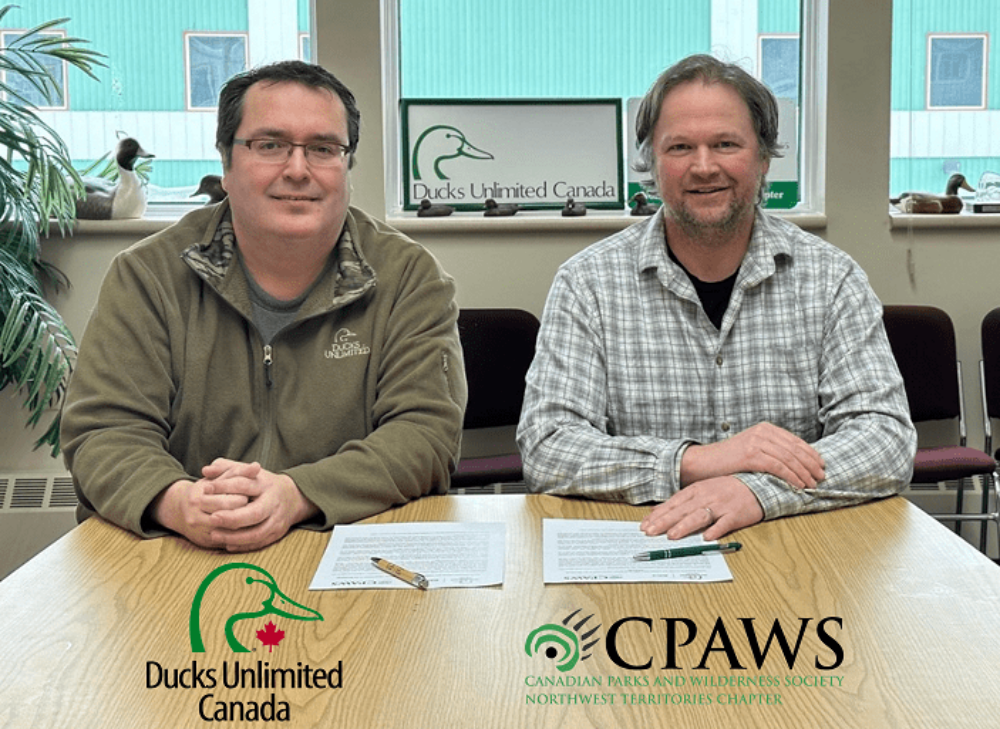 Two prominent environmental non-profit organizations sign an agreement to maximize collaborative efforts that will advance sustainability, climate resiliency and Indigenous-led conservation
March 2, 2023, Yellowknife, NWT. The landscape of the Northwest Territories (NWT) is vast, diverse, and full of natural beauty in its boreal forests, Arctic tundra, freshwater lakes and deep cultural history. These natural features are worthy of conservation and protection and are vital in the global efforts to mitigate the effects of climate change and biodiversity loss. Two environmental non-profit organizations, Ducks Unlimited Canada (DUC) and Canadian Parks and Wilderness Society – Northwest Territories Chapter (CPAWS-NWT), have been operating in the territory for decades and recognize the importance of protecting these natural spaces. DUC and CPAWS-NWT acknowledge that by pooling resources and focusing on common goals, more can be accomplished. Today, a Collaboration Agreement has been signed to leverage their shared capacity – which means more positive outcomes for NWT.
The organizations are no strangers to working together, having collaborated on projects related to advancing conservation in the NWT since the mid-90s including supporting candidate protected areas in the Dehcho Region. Recently, DUC and CPAWS-NWT have teamed up to assist with efforts to establish an Indigenous Protected and Conserved Area (IPCA) in the Slave River Delta-Taltson watershed area, led by Fort Resolution Métis Government and Deninu Kųę́ First Nation.
The Collaboration Agreement enhances DUC and CPAWS-NWT`s ability to deliver the most effective conservation outcomes for the territory by committing to work on collective goals while sharing expertise, funding, capacity, and other resources. Both organizations also have long-standing relationships with local, regional and Indigenous partners that further strengthen this agreement. Kris Brekke, Executive Director of CPAWS-NWT explains the importance of re-invigorating collective efforts:
"This agreement renews our mutual commitment to working with partners toward achieving conservation outcomes in the NWT and solidifies this collaborative approach moving forward. CPAWS-NWT and DUC have worked alongside each other for nearly three decades in support of communities moving forward with their own protected area proposals." Brekke explains that this work also contributes to advancing land-use planning and decision-making, which has measurable benefits for the local community and beyond.
Kevin Smith, National Manger of Boreal Programs for DUC agrees, pointing to IPCAs as a valuable common goal: "DUC and CPAWS-NWT are dedicated to working with all partners and stakeholders to conserve NWT's globally significant wilderness areas, wetlands, wildlife habitats, and waterways. IPCAs are community-driven initiatives that are effective, inclusive, and balanced, working in partnership with all levels of government to achieve common goals around conservation. DUC and CPAWS-NWT are committed to supporting the IPCA process and Indigenous-led conservation."
Learn more about Ducks Unlimited Canada and CPAWS-NWT and support this important work.
---
Ducks Unlimited Canada (DUC) is the leader in wetland conservation. A registered charity, DUC uses sound science and partners with government, industry, non-profit organizations, Indigenous Peoples and landowners to conserve wetlands that are critical to waterfowl, wildlife and the environment. To learn more about DUC's innovative environmental solutions and services, visit www.ducks.ca
The Canadian Parks and Wilderness Society – Northwest Territories (CPAWS-NWT) is Canada's only charity dedicated to the protection of public land, freshwater and ocean with a strong national and regional presence across the country. Working in a way that respects the sovereignty and leadership of Indigenous nations, CPAWS-NWT are focused on conserving nature to respond to the dual crises of accelerated biodiversity loss and climate change.
Contact Information
Chantelle Abma – Communications Specialist | Ducks Unlimited Canada, National Boreal Program
c_abma@ducks.ca | (780) 265-4945
Kris Brekke – Executive Director | Canadian Parks and Wilderness Society – NWT (CPAWS-NWT)
kris@cpaws.org | (506) 425-2694