How our work impacts conservation across Canada.
Where we're working on the ground from coast to coast.
We need your help to protect our water, wildlife, and wetlands. Here's how you can make an impact.
Ducks Unlimited Canada completes historic Rescue Our Wetlands campaign Seven-year effort conserves more than 650,000 acres of important natural habitat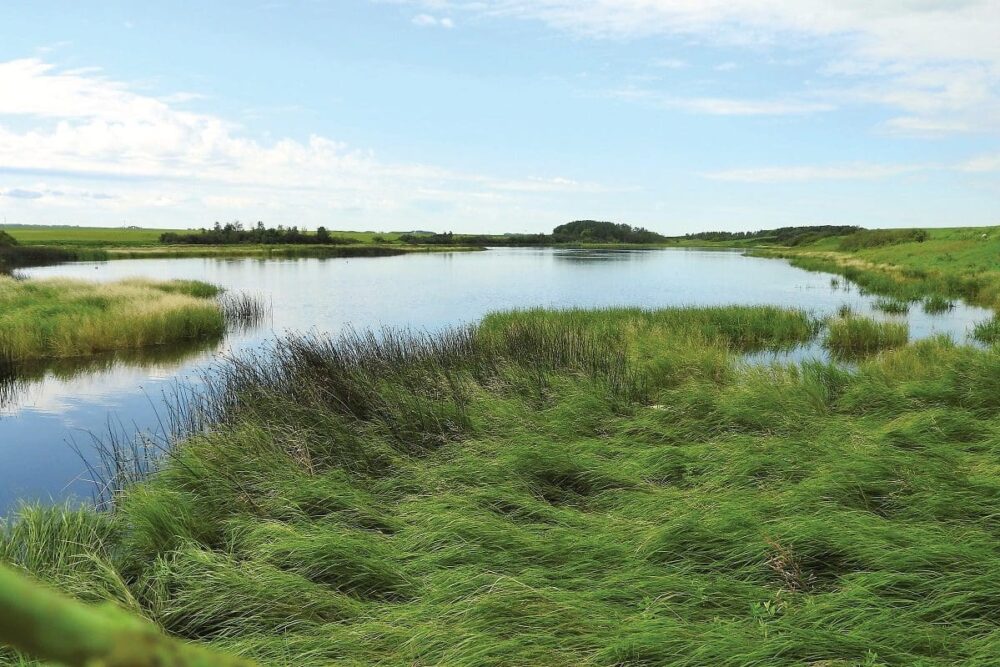 June 2, 2019 – Oak Hammock Marsh, Man. – Ducks Unlimited Canada's (DUC) Rescue Our Wetlands campaign has made history as one of the country's most significant conservation achievements. The seven-year effort conserved more than 650,000 acres (263,046 hectares) of wetlands and other natural habitat. On top of this, DUC collaborated with governments, industry, Indigenous communities and other conservation partners to positively influence another 96 million acres (39 million hectares). Together, it's an area nearly the size of Newfoundland and Labrador.
The benefits of this habitat are powerful. Dr. Karla Guyn, chief executive officer of DUC, says wetlands provide solutions to some of the most pressing environmental issues.
"The wetlands we conserve play an essential role in keeping Canada's lakes and rivers clean," Guyn says. "They also guard against floods and droughts, mitigate climate change by storing carbon, buffer storm surges and sea level rise and provide critical habitat for species at risk. Wetlands benefit every citizen, and the campaign has helped create a healthier and more sustainable future for us all."
The Rescue Our Wetlands campaign was launched in 2012 as an ambitious response to the alarming trend of wetland loss across Canada. Up to 70 per cent of wetlands in settled areas of the country have been lost, and more are lost every day. The goal was to secure $500 million to deliver conservation programs from coast to coast to coast. DUC vastly exceeded this goal, raising $559 million.
"We have our supporters and partners to thank for these incredible results," says Guyn. "It's inspiring to witness people's generosity when it comes to wildlife and the natural world. It's also extremely humbling to deliver the work they believe in."
DUC's conservation achievements in Canada are further amplified by successes across North America. Rescue Our Wetlands was a continental campaign that included Ducks Unlimited organizations in the United States and Mexico.
"Working collaboratively across borders is a fundamental component of North American wetland conservation," Guyn says. "Water and wildlife are resources we share, which means we have a shared responsibility to protect them. For more than 80 years, Ducks Unlimited organizations have been working in partnership to conserve wetlands in Canada, the U.S. and Mexico. The Rescue Our Wetlands campaign represents one of our greatest achievements to date."
Collectively, 2.2 million acres were conserved across North America.
Despite the success of the Rescue Our Wetlands campaign, these natural areas continue to be at risk. The need for wetland conservation never stops, and the work of DUC and its partners is not over.
Facts about DUC's Rescue Our Wetlands campaign
The campaign spanned seven years, from January 1, 2012 to December 31, 2018. Official results were shared with the public and DUC supporters today.
DUC exceeded its conservation goals in every priority area across the country, with the following results:

British Columbia: 45,157 acres conserved; 3.0 million acres influenced
Alberta: 134,308 acres conserved; 1.0 million acres influenced
Saskatchewan: 285,301 acres conserved; 7.2 million acres influenced
Manitoba: 114,557 acres conserved; 1.9 million acres influenced
Ontario: 49,703 acres conserved; 441,843 acres influenced
Quebec: 11,721 acres conserved; 9.4 million acres influenced
Atlantic Canada: 10,310 acres conserved; 8.2 million acres influenced
Boreal Forest:8 million acres influenced

In addition to habitat conservation programs, the campaign supported DUC's Institute for Wetland and Waterfowl Research. Its world-leading scientists are studying our changing environment and determining the best conservation actions. Examples of research include quantifying the role wetlands play in water quality, flood and drought mitigation, carbon storage and in supporting biodiversity. DUC scientists are also examining the effects of human activities on waterfowl populations and behaviours.
The campaign also supported education programs that are empowering young people to become conservation leaders through DUC-recognized Wetland Centres of Excellence. The centres (many located in schools) engage students in conservation projects, student-to-student mentored field trips and outreach in their communities. There are currently 25 DUC-recognized Wetland Centres of Excellence across the country, 14 of which were established during the campaign.
Rescue Our Wetlands was an "all-in" effort that that brought together financial contributions from U.S. and Canadian governments, individual donors, foundations and corporations, grassroots fundraising and conservation activities as well as planned gifts.
Visit ducks.ca/rescue-our-wetlands to learn more.
– 30 –
Ducks Unlimited Canada (DUC) is the leader in wetland conservation. A registered charity, DUC partners with government, industry, non-profit organizations and landowners to conserve wetlands that are critical to waterfowl, wildlife and the environment.
For further information or interview requests, please contact:
Leigh Patterson
Ducks Unlimited Canada
204-467-3306
l_patterson@ducks.ca