How our work impacts conservation across Canada.
Where we're working on the ground from coast to coast.
We need your help to protect our water, wildlife, and wetlands. Here's how you can make an impact.
Ducks Unlimited Canada welcomes Michael Nadler as chief executive officer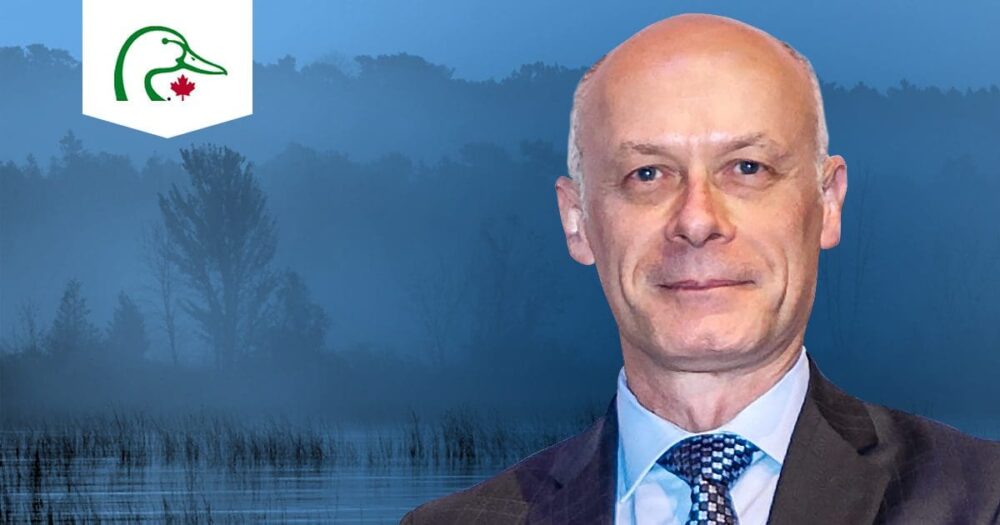 Lifelong conservationist will lead organization's nationwide habitat, science and sustainability efforts
January 31, 2023 – Oak Hammock Marsh, Man. – Ducks Unlimited Canada's (DUC) Board of Directors is pleased to announce that Michael Nadler will become the organization's new CEO. Following an extensive nationwide search for a visionary leader, Nadler's appointment comes as DUC embarks on a milestone year within its distinguished 85-year history.
"Joining an organization with DUC's reputation and pedigree is a true honour," says Nadler. "This team is truly shaping the future of conservation and I'm humbled to be part of the natural legacy DUC is continuing to build across the country."
Throughout his life and career, Nadler has demonstrated tremendous passion, commitment and leadership in conservation. His new role at DUC leverages his abilities to build strong partnerships that engage and empower others to achieve positive outcomes for the environment, the economy and communities.
Nadler possesses 20 years of executive experience, including over seven years in key senior leadership roles in one of Canada's largest national conservation organizations: Parks Canada. Included among his many achievements are contributing to the establishment of two new conservation areas at Tallurutiup Imanga (which will be Canada's largest protected area in Lancaster Sound in Nunavut) and Thaidene Nëné on the East Arm of Great Slave Lake in the Northwest Territories, initiatives made possible by close collaboration and partnership among Indigenous Peoples, government, and nature conservation organizations.
In his most recent role as Parks Canada's vice president of external relations and visitor experience, he led highly successful initiatives that advanced inclusion and the participation of youth, Indigenous Peoples, and business as well as international partners in the enjoyment and conservation of nature. His impressive resume, coupled with his deep and personal connections to DUC's mission as a lifelong outdoorsperson, made him the ideal candidate.
"We are proud and grateful to have someone of Michael's ability and character lead our team," says Roger d'Eschambault, president of DUC. "As the country faces unprecedented environmental challenges, the need for bold, science-based action has never been greater. We are confident that Michael will guide us towards an exciting future that delivers innovative conservation solutions at scale. Michael is steady and strategic, while also being an inspiring changemaker. He embodies the best qualities of DUC's brand and culture, and we are excited for him to get started."
Nadler's appointment is effective on February 14, 2023. He takes over the position from Brian Gray who has been serving as the organization's interim CEO since July 2022.
As CEO, Nadler joins a talented, skilled and passionate team that spans the country. He will be responsible for overseeing DUC's staff of 400 employees and fostering strong relationships with thousands of DUC volunteers and supporters.
– 30 –
Ducks Unlimited Canada (DUC) is the leader in wetland conservation. A registered charity, DUC partners with government, industry, non-profit organizations, landowners and Indigenous Peoples to conserve wetlands that are critical to waterfowl, wildlife and the environment. To learn more about DUC's innovative environmental solutions and services, visit www.ducks.ca 
Contact Information
Ashley Lewis
Ducks Unlimited Canada
media@ducks.ca