How our work impacts conservation across Canada.
Where we're working on the ground from coast to coast.
We need your help to protect our water, wildlife, and wetlands. Here's how you can make an impact.
Ducks Unlimited Canada welcomes four new leaders to board of directors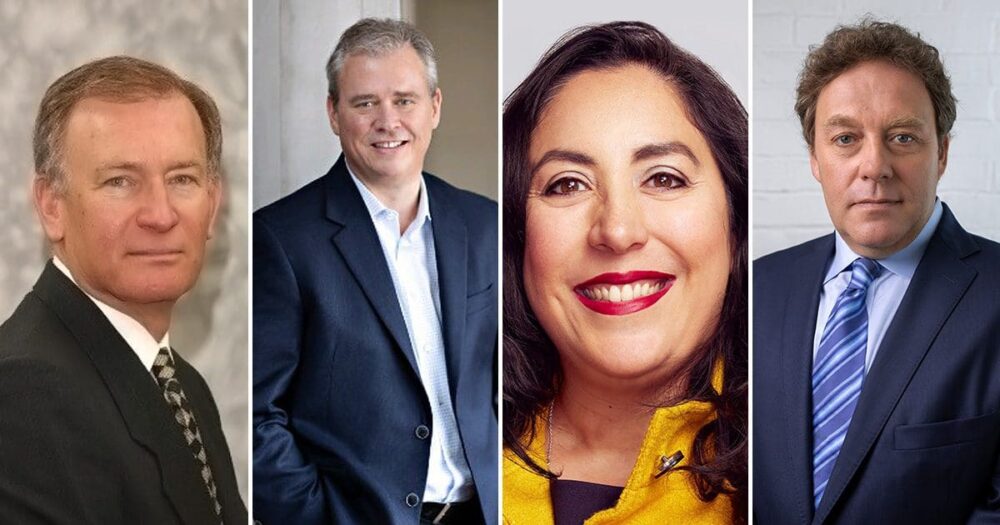 Ottawa, ON – Ducks Unlimited Canada (DUC) has appointed four new members to its volunteer board of directors. Supporting the organization's mission to conserve and restore wetlands and other natural areas, these directors bring a wealth of knowledge and expertise to help DUC advance sustainability, biodiversity and climate resiliency and achieve its vision of healthy wetlands and clean water for waterfowl, wildlife and people.
Gabriela Polanco Sorto, Alex Ocsai, Dany Renauld and Mikk Anderson were elected to their volunteer leadership roles during DUC's annual general meeting in Ottawa on the weekend.
Gabriela Polanco Sorto brings 20 years of experience in environmental sustainability, community investment and diversity, equity and inclusion. Currently serving as Vice President and Head of Purpose and Sustainability at Gore Mutual Insurance, she is focused on leading the company's social impact, inclusion and sustainability activities. Actively involved as a lecturer for the Social Responsibility and Sustainability graduate diploma program at University of St. Michael's College in the University of Toronto, Polanco Sorto also holds an MBA from the Schulich School of Business.
Alex Ocsai is a long-time DUC supporter, with a passion for conservation and environmental stewardship. With a keen understanding of the importance of building relationships through his vast experience within the real estate brokerage industry as owner of multiple Royal LePage offices, Ocsai spends considerable time fundraising for shelters for women and children across the country. He and his family reside in Caledon, Ontario where they are active within the community as volunteers for local organizations.
Dany Renauld is a seasoned political strategist, having served in a variety of advisory roles to federal ministers as well as premiers, party leaders and many others at the provincial and municipal level. Throughout his career, he has gained extensive insight in policy development, communications, public affairs and government relations. An entrepreneur in real estate, broadcast radio and the restaurant industry, Renauld brings a wealth of business experience to the work of DUC.
Mikkel Anderson has been a dedicated Ducks Unlimited, Inc. volunteer for 28 years. He has served on a number of committees in the United States, from business planning to corporate relations, and now sits on Ducks Unlimited, Inc.'s board of directors. As an engineering consultant with a focus on water and wastewater infrastructure development, he is also experienced in environmental liability assumption and risk management. With a solid understanding of DUC's conservation mission, Anderson is particularly interested in environmental sustainability and policy development.
Celebrating its 85th anniversary this year, DUC is one of the largest and longest-standing conservation organizations in Canada. To date, DUC has conserved more than 6.2 million acres of habitat and has influenced 228.1 million acres more through partnerships and policy efforts.
---
About Ducks Unlimited Canada: Ducks Unlimited Canada (DUC) is the leader in wetland conservation. A registered charity, DUC partners with government, industry, non-profit organizations, Indigenous Peoples and landowners to conserve wetlands that are critical to waterfowl, wildlife and the environment. To learn more about DUC's innovative environmental solutions and services, visit www.ducks.ca
Contact Information
Ashley Lewis
Ducks Unlimited Canada
media@ducks.ca