How our work impacts conservation across Canada.
Where we're working on the ground from coast to coast.
We need your help to protect our water, wildlife, and wetlands. Here's how you can make an impact.
Karla Guyn named CEO for Ducks Unlimited Canada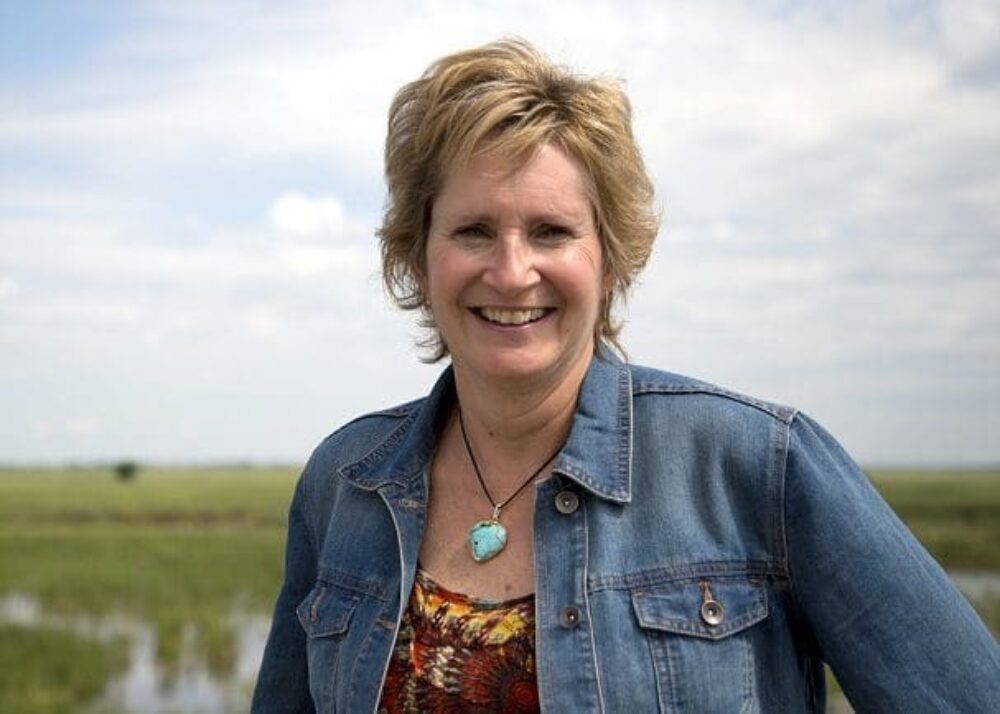 Lifelong conservationist takes the helm of country's leading wetland organization
Decades ago, an eight-year-old Karla Guyn wandered through the limber pines and grassy hills near her grandparents' ranch in southwestern Alberta dreaming about what it would be like to become a biologist. It's not a vocation that tops many children's list at this age. But wild places and the creatures that inhabit them had piqued a curiosity she just couldn't shake. Today, her passion remains the same. Except now she's taking on one of the most coveted positions in Canadian conservation as CEO of Ducks Unlimited Canada (DUC).
With more than 20 years of experience, Karla Guyn is a respected international conservation leader with a PhD in biology. Her love for wetlands and waterfowl first brought her to DUC in 1994 as a summer student. Over the years she's advanced through the organization, working on a variety of national and regional conservation programs. Most recently, she's been serving as DUC's national director of conservation. Assuming the CEO position has given wings to a crowning moment in her career.
"The opportunity to serve as DUC's CEO is a great privilege," says Guyn. "In today's world, conservation is more important than ever and DUC is on an exciting path to deliver innovative solutions and real hope for the future. I know from experience that this is an amazing conservation organization that delivers real conservation gains on the ground. The staff and volunteers who bring our work to life are second to none, and I look forward to working alongside all of them in this new capacity."
DUC is the country's leading wetland conservation organization. Its history spans 78 years, which is marked by conservation achievements in every province and territory. Since its inception in 1938, DUC has conserved more than 6.4 million acres (2.6 million hectares) across the country through nearly 9,900 habitat projects. DUC is powered by a grassroots conservation community made up of more than 130,000 people who are taking conservation action to support wetlands, wildlife and people.
"We are thrilled to have someone of Karla's ability lead our organization," says Jim Couch, president of DUC. "Her vision and commitment are outmatched only by her love for the work we do. Her passion is contagious; and her belief in our people, our mission and our potential will lead us confidently into this new chapter in DUC history."
This new chapter will see DUC play an increasingly important role in key conservation issues. Wetlands are one of the most valuable ecosystems on the planet, which deliver many essential benefits to society. Wetlands naturally filter water, keeping our lakes and rivers clean and safe. They store huge amounts of carbon, mitigating the effects of climate change. They help prevent floods and droughts and are beautiful places where Canadians can enjoy the outdoors.
"To this day, nothing motivates me more than nature," says Guyn. "I believe we have an opportunity like never before to foster positive change for wetlands, for wildlife and for our communities."
Ducks Unlimited Canada (DUC) is the leader in wetland conservation. A registered charity, DUC partners with government, industry, non-profit organizations and landowners to conserve wetlands that are critical to waterfowl, wildlife and the environment. Learn more at ducks.ca.
Contact Information
Nigel Simms
National Manager, Communications and Marketing
204-467-3266
n_simms@ducks.ca