How our work impacts conservation across Canada.
Where we're working on the ground from coast to coast.
We need your help to protect our water, wildlife, and wetlands. Here's how you can make an impact.
Brian Hepworth appointed to Director of Regional Operations – Prairie and Boreal Region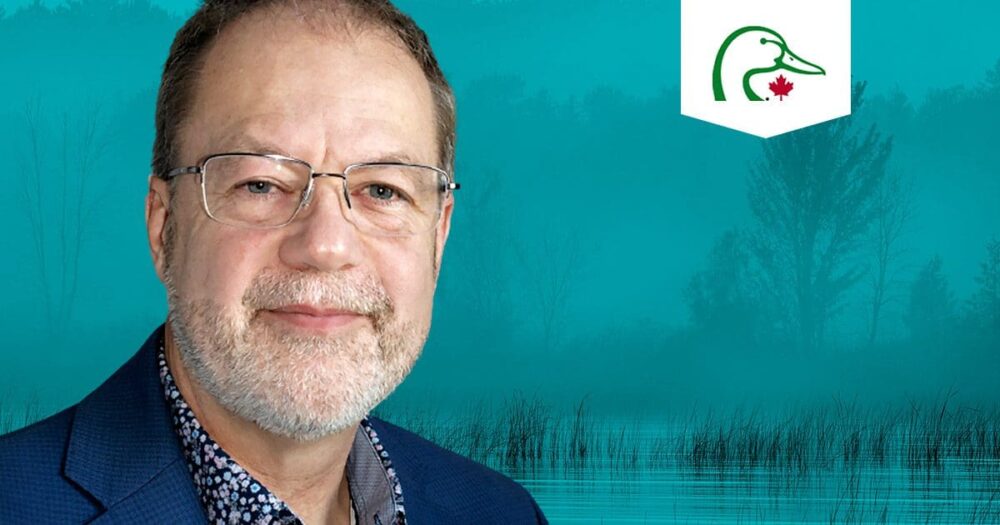 Appointment notice
We are pleased to announce the appointment of Brian Hepworth to the position of Director of Regional Operations (DRO) – Prairie and Boreal Region.
As another step in his long and successful 32-year career with Ducks Unlimited Canada (DUC), Brian is assuming this senior role that will oversee conservation operations in Alberta, Saskatchewan and Manitoba, as well as the vast and important landscapes of Canada's boreal region.
Brian is a lifelong outdoorsperson who, at the tender age of ten, knew he wanted to be a biologist. Soon after joining DUC's team in Saskatchewan as a budding university graduate, wetlands and waterfowl became his passion. Today, Brian is a trusted and well-respected figure in Canada's conservation community who has served in several managerial roles during his tenure with DUC, overseeing conservation programs as well as industry and government relations. For the past 10 years, he has held the position of Manager of Provincial Operations in Saskatchewan where he's built strong relationships with staff and partners that will continue positioning DUC for the future.
"Brian has demonstrated strong leadership in conservation programs in one of our highest-priority areas in the country," says Pat Kehoe, Chief Conservation Officer for DUC. "He has a unique ability to balance his vision and passion for conservation with a level-headed and pragmatic approach, understanding the importance of collaboration and partnerships. We look forward to witnessing how Brian will bring his solutions-focused, results-centred approach to his new role as he puts his skills and talent to use to advance wetland conservation across the Prairies and Boreal region."
Now celebrating its 85th anniversary, DUC is focused on growing its conservation impact by delivering more important research and on-the-ground projects alongside its many partners. In 2023, DUC is striving to conserve, restore and influence more than 4.2 million acres across the country. To do so, DUC is counting on strong, visionary leadership. That's why Mr. Sébastien Rioux, DUC's Manager of Provincial Operations in Quebec, is also being promoted to the position of DRO for the the Eastern Region and British Columbia.
A successor for Brian Hepworth in Saskatchewan
The announcement of Brian Hepworth's appointment creates an opening on DUC's team in Saskatchewan to fill the role of Manager of Provincial Operations.
DUC is looking for a seasoned leader to help promote a healthy environment for wildlife and people by working alongside agricultural producers, industry groups, governments, and the public to achieve environmental, economic and social prosperity.
Know someone who'd be the perfect addition to our flock? Share our post or apply now!