How our work impacts conservation across Canada.
Where we're working on the ground from coast to coast.
We need your help to protect our water, wildlife, and wetlands. Here's how you can make an impact.
TimberWest Forest Corporation donates $25,000 to Somenos Marsh Wildlife Society for a viewing tower over Somenos Lake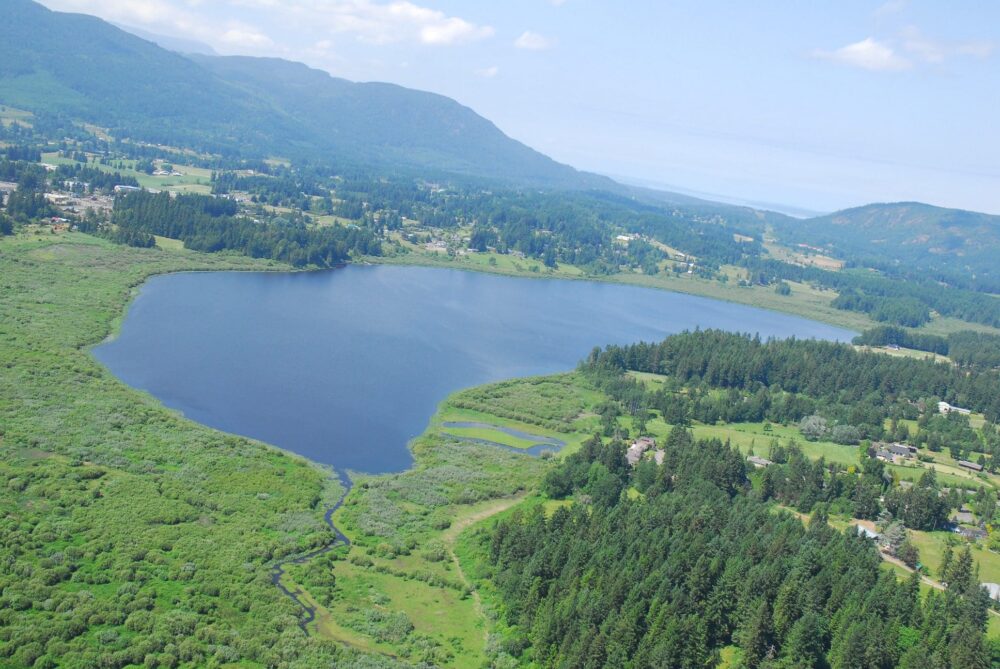 November 7, 2016 saw TimberWest Forest Corp. donate the 94.5 hectare Somenos lakebed to Ducks Unlimited Canada (DUC).  They continued their work for conservation and community commitment throughout the year with their Identity: Art as Life event, a $100,000.00 donation to the new North Island Hospital, a $150,000 donation to the BC Forest Discovery Centre new exhibit, and the recent Bronze certification achievement for becoming Progressive Aboriginal Relations Certified by the Canadian Council for Aboriginal Business.
Now a year after TimberWest's donation of Somenos lakebed, TimberWest has donated a further $25,000.00 to the Somenos Marsh Wildlife Society (SMWS). SMWS is now able to fulfill a goal to construct a viewing tower to overlook Somenos marsh and lake.  The viewing tower, which will be constructed on land owned by Ducks Unlimited Canada and The Nature Trust of British Columbia, will give nature enthusiasts, bird watchers and tourists a new view of the waterfowl, birds, plant life and other wildlife that use the marsh for food, protection and breeding habitat.   The viewing tower will be an excellent way for students to learn about nature and the importance of conservation.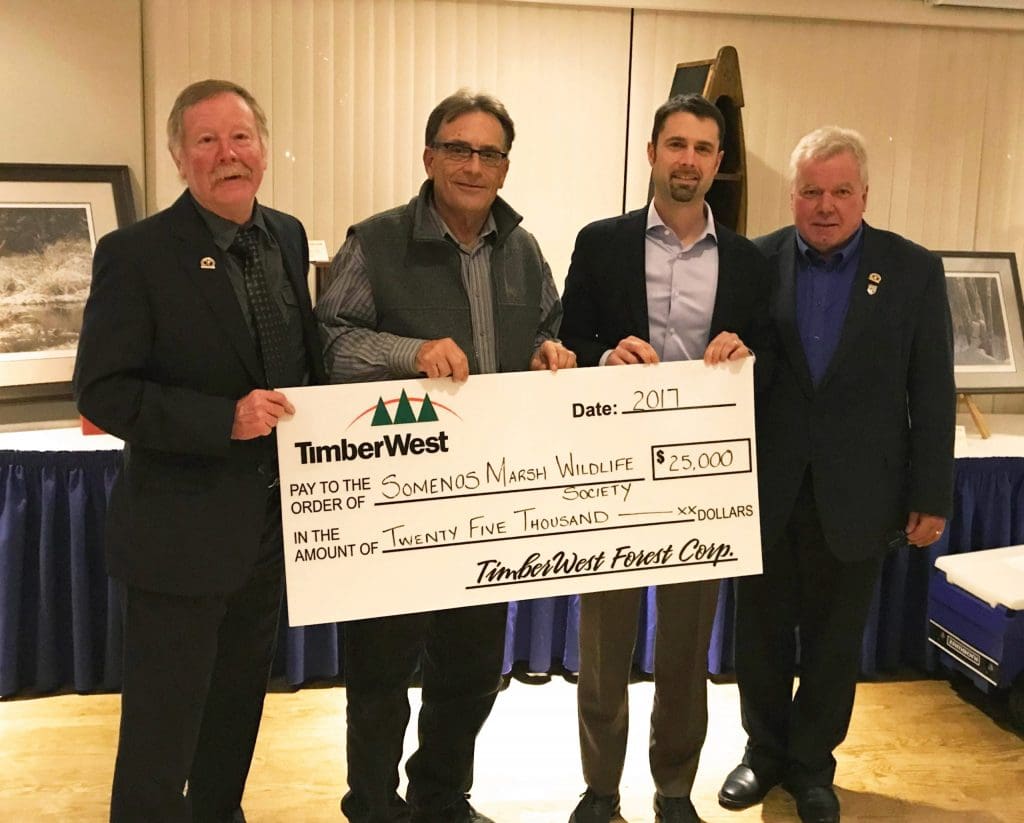 When asked about what the donation means to the SMWS, Paul Fletcher, Co-Founder, said, "TimberWest's generous gift allows the Somenos Marsh Wildlife Society to complete the wildlife viewing platform at the Somenos Marsh Open Air Classroom. This platform is a valuable addition to the Somenos Marsh Conservation Area, allowing for sweeping views to the lake, and providing visual example of the interface between the marsh and urban area, and showcase the importance of the storm water treatment the marsh provides as an ecological service to the Cowichan urban area. We appreciate TimberWest's donation and all the supporters who have contributed to this initiative."
"What great achievements this year! Collaborations and contributions from partners like TimberWest show the importance of NGOs, industry and government working together to achieve our shared goals for conservation," reflected Leslie Bogdan, Director of Regional Operations for British Columbia and National Boreal Programs, Ducks Unlimited Canada. "This is a powerful model for future partnerships in conservation, creating a bright outlook for conserving wetland habitat and providing viewing and educational opportunities in British Columbia."
"Since 1976, The Nature Trust of BC, with the support of our partners, have acquired over 60 hectares in the Somenos Marsh complex," said Jasper Lament, CEO of The Nature Trust of British Columbia. "This complex supports thousands of waterfowl during the winter, and raptors and songbirds throughout the year. It is designated as a Globally Significant Important Bird Area. The new viewing tower will help people experience the wondrous variety of bird life at Somenos."
"The significant upgrades that the Somenos Marsh Wildlife Society is undertaking in the Somenos Conservation Area will make the Somenos Marsh a truly immersive and adventurous educational experience," said Domenico Iannidinardo, VP Sustainability and Chief Forester. "We are happy to donate to the Somenos Marsh Wildlife Society, and we are certain that the viewing tower and multi-use trail network will be a highlight for students, teachers and adventurers for many years to come."
DUC honoured TimberWest's donation and the partnership at the Ducks Unlimited Canada Cowichan Banquet and Dinner, held on November 17, 2017 at Duncan Meadows Golf Course, Duncan BC.
Contact Information
Michelle Ronning
Communications Coordinator
Ducks Unlimited Canada
604-506-0651
Monica Bailey
Director, Communications
TimberWest Forest Corporation
250-716-3744
Elizabeth Bailey
Program Manager
Somenos Marsh Wildlife Society
250-884-0749
Robin Rivers
Communications Manager
The Nature Trust of British Columbia
604-924-9771 ext. 226
Thomas Reid
Manager
West Coast Conservation Land Management Program
250-751-3218