How our work impacts conservation across Canada.
Where we're working on the ground from coast to coast.
We need your help to protect our water, wildlife, and wetlands. Here's how you can make an impact.
Farmers in Manitoba urged to "make the call" on World Wetlands Day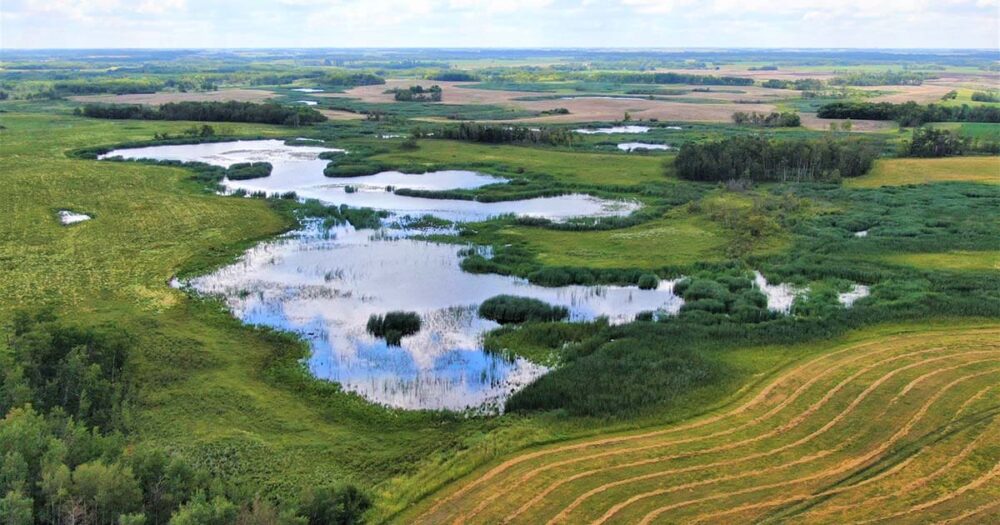 DUC wants all Manitoba producers to explore conservation options 
January 31, 2023 – Brandon, Man. – On World Wetlands Day, February 2, Ducks Unlimited Canada (DUC) is recognizing and helping farmers who are taking action to preserve natural habitat on their land.
"Science shows that wetlands can improve crop and livestock production in many ways," says Mark Francis, DUC's manager of provincial operations in Manitoba. "I encourage farmers and ranchers to celebrate World Wetlands Day by contacting DUC or the conservation group of their choice to map out a plan to preserve and restore these vital marshes and ponds."
Wetlands increase the number of pollinators in farm fields, which means better crop pollination and higher yields. Other beneficial insects found in wetlands are predators of common crop pests—flea beetles in canola, for example.
DUC research shows wetlands can cool the air temperature in local fields by up to three degrees Celsius, reducing heat stress in vulnerable crops. Another DUC study found restoring drained wetlands can reduce nitrogen and phosphorus running off farm fields into creeks, rivers and lakes.
Since 1938, DUC has partnered with more than 1,500 landowners in Manitoba to conserve more than 700,000 acres. However, the southwest region of the province continues to experience high rates of wetland loss each year.
To reward conservation-minded Manitobans, DUC plans to provide $15.1 million in financial incentives and programming in the coming year, including average payments of $100,000 to landowners who commit to protecting wetlands.
Ducks Unlimited Canada (DUC) is the leader in wetland conservation. A registered charity, DUC uses sound science and partners with government, industry, non-profit organizations, Indigenous Peoples and landowners to conserve wetlands that are critical to waterfowl, wildlife and the environment.
Contact Information
Glen Kirby
Communications Specialist – Manitoba
Ducks Unlimited Canada
204-500-9730
g_kirby@ducks.ca