How our work impacts conservation across Canada.
Where we're working on the ground from coast to coast.
We need your help to protect our water, wildlife, and wetlands. Here's how you can make an impact.
DUC responds to Manitoba Budget 2022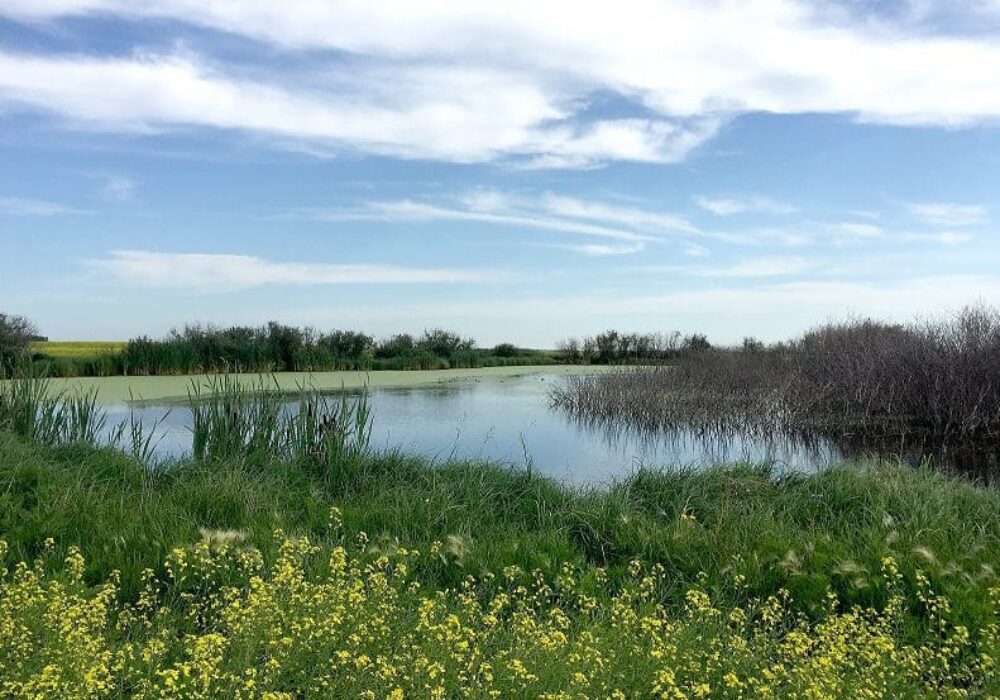 Addressing climate change and protecting the environment among commitments to create a healthier, more resilient future for Manitobans
In a budget appropriately focused on COVID-19 recovery, the Government of Manitoba also acknowledged the importance of protecting nature in creating a healthier and more resilient future for all Manitobans. Understanding that the province's wetlands, grasslands and forests are key drivers of economic, environmental and social prosperity, Ducks Unlimited Canada (DUC) was encouraged to see the Province's commitment to climate adaptation planning alongside new investments in conservation.
Bolstering landscape resiliency with new provincial water management strategy
Finance Minister Cameron Friesen delivered the budget just days in advance of a record-setting April snowstorm that shut down much of southern Manitoba and captured the attention of provincial flood forecasters. The wet weather made the Province's announcement of a new water management strategy in the 2022 budget even more relevant—and important.
"Developing a comprehensive water management strategy that includes conserving wetlands will help protect our communities from the impacts of extreme weather," says Larry Kaumeyer, CEO of DUC. "Here on the Prairies, both the frequency and severity of floods and droughts are increasing. We know that wetlands are one of our best lines of defence in capturing and holding water on the landscape, and we welcome this additional focus on nature-based solutions."
As the Province moves forward with this important planning, DUC stresses the need to develop a wetland inventory and monitoring system. A vital tool in advancing sustainability efforts province-wide, a comprehensive wetland inventory would provide detailed information about the distribution and type of wetlands. Ongoing monitoring systems would help measure loss rates, track protection and restoration efforts and analyze landscape changes to inform conservation activities.
"We can only manage what we can measure, and a comprehensive wetland inventory and monitoring system would provide the Province and conservation organizations like DUC with critical insight into the best possible actions we can take for our land and water resources," says Kaumeyer.
Advancing Manitoba's Climate and Green Plan
More than $6 million was announced to advance the Made-in-Manitoba Climate and Green Plan, which includes $1.5 million for expanding the Conservation and Climate Fund. As the Province seeks to scale its climate resiliency efforts, DUC says wetlands should not be underestimated in their ability to deliver results.
"Earlier this month, we saw the Government of Canada announce its new Emissions Reduction Plan, which included a $780-million commitment to invest in nature-based projects that conserve and restore wetlands, peatlands and grasslands to capture and store carbon," says Kaumeyer. "At the provincial level, there are similar opportunities to harness the carbon-storing power of Manitoba's natural areas to help meet emissions targets and contribute to Canada's international climate obligations."
Continuing success of GROW and Conservation Trusts
Launched in 2019, the Growing Outcomes in Watersheds (GROW) and Conservation Trusts were developed to support the conservation and restoration of Manitoba wetlands and other associated habitats to support wildlife, water quality, groundwater recharge and carbon sinks. Identified in the 2022 budget as another example of green investments being made by the Province, DUC is keen to see these programs continue and to serve as a trusted delivery agent that can transform investments into on-the-ground results.
"We're proud to have played a major role in the success of the GROW program over the last several years and are poised and ready to put our conservation expertise to work to help safeguard more habitat alongside our many landowner partners across the province," says Kaumeyer.
Supporting reconciliation through Indigenous-led conservation
Another notable element in the 2022 budget was a $5-million investment to advance progress on reconciliation activities and a commitment to work with Indigenous leaders, elders, knowledge keepers, families and community members to advance shared goals and economic opportunities. DUC notes that Indigenous-led conservation activities support reconciliation by empowering and enabling Indigenous Peoples across the province to conserve and protect their traditional territories.
DUC actively partners with Indigenous communities, braiding our knowledge systems to advance shared conservation goals and is proud to support the establishment of Indigenous Protected and Conserved Areas in Manitoba.
Building on Manitoba's wetland policy
Manitobans are fortunate that the government has already established strong wetland policies and initiatives that are helping to build climate resiliency and ensure no net loss of wetland benefits. Amendments to the Water Rights Act passed in June 2018 under The Sustainable Watersheds Act provide for enhanced wetland protection through new requirements to compensate for wetland drainage. As a result, most seasonal wetlands are now protected from drainage, and replacements are required as mitigation for any lost seasonal wetlands. In Manitoba's vast boreal region, wetlands are now being conserved through the government's release of the Boreal Wetlands Conservation Codes of Practice in 2020.
"With solid policies already in place, the Province of Manitoba is well positioned to continue building out critical nature-based solutions that contribute to a wide variety of priorities," says Kaumeyer. "From supporting infrastructure needs to growing tourism and recreation revenue, wetlands provide Manitobans with a good return on their investment."
Looking ahead
Recognizing that Manitoba's wetlands and grasslands have tremendous economic worth, the commitments made by the Province in the 2022 budget represent important opportunities for all sectors to work together to build a sustainable and prosperous post-pandemic future. By working with the government and collaborating with our partners in Indigenous communities as well as the agriculture, energy, resource and business sectors, DUC is proud to work collaboratively with all who live and work in the Keystone Province to steward the natural areas we share.