How our work impacts conservation across Canada.
Where we're working on the ground from coast to coast.
We need your help to protect our water, wildlife, and wetlands. Here's how you can make an impact.
Seventh Generation Culture Camp fosters environmental stewardship and connects Indigenous youth with cultural heritage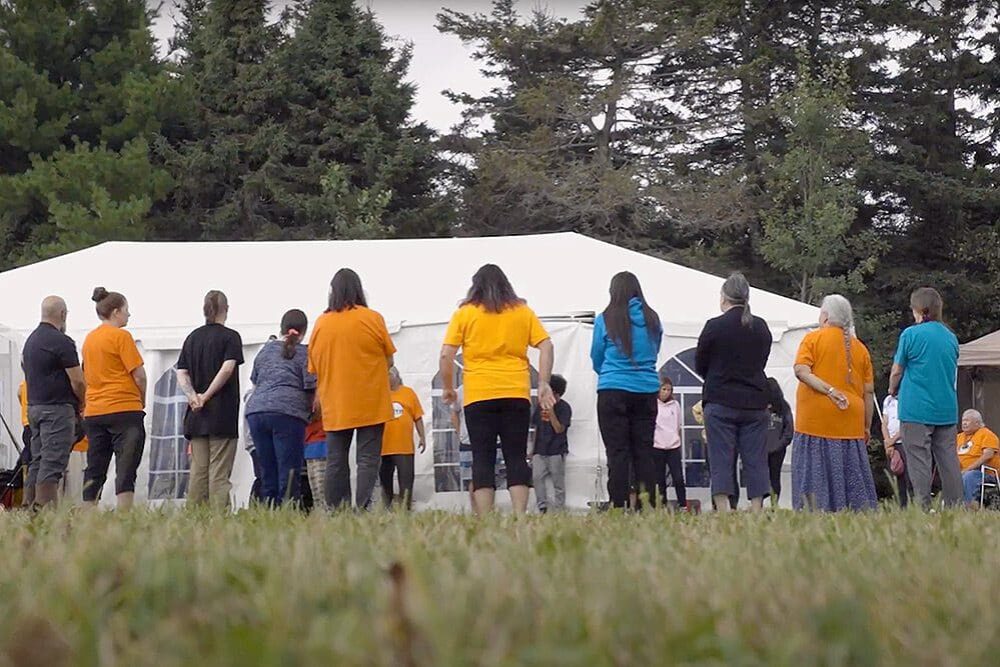 July 28, 2023 – Aulac, New Brunswick – The second annual Seventh Generation Culture Camp, an immersive land-based camp for Mi'kmaq youth, will begin at the Beaubassin Research Station near Aulac, New Brunswick, next week.
This week-long camp is open to youth between the ages of 13 and 15 and aims to strengthen their connection to their culture, their people and their land. With a focus on environmental and cultural topics, the camp is a unique, interactive opportunity for Indigenous youth to learn about medicinal plant identification through a traditional medicine walk, safely foraging for food, food security, environmental health markers, sustainability, drum-making, quill work and the use of animal by-products for cultural crafts.
Led by a planning committee comprised of four Indigenous communities, including Fort Folly First Nation, Indian Island First Nation, Elsipogtog First Nation and Bouctouche First Nation, along with the Oeliangitasoltigo Mental Wellness Team, Elders and Youth leaders, the camp aims to foster environmental stewardship and reconnect youth to a culture that values the environment within its core principles. Ducks Unlimited Canada (DUC) is proud to participate in the event as a conservation partner.
"First Nations peoples have a special relationship with the earth and all living things in it," says Jean Nye, Elder of Fort Folly First Nation. "Having the youth live on traditional land for five days provides them with an opportunity to experience how their ancestors lived, while bringing forth environmental awareness of today's world. It is our hope that these youth will carry these beliefs and teachings to their respective communities and families."
The series of camps were envisioned to help develop a path to self-sufficiency and self-determination for Mi'kmaq youth that both preserves and builds on their cultural heritage and sustains it meaningfully for future generations. Research has shown that a strong connection to culture has positive impacts on a healthy sense of identity and mental wellness for Indigenous youth.  The first camp held in August 2022 was a huge success, engaging more than 75 attendees. This year, more than 100 people will be in attendance.
Camp programming has been designed through the lens of Etuaptmumk, known as Two-Eyed Seeing, a concept which encourages people to learn to see the strengths of Indigenous ways of knowing from one eye, and see the strengths of Western ways of knowing with the other eye, and to use both of these eyes together for the benefit of all.  Encouraging team building, cooperation, conflict resolution and listening skills, while fostering a sense of belonging and connection, program activities blend both First Nation culture and modern science, providing youth with a well-rounded experience supported by Elders, traditional First Nation knowledge keepers, as well as youth camp leaders, representatives from the four First Nations communities and DUC staff.
Elders play a fundamental role in the camp's integrity by ensuring that cultural activities and land-based activities aid in the healing and well-being of the youth involved.
"The idea behind the Seventh Generation Cultural Camp was born out of an Elders' gathering organized by the Oeliangitasoltigo Mental Wellness Team," says Barb Martin, Project Manager for the Oeliangitasoltigo Mental Wellness Team. "Several of the Elders had been involved in the Ancestral Footsteps initiative, a national demonstration project on mental health promotion for Indigenous youth that was implemented in New Brunswick between 2008 and 2012 under the National Aboriginal Youth Suicide Prevention Strategy and used a series of cultural camps to provide youth an opportunity to learn about Wabanaki culture, language and traditions. Seeing the value in this method and its lasting outcomes, they discussed the possibility of offering this reconnection and learning experience for our youth."
Programming will continue in the fall with the same core group of youth, with plans to maintain contact across a span of the next several years to research the impacts of these continued relationships and learning opportunities.
"After camp we expect to see stronger cultural ties, increased communication with Elders, increased participation in cultural activities and forward momentum in environmental stewardship," says Barb Martin.
The planning committee worked together with the four New Brunswick First Nation Communities, Nôgemeg Lodge, Mi'kmaq Child and Family Services and DUC to organize activities for this year's cultural camp. A number of partners made generous contributions and donations to help make this year's camp possible, including Jordan's Principle (North Shore Mi'kmaq Tribal Council), Elsipogtog Child and Family Services, New Brunswick Environmental Trust Fund, Southeast Regional Service Commission Region 7, Horizon Health Network's community innovation grant program (COIN-G), Diamond Schmitt Architects, Jaillet Aquaculture, Fort Folly First Nation, Bouctouche First Nation, Indian Island First Nation and a group of residential school survivors. Fort Folly First Nation played a significant role as host and was integral to the success of organizing and planning this year's camp.
"We value our partnerships with Indigenous communities in New Brunswick and we're proud to support this hands-on opportunity for youth to learn and explore their culture," says Adam Campbell, DUC's manager of provincial operations in Atlantic Canada. "DUC recognizes the importance of protecting the environment and is committed to working collaboratively with local Indigenous Peoples to advance our shared conservation goals."
– 30 –
About Ducks Unlimited Canada: Ducks Unlimited Canada (DUC) is the leader in wetland conservation. A registered charity, DUC partners with government, industry, non-profit organizations, Indigenous Peoples and other landowners to conserve wetlands that are critical to waterfowl, wildlife and the environment. To learn more about DUC's innovative environmental solutions and services, visit www.ducks.ca