How our work impacts conservation across Canada.
Where we're working on the ground from coast to coast.
We need your help to protect our water, wildlife, and wetlands. Here's how you can make an impact.
ACOA announces $400,000 in funding for Nova Scotia Wetland and Wildlife Park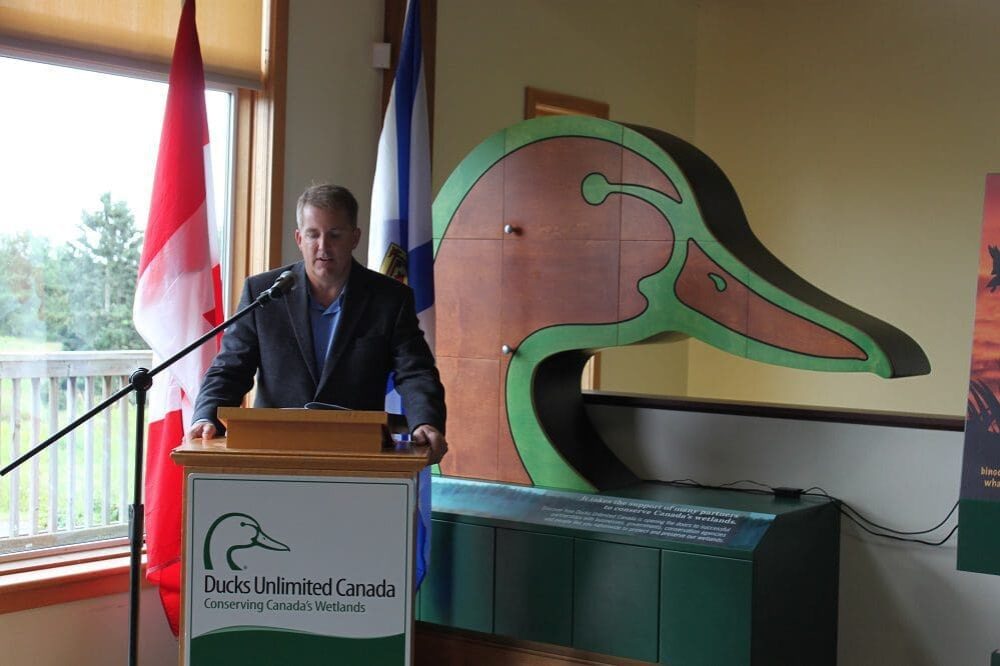 Shubenacadie, N.S. – Ducks Unlimited Canada (DUC) is excited to announce that together with the Province of Nova Scotia's Department of Natural Resources (DNR), we've received $400,000 in funding through the Atlantic Canada Opportunities Agency's Innovative Communities Fund to enhance the Greenwing Legacy Interpretive Centre and Shubenacadie Provincial Wildlife Park.
Parliamentary Secretary Scott Armstrong made the announcement at the interpretive centre on July 28, along with Nova Scotia MLA Margaret Miller, who announced that DNR will also be contributing $200,000 to the project. DUC will also be matching funds by raising $200,000.
Over the past year, DUC and the Department of Natural Resources have conducted market research and developed a strategic plan to further increase traffic and ensure the park's sustainability.
DUC and DNR will design and install new exhibits and displays inside the centre, create a more accessible and welcoming entrance to the park, add trail connectors and both directional and interpretive signage. The project also includes rebranding and a collaborative marketing plan that will further integrate the interpretive centre and wildlife park.
Speaking during the announcement ceremony, DUC director for Nova Scotia, Gren Jones said, "We're excited about strengthening our partnership with the Department of Natural Resources, inspiring even more families and kids by creating a world-class education facility right here in Nova Scotia."
Ducks Unlimited Canada (DUC) is the leader in wetland conservation. A registered charity, DUC partners with government, industry, non-profit organizations and landowners to conserve wetlands that are critical to waterfowl, wildlife and the environment. Learn more at ducks.ca.
Contact Information
Chelsea Murray
Communications coordinator, Atlantic Canada
Office: 902.667-8726 ext. 227
Cell: 902.292.2506
c_murray@ducks.ca