How our work impacts conservation across Canada.
Where we're working on the ground from coast to coast.
We need your help to protect our water, wildlife, and wetlands. Here's how you can make an impact.
Birds and bird watchers will benefit from habitat improvements in Elgin County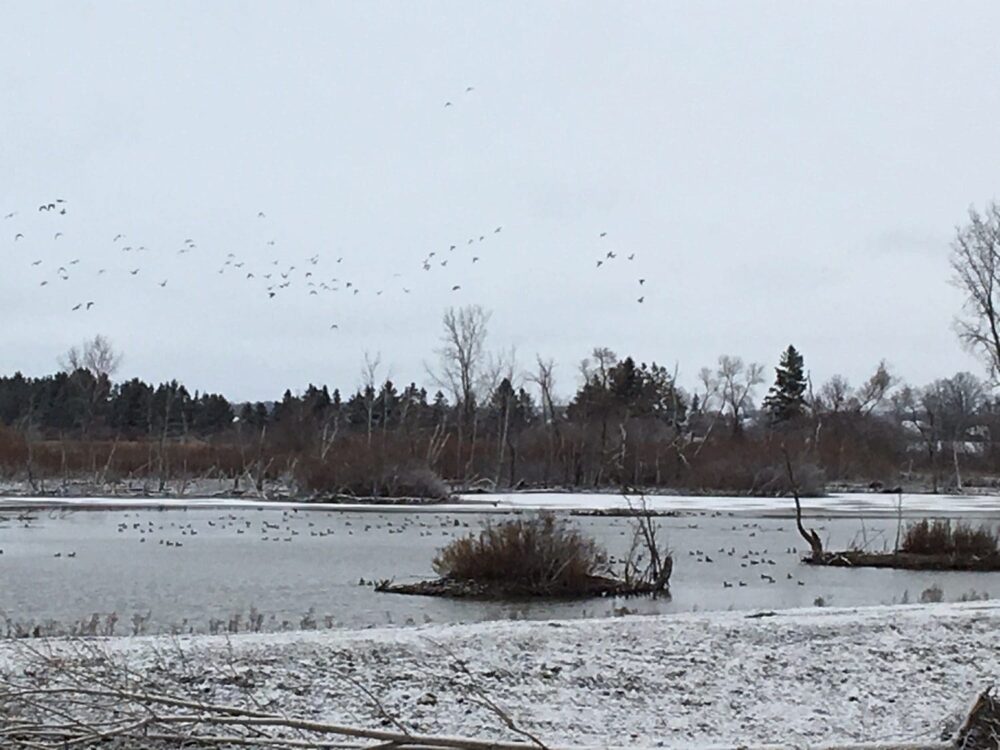 Elgin County, Ont. (January 2019) — Improvements at a popular wildlife viewing site, north of Lake Erie, are expected to attract more migratory birds, especially shorebirds, next spring.
The Aylmer Wildlife Management Area (WMA) was transformed from a World War II airfield to wildlife habitat, after being purchased by the Province of Ontario in the 1960s. It is now designated as an Important Bird Area, attracting species like tundra swans by the thousands.
In 2018, the Aylmer WMA habitats were enhanced again.
"A lot went on here in the wetlands this year," says Jeff Krete, conservation specialist with Ducks Unlimited Canada (DUC). "DUC completed a rebuild project for one wetland and there are six acres of new wetlands to attract even more waterfowl and shorebirds to this wildlife oasis."
The rebuild took place in the wetland cell known as Tundra Pond, to rejuvenate plant growth and repair water control structures and dykes that manage the water levels, flow and retention. It was completed by temporarily removing the water (known as a drawdown) and varying the depth of the basin to better support different aquatic plants—which in turn, better support different wildlife species.
"We are excited about the habitat improvements and additions because we anticipate increased biodiversity and wildlife viewing opportunities for the community," says Ron Casier, manager for the Elgin Stewardship Council (ESC).
The six acres (2.4 hectares) of new wetlands, called pair ponds, will provide spring breeding habitat for waterfowl and shorebirds. These ponds were designed by DUC and construction was overseen by ESC.
In addition to attracting wildlife, the wetlands are designed to capture and filter surface water before it moves downstream to Lake Erie. This restoration project is part of a larger effort to improve water quality in the Lake Erie watershed.
ABOUT AYLMER WMA
The 338-acre (137-hectare) public property includes about 80 acres (32 hectares) of wildlife habitat, including 50 acres (20 hectares) of wetlands, a 14-acre (6-hectare) tallgrass prairie, crop fields, meadow and various native tree and shrub plantings. Its pond complex is designated as a provincially significant wetland.
The site features public trails through mixed habitat with four strategically placed viewing stands, one of which is wheelchair accessible.
Future plans include improved pollinator habitat and a new osprey nesting platform. In 2020, the smaller wetland cell known as Heron Pond is slated for a "drawdown" to facilitate repairs and habitat improvement.
The site is administered by the Ministry of Natural Resources and Forestry (MNRF) and daily operations are managed by ESC through a partnership agreement with the MNRF. ESC volunteers are responsible for the wildlife habitat, trails, structures and programs at the site, including wood duck and bluebird monitoring, duck banding and tundra swan interpretation.
For the past 20 years, DUC has managed the wetlands, known as Tundra Pond and Heron Pond.
ABOUT DUCKS UNLIMITED CANADA
Ducks Unlimited Canada (DUC) is the national leader in wetland conservation. A registered charity, DUC partners with government, industry, non-profit organizations and landowners to conserve wetlands that are critical to waterfowl, wildlife and people.
Working with the MNRF, DUC's team in Ontario is delivering large-scale wetland conservation as a natural infrastructure solution to erosion and excess surface water run-off.  Since 2017, DUC and its partners have delivered more than 100 projects under the Lake Erie Watershed Wetland Initiative to capture phosphorus and other nutrients in wetlands that filter surface water before it travels downstream.
ABOUT ELGIN STEWARDSHIP COUNCIL
Elgin Stewardship Council's objective is to search out, initiate and oversee projects, such as wetlands, tallgrass prairie, and native tree and shrub planting, by making available "matching funds" to carry out initiatives supported by the Council. The volunteer Board of Directors is made up of 14 residents of Elgin County, at least half of whom must be rural landowners. Members represent rural landowners and community and non-government groups. Advisors to the Council are drawn from MNRF and the local Conservation Authorities.
Contact Information
Ducks Unlimited Canada
Jeff Krete
Conservation Specialist
Phone: 519-716-3435
Email: j_krete@ducks.ca
Ducks Unlimited Canada
Joanne Barbazza
Head of Communications & Outreach Support
Phone: 705-721-4444 x240
Email: j_barbazza@ducks.ca