How our work impacts conservation across Canada.
Where we're working on the ground from coast to coast.
We need your help to protect our water, wildlife, and wetlands. Here's how you can make an impact.
Community celebrates restoration of local wetland gem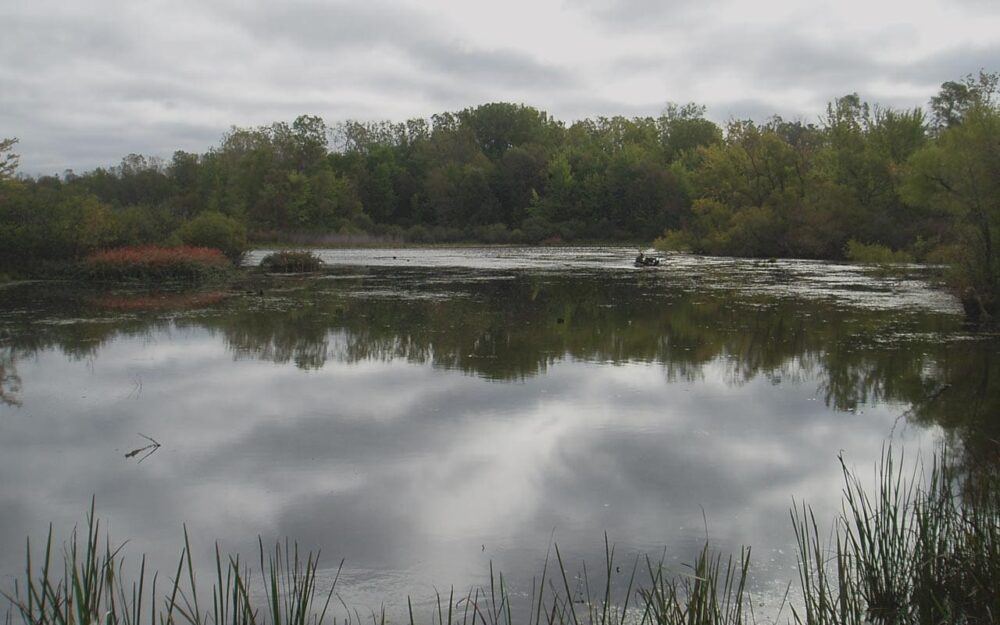 Calton, Ont. – With its easy access to trails and sheer abundance of wildlife, hikers, bird watchers and outdoor enthusiasts of all kinds find themselves flocking to Calton Swamp – a 307 acre (124 hectare) Wildlife Management Area located near the Hamlet of Calton, within the township of Malahide in Elgin County. In a municipality that has lost over 85 per cent of its original wetlands, the restoration of this local wetland gem is generating quite a bit of excitement around town.
After more than 30 years of providing quality habitat conditions for waterfowl, other wildlife species including species at risk, and providing recreational opportunities for people in the community, the wetland infrastructure at Calton Swamp had reached the end of its normal operational lifespan and was in need of repairs. Funding to complete the necessary work became available this past summer, and today, a group of passionate individuals gathered to celebrate the completion of that work and the rejuvenation of this extraordinary property.
According to Gary Austin, longtime Aylmer resident, avid outdoorsman, past-chair of Ducks Unlimited Canada's Aylmer Men's volunteer committee and a passionate advocate for the conservation of wetlands, the entire community benefits from having this amazing property right in their own backyard.
"Calton Swamp is quite simply a place to enjoy being outdoors, in a wetland, where you can see wildlife that you don't see anywhere else" says Austin. "Beyond the benefits of providing clean air and water, restoring groundwater and all the other great things it gives back to our community, the recreational and educational opportunities Calton Swamp offers local students and all of our area residents, cannot be overlooked."
Originally a wet area on a municipal drain, persistent beaver activity saw Calton Swamp dammed-up with it's woody vegetation drowned. The prolonged flooding resulted in a significant decline to the wetland's productivity. In 1983, Ducks Unlimited Canada (DUC) partnered with Catfish Creek Conservation Area and the provincial Government to replace the old beaver dam with a water control structure and spillway that would allow for better management of the wetland habitat.
"Calton Swamp is a real collaboration of community outreach" explains Austin. "Without the intervention and ongoing efforts by these and other groups, such as the Elgin Stewardship Council who have all had a hand in the overall management of the property, Calton Swamp quite simply wouldn't be here today."
According to Jeff Krete, Conservation Specialist for DUC, wetlands such as Calton Swamp form an important link in some of the most important migratory habitat in the Lower Great Lakes basin area.
"DUC's conservation priority is to provide permanent breeding and staging habitats necessary to meet the life cycle needs of waterfowl species" he explains. " The managed emergent marshes and swamp habitats the Calton Swamp provides is an excellent example of this type of habitat. The maintenance work that has just been completed will ensure this property remains healthy and productive for the next 25-30 years."
While celebrating partnerships and the healthy future of Calton Swamp was top of mind at today's gathering, it was also an opportunity to reflect on the project history and the dedicated individuals whose personal support of wetland and waterfowl conservation has made such a difference.
Individuals like Dr. Duncan Sinclair, a well known area resident and outdoorsman who in 2007, was honoured at the Calton Swamp with the installation of a cairn and plaque for his tremendous contributions to wetland conservation. A charter member of the group that held the country's very first Ducks Unlimited Canada fundraising dinner in Tillsonburg in 1974, Dr. Sinclair was instrumental in initiating a grassroots system that is the cornerstone of DU Canada's fundraising events across the country.
"Ducks Unlimited Canada recognizes that we can't do what we do without the support of our dedicated volunteers" says Marco Cunha, DUC's Manager of Events and Volunteer Relations in the region. "Volunteers like Dr. Sinclair and Gary Austin demonstrate every day that they are up to the wetland conservation challenge. They embody the DUC spirit in communities all across the country, hosting events that bring people from all walks of life together in the name of wetland conservation. They are the heart and soul of our organization and  we simply couldn't do our conservation work without them."
If you are interested in learning more about the great work DUC is doing in the region or how you can get involved, come out to one of the exciting volunteer-led dinner events such as the Aylmer Men's 35th anniversary  Banquet set to take place in October 2016. Local residents can also look forward to the Aylmer Wetland Susies' annual event scheduled for May 2016 and/or the St. Thomas Banquet scheduled for Friday, April 1, 2016.  To learn more about these and the many other DUC fundraising events across Ontario, visit ducks.ca/events, today!
The Calton Swamp Wildlife Management Area was made possible with the financial support of Environment Canada's National Wetlands Conservation Fund and in partnership with Ducks Unlimited Canada, the Government of Ontario, Catfish Creek Conservation Authority and Elgin Stewardship Council. These same partnerships made the 2015 restoration efforts possible with additional funding support from Ontario's Ministry of Natural Resources and Forestry.
Ducks Unlimited Canada (DUC) is the leader in wetland conservation. A registered charity, DUC partners with government, industry, non-profit organizations and landowners to conserve wetlands that are critical to waterfowl, wildlife and the environment. To learn more, please visit ducks.ca
Contact Information
Joanne Barbazza
Communications Specialist, Ontario
Ducks Unlimited Canada
Phone: 705-721-4444 ext. 240
j_barbazza@ducks.ca